Today's nonprofits enjoy access to a wide variety of digital fundraising tools. Crowdfunding platforms, for example, make it easy to offer support from any location and in a matter of minutes.
Many organizations now rely on these tools to produce a significant share of their fundraising dollars. Meanwhile, email campaigns offer a more targeted approach, in which nonprofits appeal directly to those already invested in their purpose. These opportunities may be exciting, but Instagram fundraising blows them away.
Nonprofit social media solutions provide the best of both worlds: a targeted fundraising approach that also affords a virtually unlimited digital reach.
Keep your organization growing with expert advice and all the tools you need, all in one place.
Facebook has long promoted charitable giving with a feature that allows users to seek donations in honor of their birthday or other special events. Encouraging stats from early 2020 revealed that users had raised over $3 billion to support both nonprofits and personal fundraisers.
In 2019, Instagram fundraising took a huge step forward with the release of new features designed to enhance charitable giving. While this update generated a lot of excitement at the time, few people could have anticipated how important Instagram's advanced fundraising tools would become.
New features such as buttons and stickers allow Instagram users to contribute to campaigns they find compelling. They can also advocate for favorite nonprofits by encouraging their own followers to donate.
Instagram's new tools are designed to get followers excited about charitable campaigns while also helping them act as advocates. Easy to implement, adapt, and maintain, Instagram's donation features could play a central role in your next fundraising campaign.
Not sure how to use the new donation features on Instagram — or whether your organization is eligible in the first place? This option is not to be missed, so it's worth your while to implement it as soon as possible.
Keep reading to gain valuable insight into this exciting fundraising opportunity:
Donate sticker
Offered within Stories, Instagram donation stickers allow everyday users and influencers alike to alert their followers to fundraising opportunities. This feature echoes the general function of the charitable giving features on Facebook.
With Instagram, stickers take on a more creative edge. A variety of images, videos, and other details can be called on to make pitches for fundraising captivating. Users display their content of choice within Stories and layer with a targeted sticker, which increases awareness while also actively soliciting donations.
Donate button
Simple but effective, the Instagram donate button serves as the ultimate call to action. While stickers are typically situated within Stories, the donate button brings this feature to standard Instagram profiles, where some users may find them easier to spot. Situated prominently below the bio section and above photo displays, these buttons make it possible to raise money directly from your business account.
Live donations
In addition to displaying donate buttons and stickers, Instagram allows users to give back by launching fundraisers while using the platform's live streaming functionality. The site donates 100 percent of the money raised through live donations to nonprofits, rather than taking a cut as is common with many fundraising platforms.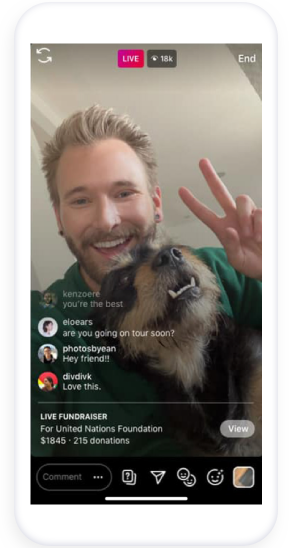 Instagram's new live fundraising feature is easy to access. When setting up a live broadcast, select the fundraiser option. Once the broadcast begins, the platform will display real-time details regarding how many users are lending support and how much money they've raised so far. Additionally, the platform provides an option for breaking down these stats to reveal individual donors — and to recognize their support with a wave function.
Fundraising eligibility
Instagram maintains strict standards to ensure that only legitimate nonprofits use the site for fundraising purposes. Additionally, the platform requires all fundraising nonprofits to link business accounts with related pages on Facebook.
Key criteria and steps for becoming eligible for fundraising on Instagram include:
Verify location availability — Nonprofit fundraising is offered throughout the United States, as well as in most Western European countries.
Nonprofits must be approved for Facebook's charitable giving tools — This program maintains a similarly strict application process and is only available to organizations with 501(c)(3) status and valid tax ID numbers.
Confirm status as an Instagram business account — Users with personal profiles can convert with the "Switch to Professional Account" feature in the settings section.
Business accounts should be linked with verified pages on Facebook — This extra step can be completed when switching from a personal to a business account on Instagram. After shifting to a professional account, Instagram offers an easy-to-navigate process for linking the two platforms. Each Instagram business account is permitted just one connected Facebook page.
Enable Instagram users to add donation stickers — This essential step should be completed from the connected Facebook page, where a Donation Settings function can be found under the Publishing Tools option. Simply add a check to the box near the prompt that reads: "Allow people to add donation stickers on Instagram Stories."
Best practices for using donate buttons and stickers
It's not enough to simply implement buttons or stickers. Creative, yet authentic fundraising campaigns are far more likely to produce donations. These key qualities can be exemplified with the following suggestions:
Don't stop highlighting fundraisers in standard Instagram posts — While donate buttons and stickers in Stories are helpful, there's still something to be said for traditional posts with caption-based explanations and hashtags. These updates can be used to alert followers of the presence of the donate button on your page — or to encourage them to watch for stickers on future Stories about your campaign.
Use a series of images and videos to create a compelling pitch for your nonprofit — Followers appreciate when Stories actually live up to their name. Draw on their desire for emotional storytelling by uploading several intriguing videos that demonstrate why, exactly, your cause warrants their support. Not only will this entice them to give generously, but users who find these Stories engaging will also be more likely to share them on their own accounts or use stickers to create similar Stories.
Highlight donate buttons and stickers for Giving Tuesday — Black Friday and Cyber Monday may dominate the holiday shopping season, but many people are committed to Giving Tuesday. On this special occasion, opportunities such as matched giving entice users to give to preferred nonprofit organizations.
Promote birthday fundraisers — Social media users love the thought of dedicating their special day to those in need. Hence, the popularity of the birthday fundraising tool on Facebook. As of September 2019, this simple solution had already prompted over $1 billion in charitable giving on Facebook. This concept can also be used for Instagram stickers and buttons.
Encourage supporters to use the "I donated" sticker — In addition to promoting charitable giving with stickers that request donations, Instagram allows users to give themselves a virtual pat on the back with stickers that verify previous donations. Accounts that take advantage of this option can be displayed within your Stories. Many users will be eager to lend their support if it means that they score public recognition.
Level up fundraising with Instagram and Constant Contact
A few simple tweaks to your social media fundraising strategy could produce significant returns, including charitable giving from a wider variety of sources — and larger average amounts per donation.

As fundraising efforts become even more competitive on social media, Instagram offers a wonderful opportunity to get the word out in the form of donate buttons and stickers. With these tools in your corner, you can let followers take a more active role in fundraising and, hopefully, come up with the funding needed to achieve your organization's most ambitious objectives.

If you're ready to take on additional fundraising solutions, check out The Download. This easy-to-follow marketing guide will give you insights into a variety of best practices for improving your philanthropic efforts.

Share with your network