Pandemic-related shutdowns have hit museums and galleries hard, leaving many gallery owners scrambling to keep in touch with patrons. Now that things are opening up again, it's time to draw visitors back in by getting them excited about the arts once more.
With a few key pieces of digital marketing knowledge on your side, you can increase visitors to your exhibits and strengthen your gallery's long-term outlook. Try these creative, do-it-yourself art gallery marketing strategies to grow your network of supporters and keep your gallery thriving for years to come.
Get the expert marketing advice and tools you need to increase visits and word of mouth.
How digital marketing can help your art gallery
It's a common misconception that digital marketing is just for corporations and retailers — but effective marketing isn't all about the hard sell. The right digital marketing strategies can offer huge benefits to museums and art galleries too.
Unlike businesses that aim to sell products and services, you're offering guests an experience — something that can't be captured with price tags and product pages. Digital marketing is different from other forms of advertising in that it lets you create an interactive, multimedia journey for potential patrons that offers a taste of what it's like to explore your gallery. Use this to your advantage by creating vibrant, engaging content to draw new visitors in.
Pairing strategies like email marketing, social media, and blogging with the techniques you already use to engage your community will increase your visibility and bring more people to your gallery.‌‌
The basics of art gallery marketing
Marketing an art gallery successfully doesn't require hiring expensive marketing agencies or investing in huge campaigns. There are plenty of simple, low-cost tools that can help you get the ball rolling — here are a few basic ideas that really work.
Use email to inform and inspire
Email marketing is a staple of any strong digital marketing strategy. Start by collecting emails from visitors or offering exclusive content to people who sign up for your newsletter online. Stay in touch with your email list by offering exciting glimpses at what your gallery has in store and behind-the-scenes details about artists, enticing people to click through and learn more.
Showcase your collections on social media
Get to know each social media platform and how it can benefit your art gallery marketing. Instagram, YouTube, and Pinterest are all great for showing off visual content, like popular exhibitions and new artwork. Facebook is ideal for advertising events and offering more information about new artists and collections. Start by choosing one or two channels that best fit your needs and updating those profiles regularly.
Make sure visitors can find you
A big part of art gallery marketing is just getting people in the door. Search engine marketing can help you reach people in your area who might be interested in visiting.
Target keywords that appeal to your gallery's unique demographic for successful museum branding. These should be common enough that potential patrons will search for them, but not so broad that you'll get drowned out by your competition. If you're targeting the keyword "art gallery," for example, you'll be competing with every other gallery in the world to become a top result. A more specific keyword, like "contemporary art gallery in Houston," will have less competition and be more likely to connect you with people interested in what you have to offer.
Create engaging blog content
Blogging is a great way to capture web traffic through search engines.
Writing specifically targeted blog posts to help people find you online is called search engine optimization, or SEO. It's one of the more cost-effective options for finding new leads because you don't have to pay to be found, like pay-per-click advertising. Instead, you write posts about your industry that readers are interested in. Create posts that use your target keywords and that cover topics related to your gallery.
By regularly posting high-quality content to your website, Google will rank you higher on the results page and search engine users will be more likely to find your site.
Next level art gallery marketing strategies
Once you've mastered the essentials of art gallery marketing, you can up your game with some more advanced strategies. Try out these gallery and museum marketing ideas to boost your online engagement and draw in new visitors.
Partner with your artists
‌Finding supporters and art lovers who want to visit your gallery can be as simple as using your artists' platforms.
Popular artists tend to have dedicated followings on social media. Use this to your advantage by tagging their personal pages, or cross-promoting with an artist who exhibits at your gallery. This means that your gallery posts about their artwork to your online following, and they, in turn, share your content on their social media pages. It's a simple, organic way to expand your online reach and connect to people who are already fans of the work you have on display.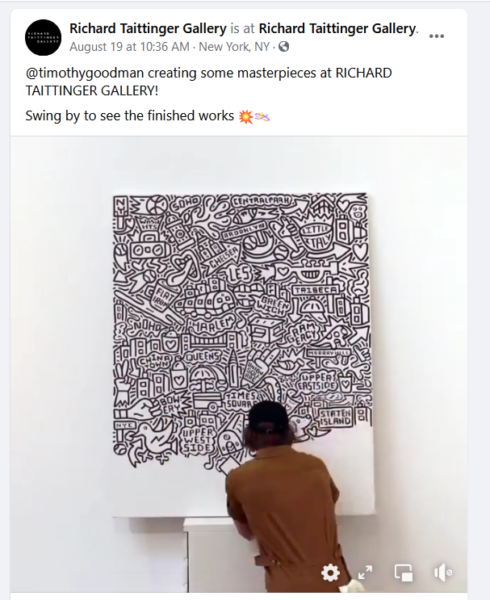 Speak out on relevant topics
Securing guest articles in outside publications can help your gallery gain broader attention. Keep an eye out for art and lifestyle magazines that accept article proposals, or websites looking for guest bloggers. By using your expertise to weigh in on major topics in the art world, you can spark interest in your gallery and give readers a sense of what they might learn from visiting.
Offer giveaways to generate community interest
By now you should have at least one social media page for your gallery. Try building up momentum on your social media pages by hosting a giveaway.
This type of marketing campaign can be done in partnership with local restaurants or wine bars to offer a free dinner and date night at the gallery to the winner. To enter, ask participants to sign up for your email list. That way, you can stay connected with the participants even after you close out the contest.
Giveaways like this generate excitement in the community while helping bolster all your digital marketing channels.
Get creative with your marketing
When it comes to marketing for your art gallery, take it one step at a time. Come up with a single, tangible goal, like growing your social media following or increasing your email list. Then, offer things like admission discounts and vouchers for people who follow you online or sign up for your email newsletter — whatever makes the most sense for your gallery and your marketing goals.

Feel free to mix and match these marketing ideas, or make adjustments based on your audience and your niche. No matter what strategies you choose, you'll be well on your way to growing your patron pool and bringing in more visitors to your gallery.

Share with your network