How important is your attorney bio? When looking for legal counsel, your attorney bio may be a potential client's first impression of you. As such, your bio must be fresh, informative, personable, and professional.
It may seem overwhelming to check all of your clients' boxes, but crafting an impactful attorney biography doesn't have to be stressful. To help, this article will cover five strategies for writing an effective bio:
Focus on the basics
Celebrate your accolades
Choose a great photo
Connect with the client
Be authentic
Crafting your bio is one of the first steps towards developing a powerful marketing strategy for your legal services. Because of this, you'll want to take your time to craft your bio so it lands with the right audiences. Ready? Let's get started!
Get new clients and drive referrals with marketing tools and advice for legal professionals.
1. Focus on the basics
While crafting an attorney bio, you may easily get bogged down trying to add creativity or flair. Instead, focus on the basics. Remember, this bio will likely appear on your well-designed law firm website, so consider the tone you would like to strike with future clients.
Next, consider the basics. A solid attorney bio will tell prospective customers:
Who you are
While your bio is not the place to write your memoir, including personal details — like your hometown — it is a great way to connect with your audience. Many lawyers use this space to tell clients what kind of person and lawyer they are by using descriptions like:
Results-driven
Award-winning
Experienced
These adjectives may seem rote, but they offer the reader an immediate idea of what your values are and how you work. Use words and phrases like these — somewhat sparingly — to start to reveal your strengths to your audience.
What kind of law you practice
As obvious as it may seem to you, be sure to include the type of law you practice within your bio. Keep in mind that potential clients may not be familiar with legal counsel. Consider breaking down your legal expertise with a brief layman's definition of your work.
In her attorney bio, Kimberly N. Brooks, an Associate in the Employment Law Department, provides a clear explanation of the kind of work she does at Ervin Cohen & Jessup:
"Kimberly [advises] clients on compliance with the complicated array of federal and California employment laws. She reviews and revises workplace policies and employment agreements, provides on-site harassment trainings to employees in English and Spanish, and works closely with companies to assist them with terminations, disciplinary actions, and investigations."
This explanation is easy to understand for potential clients, who are often stressed when seeking legal counsel. She even highlights her bilingual capabilities within her bio.
Why they should hire you
The ultimate goal of your attorney bio is to get you hired. While this should be clear throughout your bio, a surefire strategy is to close with a compelling case for your hire-ability. For example, Nina Marino of Kaplan and Marino provides a bulletproof final paragraph to her biography:
"In 2020, the Daily Journal recognized Ms. Marino as one of the top white-collar lawyers in California. Nina was named with 27 other practitioners and only 5 other women statewide. Also, in 2020, Nina was recognized by the Los Angeles Business Journal as a Leader in the Law and a Top Woman Attorney, by the California Lawyers Association for Excellence in Practice, and International Advisory Expert recognized Nina as an expert in white-collar crime. Since 2004, Ms. Marino has been voted by her peers as a Southern California Super Lawyer and a Top Woman Lawyer."
As a lawyer, closing is likely to be one of your strengths. Use it to your advantage when crafting your bio!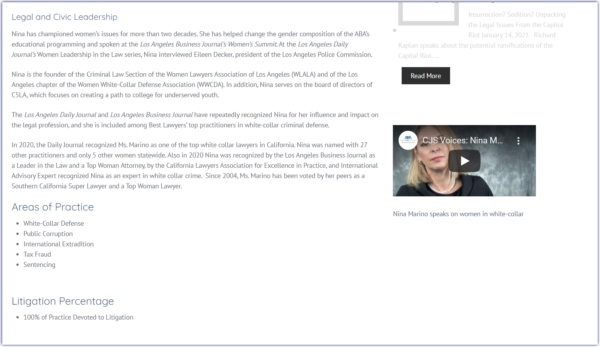 2. Celebrate your accolades
One of the most important elements to include in your attorney bio is your accolades and credentials — from education to your latest awards. While it can feel overtly braggy, don't shy away from sharing your hard-earned success. When building your website and bio, you can organize your accolades in two different ways:
Prose
If you're more narratively inclined, you can opt to list your awards and accomplishments in paragraph form. This can give you space to explain your achievements and provide context for your career.
In this example, Conal Doyle of Doyle Law incorporates some of his accolades into the main text of his bio. This allows him to explain the gravity of his victory in McKnight v. Spain: "This result was the largest medical malpractice verdict in County history and was recognized by The Daily Journal as a Top 10 Verdict in California for 2013."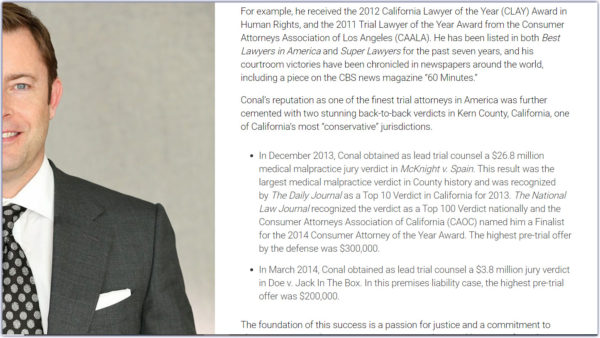 List
A bulleted list is a great option if you have a long list of awards. It can also be a great way to avoid worrying about sounding too braggart. A list is neutral and displays your achievements in an easy-to-read format.
In the same bio, Conal Doyle includes his various awards in a bulleted list later in his attorney biography. This can be organized by year, by honor, or alphabetically.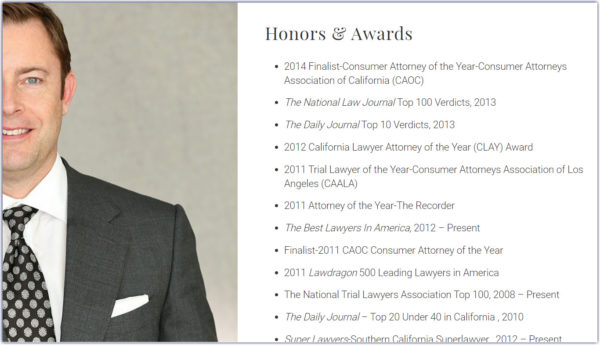 3. Choose a great photo
Another essential piece of the puzzle when constructing your attorney bio is choosing a polished photo. Your photo — along with the other law images on your website — can give clients an idea of your personality. There are a couple of must-have qualities for your attorney photo:
It should be a headshot
Never underestimate the power of a professional image. Investing in a sleek headshot will be worth the time and money.
It should be in a style that suits you
What kind of lighting do you feel reflects your personality and character? What kind of background do you envision? What kind of pose do you feel great in? Headshots range from a traditional head-and-shoulders shot to a posed photo. Decide how you would like to present yourself and communicate this to your photographer. Consider these examples:
Tiffany Frigenti's photo stands out for its modern art direction. From lighting to pose to background, this portrait gives the reader a more personable view of Frigenti's personality.
Her coworker, Hon. Kenneth Gartner is also posed in a modern style, but his portrait effectively expresses his more classic sensibilities. Poses like those from Lynne Gartner Dunne provide a fresh aesthetic that highlights the personality of each professional.
However, there is always the classic headshot like Conal Doyle's. This example is bright and open, making Doyle appear friendly and approachable.
4. Connect with the client
As a lawyer, it can seem challenging to connect with your potential clients. However, with personal avenues like social media for lawyers, creating meaningful connections with your audience early on is more possible — and more important — than ever.
Returning to Conal Doyle as an example, consider this paragraph, which appears in the latter half of his bio: "Conal has never backed down from a challenge or started a fight that he couldn't finish. When he isn't challenging corporate giants in the courtroom, Conal enjoys skiing the Rockies, a remnant from his past as an alpine ski racer."
This paragraph humanizes Doyle and provides his client the opportunity to connect with him over something personal — like his love for skiing or visiting the Rockies. When writing your attorney bio, consider including a personal detail or two to help open the door for real conversations with prospective clients. These connections can be opened further with a great email marketing campaign or social media presence.
5. Be authentic
One way to open the door to client connection is to use a compelling voice in your attorney bio. In this example, Nina Marino expresses her personal commitment to client care: "Quite simply, Nina likes to save people. Right from the start, clients understand that Nina takes their cases as personally as they do."
This excerpt is professional, but it takes on a personal and caring tone. While your professional achievements are influential to potential clients, your ability to make your clients feel cared for may be just as impactful.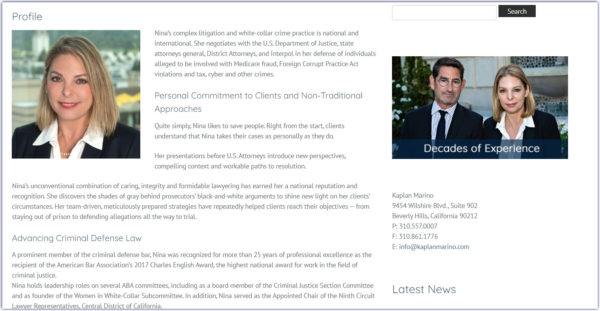 Next Steps
Now that you've learned what elements make an unforgettable bio and have seen some stellar attorney bio examples, are you ready to draft your own?
If you're eager to understand how your law firm branding and bio all come together, check out The Download, a free marketing guide for professional service providers, like attorneys. This guide can help you integrate your bio with larger marketing strategies for your law firm.