Unless you have been living under a rock for the last decade, you know how important it is for your business to have an online presence. The sooner you develop a presence on the Internet, the better. Your competitors know this too.
Creating a new website from scratch can be unnerving and requires a lot of time and effort. If you have the funds, you could hire an agency or a freelancer to design it for you. But if you are a small business with a tight budget, you might think that you are out of luck.
This may have been true before, but not anymore. Website builders have been all the rage in the last couple of years. They are simple to use, don't require coding knowledge, and definitely won't drain your budget.
There are dozens of options out there, each offering different themes, design elements, functionality, and stats to drive your online marketing strategy.
Benefits of website builders
Website builders can be a lifesaver if you choose the right one for your business. You might be wondering if an all-in-one website builder is the best choice for your needs, so we've noted some key benefits of using website builders below to help you decide.
1. Intelligent website design
The first and most obvious advantage of using a website builder tool is that you can be a complete novice when it comes to coding and programming, and it won't matter one bit. Website builders come with dozens of ready-to-use website templates or themes you can use to create your business website.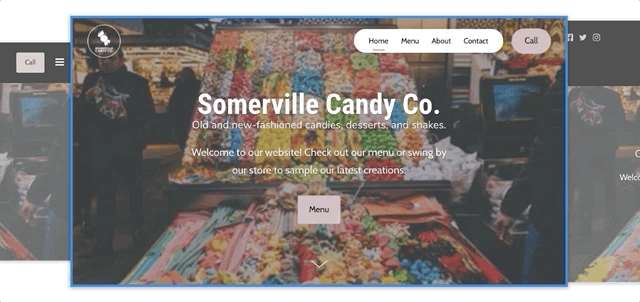 2. eCommerce integration
An online store is a great way to create and run a business that isn't restricted to the confines of a typical brick-and-mortar store. Many website builders provide you multiple features, themes, and other tools which help in getting your ecommerce website up and running.
Integrated right inside your dashboard and optimized for both desktop and mobile devices, the ecommerce store interface lets you easily add new products, organize your inventory, view sales reports, track orders and much more. With easy shopability, dynamic product pages, and a straightforward checkout and payment process, your customers will have a great shopping experience on any device.
3. Social media integration
Having a strong social media presence is as important as having a website. When people search for your business on Google, it's likely that along with your website, your social media pages will show up, and potential customers might visit those to learn more about your business.
Almost every website builder comes with built-in social media integrations, so you don't have to navigate an app marketplace or install any plugins. Integrating your website with Facebook not only enables you to extend your social presence and stay better connected with your social network but also makes customizing your website easier and faster.
4. Cost-effective
When you use a website builder, you don't need to hire a web designer each time you want to update your website or add more content or images. For small businesses that might be strapped for time or money, a DIY website builder will be more than sufficient to meet your needs.
If you're not yet ready to invest in a domain name or haven't finalized a name for your business, you can publish your site as a subdomain, and update it once you buy your own domain name.
5. Time saver
As a small business owner, you're already pressed for time. Add creating and managing a full website to your never-ending list of things to do and it's easy to become overwhelmed.
It's no wonder that nearly half of small businesses in the U.S. don't have a website.
Website builders allow you to create professional-looking websites in minutes and allow you to adjust your site later depending on your needs. The best builders have tools included to help you quickly create professional-looking content.
6. Zero maintenance hassle
As your business grows, your website also needs to evolve; whether it's adding more products to your inventory or updating content and including more pages.
A website builder tool includes all of the functions needed to keep your site operational and protected against technical and malware issues. While some enjoy the challenge of maintaining a website themselves, most outsource this task to a specialist or company, and the cost can vary widely depending on how much work needs to be done, and the size and complexity of your business website.
Start building your website today
Starting and running a business is time-consuming and hard work. It can be challenging to know how to begin or where to go to get help. Building a website is an important pillar to a modern business, but the process doesn't need to be intimidating.

Website builders can help your business hit the ground running. They provide all the tools you need to quickly and affordably build a professional website, attract customers, and sell products online.

Share with your network