Choosing from effective bookkeeping business names is an important step in starting your financial services company.
It only takes 0.05 seconds for people to form an opinion about your website. Because your business name is one of the first things online visitors see, having a good business name is a deciding factor in gaining clients — especially through the digital route.
But with more than 302,973 payroll and bookkeeping businesses in the U.S. alone, how do you stand out? These days, it's more important than ever to use the core of your branding to communicate the worth of doing business with you to your potential clients.
In this article, you'll go over some important do's and don'ts for coming up with good bookkeeping business names. You'll also find ideas based on strategies real professionals have used successfully to name their businesses.
Do's and don'ts for choosing bookkeeping business names
4 types of bookkeeping business names to consider
Next steps for bookkeeping brand-building and beyond
Find new clients with our expert advice and marketing tools.
Do's and don'ts for choosing bookkeeping business names
When coming up with bookkeeping business names, each option must reflect what you do. If potential clients see your name in Google search engine results pages (SERPs) and can't immediately tell that you offer bookkeeping services, they probably won't visit your website.
Using words like "bookkeeping" or "bookkeeper" isn't always necessary. Plenty of successful bookkeepers use related terms like "accounting" or "payroll services" in their names to differentiate themselves while still being clear about what services they offer.
Here are some do's and don'ts to keep in mind as you generate some effective bookkeeping business names to choose from.
Do use keywords related to bookkeeping
Gone are the days when a business name like "AAA Bookkeeping" would give you a top spot in the Yellow Pages. Due to search engine optimization (SEO) standards, financial keywords in your name will help your business name rank higher in SERPs.
Matching what people searching for a bookkeeper will type into search engines is a good idea. For instance, many people search for "bookkeeping services" — so naming your business "Creative Bookkeeping Services" will make it more SEO-friendly.
Do choose a name that looks good on multiple platforms
Your business name isn't just for your website. It'll appear on your business cards, email address, and social media accounts. Create a name that's short enough to look good on all of these marketing tools and materials.
If you intend to market your business on social media, a business name that's 15 characters long makes a good Twitter handle.
Don't choose a name that's too general
"Business Services" might describe what you provide, but it doesn't indicate that you offer bookkeeping services or tell potential clients what's unique about you. Be specific about what you're about and what you can offer to your clients.
Do consider alliteration
This is a time-tested technique for coming up with memorable business names.
Brands like "Best Buy" and "PayPal" tend to stick in people's minds. Creating an alliterative bookkeeping business name can help your company be more top-of-mind and easier to remember.
Do keep your business logo in mind
A good business name and company logo go hand in hand. Using imagery in your bookkeeping business name can complement a logo that would otherwise not make sense.
For instance, "Abacus Accounting" can inspire an eye-catching logo with an abacus tallying up business expenses.
Don't misspell words just to be unique
"Bookkeeping Solutionz" might make your business name unique, but there's a huge possibility that people will spell altered words correctly. When they look for your business online, a list of non-related SERPs might come up — possibly leading potential clients to rival bookkeeping businesses.
Do promote your business niche in your name
If you offer special services, cater to a specific clientele, or offer bookkeeping services in a certain city or state, try to reference this in your business name. The practice can attract more clients.
However, this might not be a good idea if you intend to expand your business expertise or service areas eventually. You may not want to limit yourself and create future brand confusion by doing this.
Do get feedback on your business name
Sharing your list of bookkeeping business names with your friends can help. Through their unfiltered and honest advice, you can learn which options are easy to pronounce, memorable, and communicate your business brand concisely.
Don't use an extra-long business name
"Ultimate Bookkeeping Solutions for Entrepreneurs and Small Businesses" might attract attention if it appears in SERPs. But how likely is it that people will remember or be able to re-type a long name like that into a search bar? As a rule, short catchy names make for better branding tools than long and complicated ones.
Do trademark your business name
Once you settle on a bookkeeping business name, be sure to trademark it. Register your domain name, too. The latter can include your business name, as this will help secure your online presence.
But before doing this, be sure you're not violating anyone else's trademark rights. Running an online search, checking with your county clerk's office, or hiring a professional firm to do a trademark search can give you peace of mind and save you from possible future legal hassles.
4 types of bookkeeping business names to consider
Analyzing the names of your competitors is an excellent strategy for coming up with good names. You may see trends in successful companies' names. You'll also find it easier to avoid options already taken and gain knowledge to apply to your own name search and choosing process.
1. Business service names
Creative Solutions Accounting & Tax Services has a name that's longer than most. However, it effectively communicates what the business provides. It doesn't use the term "bookkeeping" yet assures customers that there are solutions to their financial problems.
Other examples of bookkeeping business names that emphasize services include:
Banner Bookkeeping & Business Solutions
The Accounting & Tax Pro Specialists
Expert Bookkeeping Solutions
2. Business niche names
Legal Ease Bookkeeping makes it clear that the services offered by the company target a select clientele — law firms. Its choice to turn the term "legalese" into the catchy pun "Legal Ease" communicates that the business aims to make bookkeeping easier for legal professionals.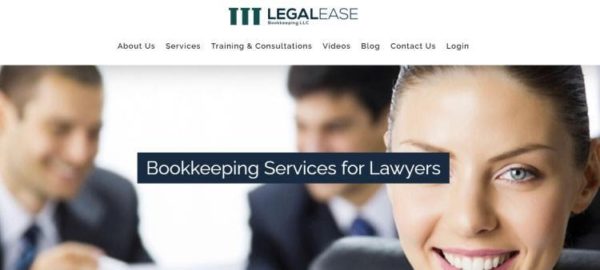 Other bookkeepers who service a key niche might name themselves:
Better Bookkeepers for Builders
Accountants for Actors
Teacher Tax Help
3. Benefit-rich names
In its name, Profit Matters Bookkeeping emphasizes a key benefit the business provides. By connecting brand-building directly with its strength in safeguarding clients' profits, the company came up with a catchy name that also influences its logo — a financial chart that shows profits rising.
Similar ideas for bookkeeping business names include:
Painless Accounting Services
Real-Time Virtual Bookkeepers
Dependable Bookkeeping
4. Brandable names
TAXMOM is one of the shortest company names mentioned on this list. But, it successfully reflects the family-run business brand that the company wants to promote. The name is easy to remember, looks good on social media, and immediately lets customers know the niche of the services provided.
Brandable names that emphasize bookkeeping services include:
Finance Gals
Bookkeeping Brothers
Accounting Aces
Next steps for bookkeeping brand-building and beyond
Marketing bookkeeping and accounting services online can be challenging. However, there are many ways you can promote yourself and stand out from the competition.

Check out Constant Contact's The Download. It's a free online marketing guide for service professionals that shows how people find you online and how you can use this information to your advantage.

Share with your network