With ecommerce sales expected to increase to $4.479 trillion by the end of 2021, it's no secret that consumers are making more and more purchases online.
Is your business driving the online sales you'd like?
To turn your online store into a business-boosting channel, you need to do more than just setting up your store.
You need to market your online store and increase sales with targeted ecommerce marketing automation.
Get started right away! Get the Constant Contact for Shopify app here.
Use the official Constant Contact for Shopify app
With Constant Contact for Shopify, you can easily connect your Shopify store to your email account and start syncing contacts immediately, insert products from your store directly into your email in seconds, and send targeted messages to drive quick sales. And now you can send branded abandoned cart emails to capture lost sales!
Here's how to get started:
1. Connect your Shopify store with your Constant Contact account
Visit the Integrations tab in your Constant Contact account.
Enter your store URL to automatically import your contacts.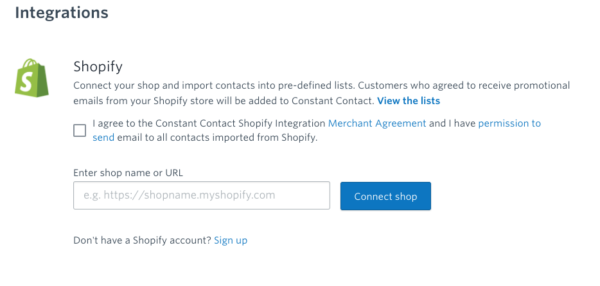 Once your store is connected, your Shopify contacts will automatically be organized by purchasing behavior. We'll create targeted email lists for your best customers, first-time customers, repeat customers, and more.
2. Create persuasive, targeted marketing emails
Increase sales with email marketing by sending the right message to the right people at the right time.
Based on your targeted email lists, create professional, mobile-responsive sales emails in minutes using one of Constant Contact's email templates.
For example, you can encourage first-time customers to make a second purchase with you by emailing them an incentive — like 15 percent off their next order.
You can also drag and drop a product from your store into your email and update the details you want to drive quick sales.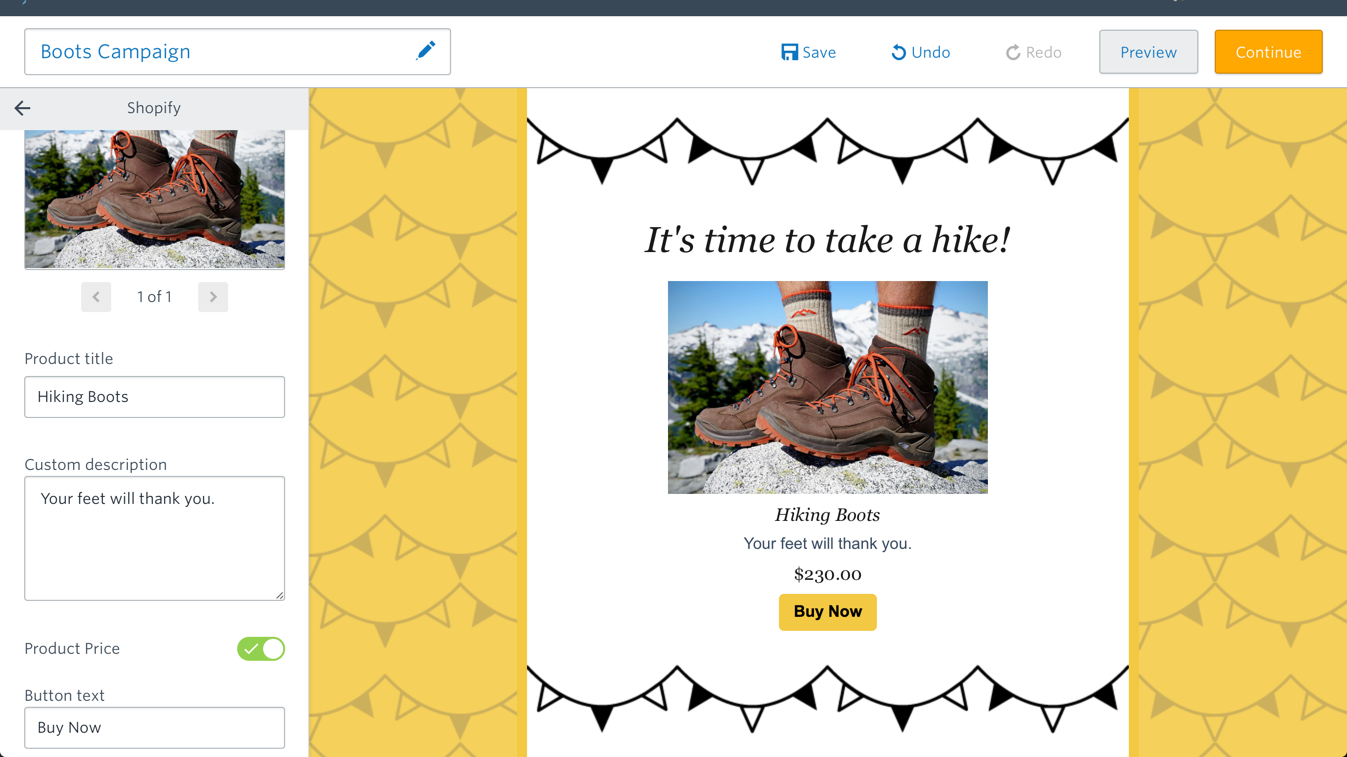 3. Create automated abandoned cart reminder emails
Reengage Shopify customers who made it to the shipping information but didn't complete the purchase with an abandoned cart reminder email.
If you have a Shopify store, you've probably had people who've added items to their cart, but not purchased them. Some of these customers may have changed their minds about their purchase, but some may not have intended to abandon their purchase.
Start by connecting your Shopify account to your Constant Contact account. Once the accounts are synced, your Shopify contacts are added to your Constant Contact account and you can start creating abandoned cart reminder emails.
4. Review results
Once your emails are sent, make sure your efforts are paying off.
The Constant Contact for Shopify app offers reporting so you can see if your email marketing is translating into real business results.
Ready to try Constant Contact for Shopify Abandoned Carts?
Log in to your Constant Contact account to start using the app. Or if you're not a customer yet, you can start a free trial of Constant Contact today.

Share with your network