Who doesn't want free makeup? Heck, it's exhilarating just to get new, purchased makeup. When that box from Sephora lands in your mailbox, it can make you feel like a kid opening a present. But for you, makeup isn't a toy. It's your business, and sponsors can make a huge difference in your success. So here's how to get sponsored by makeup companies.
‌Whether you're a media-focused influencer or a salon owner, you need to know how to get on makeup package review (PR) lists. It'll let you keep up with all the latest trends and stay relevant in a competitive industry that changes at the speed of an Instagram feed.
‌This article will cover:
How to get sponsored by makeup companies
5 tips to get makeup sponsors
How to email makeup companies
It's time to take your work as an influencer to the next level with sponsors, samples, and social-media savvy. You're a serious business person and need serious strategies.
And if you squeal like a little kid when opening your PR packages, all the better. Because who said being serious about your career had to be boring?
How to get sponsored by makeup companies
Wondering how to get sponsored by makeup companies? (Probably yes — otherwise, you wouldn't be here.) The first thing to know is that sponsorship covers a wide range of activities and relationships.
‌It may take some time and effort, but there is a place for you in the world of PR boxes and brand partnerships. You just need to know how to market yourself — and convince brands that you'll market them effectively too.
What is makeup company sponsorship?
First of all, influencer sponsorship is different from direct advertisement. As the social media home of all things beauty, Instagram is where you can find plenty of examples of both.
Instagram ads are brand-purchased posts that display the word "Sponsored" directly below the account name. Beauty brands pay Instagram directly to get their posts in front of their target market.
‌Makeup brands can also use beauty influencers to showcase their products. They pay or provide free samples to individuals they trust to use and market their goods — either by directly reviewing them or by featuring them in some way.
‌ If they pay cash for the post — a sum that can run from ten dollars to tens of thousands — the influencer needs to include the hashtag #ad or #sponsored to comply with Instagram's rules. They may also feature the brand name below their own.
The guidelines for free samples are a little looser. You'll find various tags, including #gifted, #prbox, #freesample, etc.
When can you get sponsored?
You don't need to be a Kardashian to be considered an influencer. In fact, nano influencers (<10,000 followers) and micro (<50,000 followers) influencers have become increasingly popular, even with big brands.
These categories of influencers may have less reach, but they often have more actual influence. Their community of followers engages with their content and trusts their reviews.
‌Influencers looking to find a full brand partnership or pull in regular income from paid posts will need higher numbers. But if you just need to learn how to get on a makeup company's PR list, companies are often willing to send products to these lower influencer tiers in return for publicity.
5 tips to get makeup sponsors
All right already. You believe it — it's possible to learn how to get sponsored by makeup companies without already having legions of followers. So now it's time to talk strategy.
Put yourself in the mindset of a makeup company you might contact. How would the brand approach influencer marketing? And how can you be the person they want — even if they don't yet know it?
1. Define your brand
Who are you? You need to find your niche in a crowded and competitive field.
A lot of things go into your brand:
Personality: The flair and individuality that make your material unique.
Theme: Your industry and focus within it.
Community: Your followers, their demographics, and their interests.
Skills and experience: The talent and qualifications you bring to your content.
Aesthetic: The colors and styles of your content, website, and logo.
Ensure that you are presenting yourself as a strong and consistent brand — and not just a cool person. It's the difference between being an influencer and simply being popular.
2. Get your accounts and lists sponsor-ready
What exposure do you have to offer companies? How can they be sure that you'll show them off in a professional way and to their target market?
Here are some fundamentals that apply across channels as well as some platform-specific best practices.
Have dynamic content
There is no substitute for quality, period.
Blogs need to be attractive, well-written, and relevant. Videos need to be relatable, easy to follow, and engaging.
In such a visual industry, your pictures need to be spectacular. Lifestyle and beauty photography should blend amateur authenticity with professional polish.
Remember that as a nano influencer, you need to demonstrate high rates of engagement. Prioritize interactive and popular content.
Study your peers
Social media is all about being social.
Examine the accounts of beauty micro-influencers to get a feel for how they've built their communities. What do they post, and how often? What posts seem to generate the most likes or comments?
Find tips and tricks that you can adapt for your own business. Remember that beauty content isn't a zero-sum game.
Post frequently and regularly
Sometimes you just get busy. That's okay.
The important thing is consistency. Brands want to see a history of commitment. It's better to post a great video once a month than to post a bunch of videos one month and then nothing for the next two.
Different platforms also lend themselves to different frequencies — so draw up the right schedule for each social media channel.
Engage your followers
Your appeal as a nano or micro-influencer depends on your community. Take the time to build it. You should:
Reverse follow
Like and comment on others' content
Respond to comments on your own posts
Tag followers when appropriate
Engage posts that tag you
In short, be a social media citizen rather than a diva.
Don't spread yourself too thin
Just because there's a ridiculously long list of platforms that you can be on doesn't mean that you should jump on them all.
It's much more important to build up solid communities on one or two platforms than it is to establish your presence everywhere. Focus your efforts. You can always add more channels later.
Use your website and blog to showcase your best work
A traditional website offers a great, stable home for influencers. For one thing, you can provide all your business and contact information in one place.
‌For another, while social media content constantly updates to show the most recent posts, you can use a website to pin or highlight your best material. As a portfolio, it's an asset for people looking into getting sponsored by makeup companies.
‌Once you have the site, adding a blog or vlog is a great way to bring in organic traffic and extend your influence.
Build up your email lists
Email marketing is the most effective marketing channel for most small businesses. Even if you don't have a traditional business model, you can still take advantage of the tool.
A regular newsletter is a great way to engage your community, and impressive subscription rates will boost your appeal to companies.
Prioritize your Instagram
If you're looking for information on how to get sponsored by makeup companies, then Instagram is probably your social networking platform of choice.
In social media demographics, only YouTube is more popular with users from 18-29 — and some of the best influencers use Instagram and YouTube together to increase their reach.
Research ways to get more Instagram followers. While brands may not need a Beyoncé, they want to see healthy accounts with a pattern of growth.
Use hashtags and geotags in your posts. Hashtags clue followers, brands, and searchers in on your subject matter. Geotags help you develop local communities — crucial for smaller influencers.
You should also start targeting and tagging the brands you want as sponsors. Brands look for proven, dedicated consumers.
One tip from Jouer Cosmetics for people who want to know how to get on a makeup company's PR list: tag selectively. Only highlight a few featured brands — making it easy to see where everything goes and its focus.
Maintain your Facebook page
In the beauty biz, it may seem like Facebook is Instagram's older and slightly out-of-touch relative, but it's still the social networking app that sees the most engagement.
A Facebook page is also indispensable for brick-and-mortar shops. It's a source of basic business information and reviews for people to examine.
Take advantage of YouTube
YouTube is the most popular social media channel, period. Adults from 18-65 visit the platform regularly and often more than once a day. Percentages for each cohort range from 80% to an unbelievable 95%.
YouTube blurs the lines between social and traditional media, drawing in the greatest number of viewers. It's also become the destination of choice for those looking for makeup tutorials — how-tos on everything from the classic smoky eye to the hottest trend of the moment.
If you're a budding videographer, develop your library. One of the best things about YouTube is integrating it with your website or teasing clips on your social media accounts.
Strategize your approach to other accounts
There are so many channels where you can stake a claim. Figure out what makes sense for your business model. You might need or want accounts on:
TikTok and Pinterest are particularly viable options for folks in the beauty biz.
3. Collect your data
You need your numbers to woo companies. Whatever platforms you use, research all your statistics. The right tools will help you figure out your engagement rates.
Even better, doing a little research can help you figure out how to increase your numbers. Find out what content has performed the best and use it to inspire future material.
‌You can use Constant Contact's social media management tools to access analytics for Facebook, Instagram, Twitter, and LinkedIn all in one place. You can also use them to post content from one convenient hub.
‌Most platforms also have dedicated analytics tools that'll let you check on that channel's performance:
4. Find the right companies
While still a novice in getting sponsored by makeup companies, you're probably not going to jump to the top of an international brand's PR list.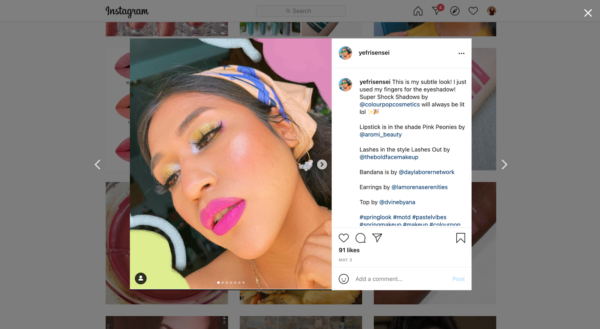 Think local. Not only are these companies often more receptive to PR requests — with less competition — but they're also more likely to be persuaded by the strength of your local following. You have real potential customers to offer.
‌As mentioned before, brand loyalty matters. When making contact, demonstrate your familiarity and genuine love for their products.
5. Be authentic and creative
You are what you have to offer makeup companies:
Stay true to your brand.
Stay honest with your reviews.
Stay loyal to your followers.
That doesn't mean that you shouldn't try new things. Brands want the exposure offered by influencers, but they also want fun and diverse content about their products.
Particularly as you're first learning how to get sponsored by makeup companies, play around with your formats and campaigns. You never know when you might have that lightbulb moment of brilliance that pulls a flock of new visitors to your account.
How to email makeup companies
You have a handle on everything you need to do before the email, but you still want to know how to get sponsored by makeup companies with the right approach via email.‌
Whom to contact
First and foremost, follow the brand's instructions — look for those on their official website and accounts. They may have explicit guidelines for would-be influencers.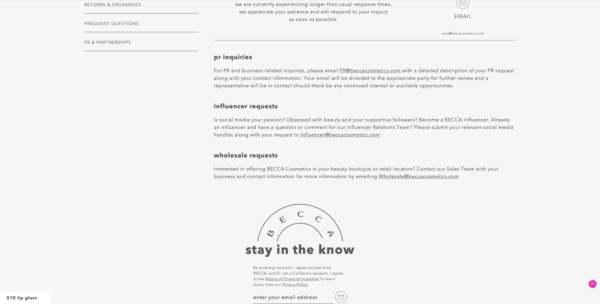 Don't send off some anonymous "Dear Sir or Madam" email. It seems overly formal in today's business culture. If you can't find the right individual, opt for a simple "Hello."
In addition, you maximize your chances of success by establishing personal connections with the right people. Find the head of PR review/inquiries or influencer marketing and contact them.
‌You'll find this information in various places: on company websites, LinkedIn profiles, or other social media accounts. Or you can send smaller brands direct messages and ask whom to contact.‌
What to send them
In addition to your email, send them a media kit. An influencer's media kit is like their resume. It's a document that includes any or all of the following:
Cover page
Website and social media statistics
Audience demographics
Previous advertising work
Pay rates
Contact information
Don't worry if you don't have much experience as an influencer yet. You might start with a three-page kit with a cover page, information on your audience and channels, and contact information. You'll update this document regularly as your brand grows.
Why include it now? Because it's a great way to introduce yourself, your brand, and your professionalism right off the top.
You should also make it easy for companies to check you out. Your email — both content and signature — should also include links to your sites and accounts.
‌What to write
Suck up shamelessly — but honestly. Your email should more or less follow this template. Depending on the email, it may make sense to add other information or mix up the order, but make sure your message contains the following elements.
Greeting: "Hello," or "Hi [individual's name]."
‌Lead-in: Give them a hook. Start with a detail or experience that's both memorable and relevant.
Compliments: Tell them why you love them. Don't be shy.
‌Experience and loyalty: Talk about your history using the products and your history featuring the brand.
‌Your web and social statistics: What are your main platforms? How many followers do those accounts have, and what kind of engagement do they receive?
‌What can they do for you: Do you want to be added to their PR list? Or is there a new product you want to try before buying? Have one specific ask, but be gracious and be clear that you'd be delighted with anything at all.
What can you do for them: Why are you a good investment for their company? You don't have to promise them the moon, but give them an honest idea of what they can expect from you.
Your address and contact information: If you want them to send you something, you better not forget this!
‌Signature: Wrap things up with one more compliment and some warm wishes. Make sure that you have a professional email signature with contact information, but leave a couple spaces between your email and your automatic signature.
Sample
The following is a sample that follows the above formula. It would be a great message to Industrialiste — if such a makeup line actually existed.
How to follow up
It usually takes one to three weeks to get a reply after reaching out to makeup companies' PR teams, but it might take even longer. Be patient.
They may not reply at all. If you're still waiting after three weeks, you can send a brief follow-up email. Keep it polite and short. Remind them who you are and what you want — but avoid any language that comes across as aggressive or passive-aggressive. You can also add one new detail.
Your email might look something like this (and would include a hyperlink to the mentioned post):

If they say no (or still don't respond), don't hound them. Move on. If they say yes and send you something, follow up with a thank you email and link to your review.
More digital marketing opportunities
You've done it. You've learned some tips on how to get sponsored by makeup companies.

You know the different types of sponsorships and levels of influencers. You have a checklist of tips to improve your odds of receiving PR. You even have a simple email template to help you reach out effectively.

But don't stop there. There are so many other ways to grow your business. Read The Download: Making Sense of Online Marketing for Personal Care, a free, industry-specific guide from Constant Contact.

Let us help you make the world a little more beautiful than you found it.

Share with your network