In my last post, A Beginner's Guide to Snapchat for Business, I covered why Snapchat is a great new tool for your business and how to create an account. Now it's time to start thinking about how you can use Snapchat at your business and what to share with your Snapchat followers.
Snapchat has already gained a lot of attention from larger companies and organizations.
And if you're looking for a new and creative way to connect with your target audience, now is the perfect time to give these fun Snapchat ideas a try.
Here are seven unique and creative uses of Snapchat for your business.
1. Coupons
The immediacy of Snapchat provides customers with an urgent incentive to shop. Try offering a call-to-action like "15 percent off today only!" or "Screenshot this snap and present it at the register for $5 off." These enticements encourage your customers to shop while making them feel like they are in the know on offers other customers may not be getting.
Wondering how to create a coupon for Snapchat? You can take a picture of a current physical coupon you may have, or create a coupon specifically for your Snapchat followers. The coupon should be sent to your Snapchat story so all of your followers can take advantage of it. Consider something like this:

2. Product updates/demos
Do you have a new feature in your product that you want to make sure your customers are aware of? Consider making a short video of an employee demoing the tool to show followers how it works and why they should be using it.
You can also use Snapchat to create buzz around a new product that will be released in the future. Think of it as a way to create suspense and excitement.
3. Contests
A great way to get your followers to engage with your business is to run a contest. If you are an art supply store, challenge your followers to a Snapchat drawing contest — whoever draws the best doodle and sends it to your company's Snapchat username wins a paint kit or first dibs on a new release. For a hair salon, challenge your users to send in photos of their favorite hair trends for a chance to win a gift certificate.
A great example of a brand using Snapchat to run contests is GrubHub. The food delivery company asks followers to use Snapchat's drawing function to create a doodle, which users then send to GrubHub. The company picks 10 user-submitted snaps and rewards them with a gift, such as a discount.
Here is an example of a "food doodle" contest GrubHub ran in the past:
4. Promote events
Digital marketing is one of the best ways to get the word out about upcoming events. In fact, covering events on social media allows you to broadcast your event and make it available to those who may not live close enough to join.
Use your Snapchat story to post videos of yourself explaining the importance of an upcoming event, as well as the date, time, and location. You can also direct your followers to your other platforms, such as Facebook or Twitter, for more information or registration links.
Follow up these promotions by posting snaps to your Story during the live event. Your viewers who couldn't make it will love getting a peek into the action, while those who are in attendance will likely be happy to make an appearance in your Snapchat story!
5. Behind-the-scenes footage
Customers love seeing the personality of a brand, and what better way to show it than through personalized videos and images just for them. They will feel emotionally connected with your business, leading to customer loyalty and positive reviews shared with their friends and family.
Here is an example from our Constant Contact Snapchat story. We recently traveled to Rockport, Massachusetts to visit La Provence for our Small Biz Stories podcast. While we were there, we posted behind-the-scenes pictures and video clips of our trip. This allowed our followers to receive information about the next podcast episode that was only available to them. Think about the ways you can invite your followers into your company and give them a special sneak peek.
6. Encourage followers to sign up for your email list
While social media platforms such as Snapchat do a good job generating excitement and providing your customers with unique rewards, you always want to make sure you are able to keep in contact with them. After all, you own your email list, but you do not own your followers.
Encourage your followers to sign up for your email list by mentioning your email campaigns in your Snapchat story. Consider including a photo of your latest newsletter to show your followers what they can expect. This can turn your most engaged followers into leads.
Here at Constant Contact, we use Snapchat to promote our Hints & Tips newsletter. Check out this example from one of our Snapchat Stories in November below.
7. Fun tidbits
Sometimes your followers will appreciate something fun from your business. For example, Amazon often posts sequences of images for their followers to vote on. Recently, Amazon employees carved pumpkins and shared their Halloween creations on their Snapchat story, asking followers to screenshot their favorite. While it may not seem Amazon is promoting their business by doing this, they are increasing follower engagement with their brand and reinforcing the idea that they are a fun company.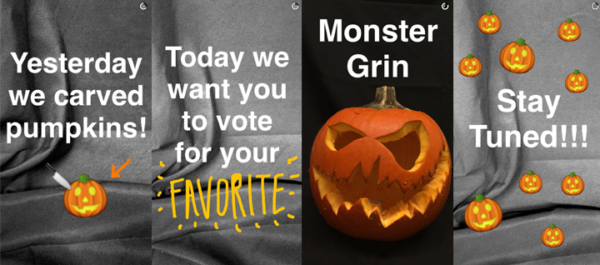 Ready to try these ideas out on Snapchat?
Snapchat allows you to share fun, creative, and personable content quickly and interact with your current and prospective customers.
Claim your Snapchat username today and begin reaching a target demographic that your competitors may not have considered. Your customers will remember that you were the first and your creative visual content will keep them coming back for more.
Also, keep in mind that building a following on Snapchat will take some time, so don't be discouraged if your follower count or engagement with each post is low at the start. Consider building your audience by exporting your Snapchat stories to repurpose on other channels. You can do this by clicking the ellipsis next to the "My Story" button and then clicking the download button that appears next to it.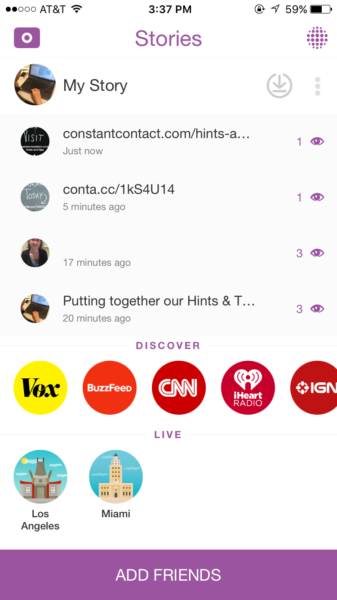 Voila, you now have a video of your Snapchat Story, which you can share in your emails or on social media.

It may also take a bit of experimenting to figure out what content works best for your brand. Keep in mind that Snapchat is a much different platform than ones you may already be active on. You're going to want to have a mix of photos and videos to keep your Story interesting and you want to keep things short and sweet, just how Snapchat intended!

Best of luck planning your content. Don't forget to explore Snapchat's geofilter to engage your followers.

Share with your network