When I teach Constant Contact's Successful Email Marketing Boot Camp classes, one question I get in every class is whether or not social media buttons belong in emails.
My answer: Yes, absolutely.
Social Media buttons that connect to your company's Facebook Page, Twitter account, LinkedIn Profile, etc. should be in every single email you send. These buttons give your contacts an opportunity to connect with you in ways they may not have known were possible. And one of the sites you are linking to may be your customers' preferred way of getting new information from your business.
So how do you decide where to put social media buttons in the email?
Unless the specific goal of your email is to drive people to your social networks, these social media buttons serve as a secondary action for your contacts to take. There are usually two great locations to put them.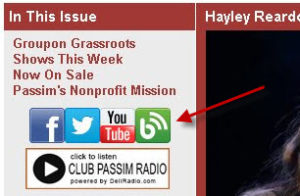 If your email has a sidebar, I recommend your social media links be located somewhere in the top third of your email.
This means the buttons will be visible to everyone who opens your email, regardless of whether or not they take the time to read through the entire message.
If you're using a short, focused single-column template, the bottom of your email is a great location for your social media buttons.
In either case, Constant Contact makes it easy to add these pre-made, branded social media buttons to your emails. Remember, you are giving your contacts an opportunity to connect with your business in another way.
Won't the buttons take my contacts away from my email?
No need to worry. As mentioned above, these buttons usually serve as a secondary action. Also, the social media link they click on opens in a new tab in your browser. Your email will still be easy to return to with a simple click.
Other ways to make your email more social
We also offer two other tools that can help you and your customers share your email on a number of social media sites. What are these two extra tools you ask? Don't worry; I'm not in the business of keeping secrets that will help our customers succeed!
#1 – Social Share Bar:

You can find the Social Share Bar in the "Header Options" of your email.
When you select to include the Social Share Bar it adds a bar to the top of your email so that your contacts can share your email on their social media profiles and pages. This gives your customers the opportunity to spread the word about your business to their networks and can give your email much longer legs than it would have otherwise.
#2 – Simple Share:
Simple Share is a little different from the Social Share Bar in that it doesn't add anything to your email but allows you to automatically share your email on your social media sites when your email goes out! How great is that? Also, you can easily re-post an email to your social media sites in the reports section of any recently sent email.
Show off your social presence
So this year, make it a resolution to show off your social media presence in all of your emails. Give your customers as many ways as possible to connect with you and share your emails.
Do you learn by doing? Come to one of our "Successful Email Marketing" hands-on workshops. We'll show you how to create effective email marketing campaigns that get results. See when our workshops are in your area.
Share with your network