Influencer marketing for nonprofits — it's an old strategy given a new name. Major nonprofits and major celebrities have paired up to do good for as long as the two have existed. But social media has transformed the landscape of influencer marketing. It's created a huge web of niches and spheres of influence.
When you find the right voices and the right platform, you can extend the reach of any nonprofit and access a new audience that's already primed to care about your mission.
In fact, that audience pays more attention to the recommendations of their favorite influencers than to those of megastars, and this trend is only growing.
There are powerful people eager to advocate for your brand and cause. You just need to find them, connect, and partner up to realize your most ambitious goals.
Don't miss out on one of the most exciting digital marketing trends for 2022. The internet is full of talented, influential people who share your values and want to work with you to make a difference.
Keep your organization growing with expert advice and all the tools you need, all in one place.
Benefits of influencer marketing for nonprofits
When thinking about influencer marketing, it's easy to go straight to the obvious industries — the fashion and beauty empires created through platforms such as Instagram and TikTok. But the pandemic changed the world and drove it online, leading to a boom in influencers and a more socially conscious audience.
Here are some of the things that tapping into that talent pool can do for you:
Increase brand and cause awareness
Getting influencers to vocally support your organization gives you instant access to a new pool of potential followers, donors, and volunteers. It's a great way to increase awareness about your nonprofit.
Moreover, it isn't just your brand that tastemakers and advocates serve — it's your cause. Whether it's global climate change or a local initiative, the exposure of the problem or opportunity helps your overarching mission.
Reach the right audience
Social media may have given you a megaphone, but it also distributed them to everyone you know. It's a challenge to reach the right ears amid all that noise.
Even paid media faces new obstacles. Growing privacy concerns have made it harder to target ads, and widespread ad-blindness means that people often ignore the appeals that do come in. And while email marketing and content strategies continue to pay off, both of these depend on an initially inbound audience.
Influencers allow you to access people who are already listening. They share many of your values and goals, making them the perfect candidates to contribute to your nonprofit.
Enhance credibility
When they speak on your behalf, these new spokespeople can appeal to previously established trust and ongoing relationships with their followers. It takes time to develop social proof in favor of your brand, which is the number of endorsements that persuade new people to give your nonprofit a look.
Influencers shortcut this process. Instead of relying on the number of positive mentions, you can substitute quality. Get the endorsement of someone people already trust, and you can persuade them that you're trustworthy, too.
Create more and better content
Take it from someone who does it for a living — creating content takes time and mental energy. Even a short tweet takes effort and planning.
Why not share that labor with people who love to do it and are good at it? Influencer marketing for nonprofits can increase your content library and free up more time to focus on the aspects of your job for which you're best suited and that you find most rewarding.
Earn backlinks, social shares, and higher search engine rankings
In addition to the immediate effects of influencer marketing, there are secondary benefits in earned media and search engine optimization (SEO). Growing your content library and gaining more shares and high-value backlinks are great ways to increase your organic reach. You'll become more attractive to both Google and online media outlets.
Different types and levels of influencers
With so many different niches and platforms, there are many kinds of influencers out there. Different people will lend themselves to different causes and strategies, so it's important to find a fit for your brand.
Influencer niches
In addition to charity influencers — people who build their followings around nonprofit work or a specific cause — you should look for individuals with values and communities that resonate with your organization.
Unless they're celebrities, most develop their base within a specific niche. Popular types of influencers include:
Gamers
Sports and fitness professionals
Bloggers and vloggers
Photographers
Travelers
Beauty experts
Fashion tastemakers
Parenting guides
Any of these could be a powerful advocate for your nonprofit. For example, a fitness influencer might be a good partner for a health-focused nonprofit. An organization dedicated to preserving natural habitats might pair up with a nature photographer. And so on.
Influencer levels
The most common way to classify influencers is by the audience size of their most successful platform. The categories are:
Nano-influencers (1,000 to 10,000 followers)
Micro-influencers (10,000 to 50,000 followers)
Mid-tier influencers (50,000 to 500,000 followers)
Macro-influencers (500,000 to 1 million followers)
Mega-influencers (1 million+ followers)
As the follower count goes up, so does the associated price tag — although most nonprofit-influencer partnerships are unpaid.
There are other good reasons to look lower on the totem pole, too. Nano and micro-influencers tend to be:
Easier to contact
Less in demand (so more likely to say yes)
More engaged with and trusted by their followers
If you're a local organization, you might approach people with even lower numbers — as few as several hundred people — so long as their followers match your target demographic.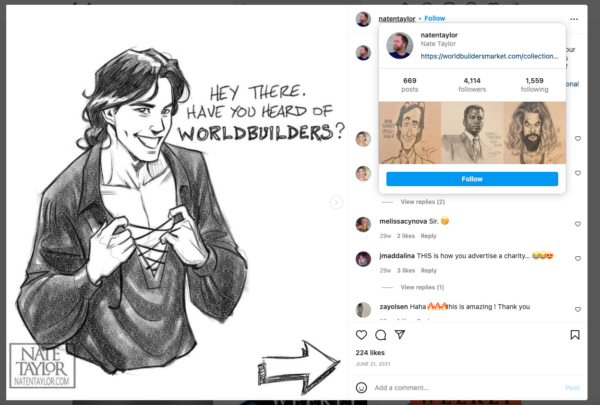 Ways to find and connect with the right influencers
Those are the categories of people whom you might approach. But how do you home in on the right candidates for influencer marketing for nonprofits? And then how do you approach and engage them?
Research
If you have the budget, you might invest in software to help you research and manage your campaigns. Platforms such as Grin and Upfluence come with impressive suites of tools to help you consolidate and evaluate relevant content creators.
Fortunately for the rest of us, there are also plenty of free ways to find the right influencers.
Look in your own personal and professional social accounts
Chances are that you already know or follow appropriate candidates. After all, influencer marketing for nonprofits is simply about finding like-minded people who have a significant following. Who influences you? Start there.
Search hashtags related to your brand and cause
Hashtags are the glue that unites all the nanospheres conducting parallel conversations. Check out the people who already advocate on behalf of your organization. Foster those relationships. If any of them have substantial followings, it might make sense to approach them about a more formal partnership and create content together.
Search tags related to your mission, too. What voices dominate that conversation? Who gets the highest engagement rates? What influencers want to know about your organization but may not yet?
Use free tools
Some social media outlets offer in-platform tools to help you find and evaluate people with reach. Twitter's TweetDeck is a good example.
There are also social listening tools and influencer marketing platforms that offer free plans or trials. They'll generate lists of relevant influencers and their rankings for you.
Recruit
Once you've identified people with whom you'd like to work, it's time to reach out.
Follow them on their preferred channel
Ideally, you want to establish a history of engagement well before you ask them to promote you. You also need to get a sense of their personality and style to make sure that they fit well with your organization.
Reach out
Established influencers will generally post information about how to contact them in their profile or dashboard. Follow their instructions.
Most will ask that you email them. Keep these messages short and to the point, introducing yourself and clarifying the kind of partnership you envision. If they're interested, you can set up a time to discuss the possibility of a joint project in person or over the phone.
Your email should also be personalized. Tell them why you want to work with them and why you think they'd relate to your organization's vision. Nothing is less attractive than a request that reads like a form email.
Respect their time
Remember that this is their job, and you're (probably) asking them to do it for free. Be efficient, and be realistic with your expectations.
And thank them for everything they do on your behalf. Praise their efforts and leave them wanting to do even more.
Ideas for nonprofit influencer marketing
You've found your partner, but what should you do together? Create your campaign around any of the following objectives.
Raise awareness
The goal of influencer marketing for nonprofits might be as simple as raising awareness about an issue facing your community. Ask your influencer to use their megaphone to call attention to a new development or compelling statistic.
Provide them with a call to action as well, one that offers concerned parties a way to get involved in the solution rather than simply marvel at the problem.
Produce high-value content
Content creators often have expertise and production tools that nonprofits can't match. Instead of several short posts, ask if they'd be willing to collaborate on a short video or another, bigger project.
You can get a lot of mileage from the right content, posting it on social media channels as well as your website. It can help introduce your organization or answer common questions.
Promote your next fundraiser
Give influencers your nonprofit calendar of events so that they can boost your message and invite more people. If they can attend, ask them to post from the event itself, too. Let people know what they're missing, so they'll be more likely to come to the next event.
Co-host a virtual event
Use influencers' popularity to its full effect by having them co-host a virtual fundraiser on the platform of their choice. They might:
Post updates and encouragement for a virtual 5K
Raffle off prizes
Sell online auction items
Emcee virtual entertainment
Teach a class on their area of expertise
Bring your event to them and to their audience, letting them engage in a forum with which they're comfortable.
Amplify your year-end appeal
It's hard to overstate the importance of year-end giving to a nonprofit's operations. Start marketing your final fundraising push early, and have influencers ask for donations on your behalf.
You can also route updates through them, asking them to post announcements about the progress you make through November and December.
Start expanding your influence
A successful marketing campaign takes work to implement. But with influencer marketing for nonprofits, that effort pays off by bringing in new and talented people to work on your behalf.

Influencers can bring your nonprofit new exposure and credibility. They can help you generate new content and connections. And their genuine belief in your mission can lead them to donate their time.

Now that you know the different kinds of influencers and how to find the right partner for your organization, it's time to make it part of your nonprofit marketing strategy.

Start by running through your own social media accounts and listing any likely candidates. Then you can look for new people to follow by searching hashtags related to your organization and cause. Even if you never approach some of them about a partnership, you'll gain access to new communities that are invested in the things that matter to you.

Share with your network