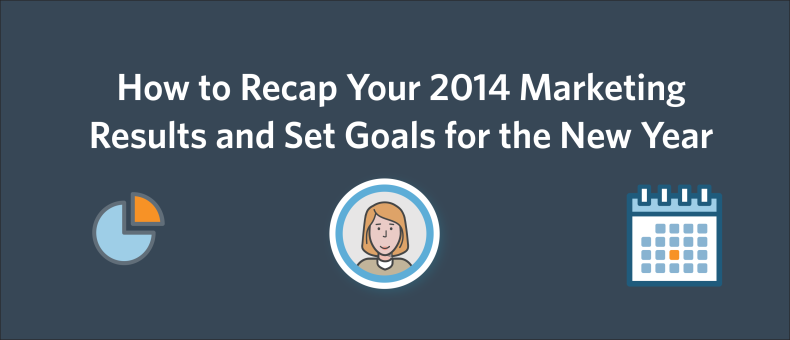 As the end of the year approaches, between holiday shopping, relatives visiting, and the weather going batty, you have a very important task: creating your small business marketing goals for the New Year.
This can seem like an intimidating task, but it's an essential part of setting yourself up for success in 2015.
The good news is that you already have a ton of information from this year that you can tap into.
In this post, I will provide a simple strategy you can follow to assess your marketing results and set your goals for the year ahead.
Step 1: Recap what you've done
You probably tried a lot of different marketing activities in 2014. Jot down a list of the activities you were involved in.
For most small businesses, this list will include:
Social Media Marketing
Website/Blog (Content Marketing)
Paid Advertising
Step 2: Identify the tools you need to track your results
Once you've gathered a list of marketing activities, you'll need to make sure you have the tools you need to effectively measure your results.
Luckily, most marketing channels have built-in reporting tools you can use to track your activity.
Here's a quick overview of the tools you'll want to consider:
Email marketing: Email marketing services like Constant Contact have built-in email reports that make it easy to track your results.
Social media marketing: Facebook, Twitter, LinkedIn, and Pinterest all have native analytics platforms you can use to access basic social media insights. With a tool like MarketMeSuite you can get even more detail about your different social media activities.
Website/Blog: If you're using a platform like WordPress to host your website or blog, you should have access to insights that tell you how many people are visiting your site. You can also use a tool like Google Analytics to get a more in-depth look at your website traffic.
Step 3: Understand the metrics that matter
As you start to look into your reports, you'll likely see some new terms and have questions about what these metrics really mean for your business.
Here's a quick overview of some of the most important marketing terms and what they mean for you:
Email Marketing
Open rate: Individual opens over the total number of emails delivered.
Click-through rate: individual clicks over the number of emails delivered.
Bounce: an email that cannot be delivered to the mailbox provider. A bounce is classified as either "hard" or "soft." Hard bounces are the failed delivery of an email due to a permanent reason, such as a non-existent address. Soft bounces are the failed delivery of an email due to a temporary issue, such as a full inbox.
Spam: If an individual on your email list reports your email as unwanted or unsolicited, it will be marked as spam.
Opt-out: An opt-out occurs when one of your contacts no longer wants to receive your emails and unsubscribes from your list.
Social Media Marketing
Impressions: A look at how many people saw your social post
Engagement: The total number of likes, shares, and comments on a post
Reach: A measurement of the size of audience you are communicating with
Website/Blog
Inbound links: the number of sites linking back to your website or page. This influences your website's search engine optimization.
Leads: potential conversions. These are the people who need or are interested in your product or service.
Bounce rate (website): the percentage of people who land on your website and immediately leave, without viewing any other pages.
Time on site: a measure in minutes and seconds of how long a visitor stays on your site before exiting.
Unique visit: a visit from a person to your site or page. This person is not counted more than one time.
Paid Advertising
Audience growth rate: a comparison of your audience today to your audience yesterday, last week, last month, etc.
Conversions: the number of people who achieved a desired result. This could be buying a product, signing up for a trial, filling out a form, or any other goal you had for a campaign.
Funnel: the path that visitors take toward converting. A marketing funnel usually consists of Awareness at the top and descends down with Consideration, Conversion, Loyalty, then Advocacy.
Step 4: Assess and create new goals
As you start to look at your results, you'll want to pay attention to both your marketing metrics and your business results.
On the marketing side of things, you'll be able to gain valuable insights into:
Audience Growth: Have you grown your email list? Are you adding new social media fans and followers? Are more people visiting your website/blog?
Engagement: Are people opening your emails? Are fans engaging with your posts on Facebook? Are people reading and sharing your content?
But you'll also want to look at how your different marketing activities are impacting your business. This could include:
Foot traffic: Are your marketing activities bringing more people into your store/office? Which method is most effective?
Leads: Which marketing activities are doing the best job at helping you reach potential customers?
Sales/Calls/Appointments: Are your emails generating sales for your business? Are new customers discovering your business on social media?
Take the most successful tactics and create your high priority goals around these items first. They need to be challenging, yet reachable goals for your business to be set up for success.
Say you use email, social media, and content marketing. You started a blog this past year that has done fairly well. In 2015 the goal could be to increase unique blog traffic by 20 percent. This will involve some smaller objectives to be able to achieve it, such as writing more articles per month and including videos and images to enhance engagement.
Now look at those tactics that weren't as successful.
Maybe your business put a lot of effort into being active on Twitter, but didn't see a lot of engagement. Decide whether this is an avenue you want continue to improve. If it is, look at how you can trigger engagement by reaching out to customers, mentioning thought leaders in your field, or running a Twitter ad.
Maybe the issue was you couldn't measure some of these metrics or gauge the success adequately. This alone could be a goal before you start the New Year. Find affordable ways to measure the missing metrics for the upcoming year.
Orient your efforts around the obvious winners and put some other things on the backburner or drop them entirely. You don't need to be pursuing every marketing tactic, just the ones that work best for your business.
Step 5: Check in regularly
Come back to these goals every quarter so you can evaluate if you'll be able to reach them or if they still need to be a high priority. A lot can change in your business over a few months and that can alter the direction your goals should be heading.
Long-term goals can also be forgotten if they aren't revisited regularly.
Just sitting down and making goals is not enough — you should be checking in with your progress regularly to make the most of the initial plan you've put in place.
Yes, there is the possibility your goals might change, but if you don't continue to evaluate your progress, you'll have a harder time deciding how to change your initiatives properly.
So, to recap…
Start by understanding what you've done and how you're going to measure the effectiveness of these different activities.
Make sure you have the tools you need to effectively measure your results.
Once you understand what you need to measure, take some to assess your results and set actionable goals for the year ahead.
And finally, make a point to check back in on your goals to see how your different marketing activities are performing throughout the year.
By sitting down to review and reflect on the previous year of your business you can make next year even more successful.
As a small business owner you have a lot on your plate and using your experience to organize next year's business goals is a great way to put your business on a clear path in the upcoming year.
Have any questions for goal setting for the year ahead? Let us know in the comments.
About the Author: Cami Bird is the Head of Local Success for MarketMeSuite, the social media marketing and engagement platform for small businesses. She is an expert in social media engagement and inbound marketing, and loves Welsh Corgis. MarketMeSuite was the first company to pilot Constant Contact's Small Business Innovation Loft.
Share with your network