Considering the sheer volume of promotional emails created by companies every day, standing out from the crowd can be a real challenge. Generating new and exciting retail subject lines that are capable of contributing to sales can be especially difficult.
When it comes to retail marketing emails, creating the right subject line often makes all the difference. Good email subject lines are relevant, creative, and engaging enough to get your customers interested. Today, we'll explore some of the best ecommerce subject lines that completely transform how your email marketing campaign performs.
Get all the tools you need to quickly find new customers and grow your retail store's sales.
Crafting engaging retail subject lines
Coming up with retail subject lines that have an impact can take a little imagination. Spend some time thinking of subject lines that inspire wonder, curiosity, or laughter to make your emails more alluring. The overarching goal of your subject lines should be to encourage readers to open the email and discover more. Here are a few ideas to get you started in the right direction:
Grab attention
A sense of urgency can be a huge motivator for getting leads to convert. The "Fear of Missing Out" (also called F.O.M.O.) is a feeling anyone can relate to, including your prospective customers. For a higher open rate, craft subject lines that will encourage a response quickly. No one wants to feel like they've missed the boat on a major deal.
Consider using subject lines that suggest time is of the essence and recipients will feel more compelled to learn more. If you've incorporated a reward points program into your retail marketing strategy, send out periodic reminders to customers who haven't been active in a while. Here are a few examples:
"Attention Required: Your Bonus Points are Expiring"
"Time is Running Out on your Coupon Code"
"Limited Time Only"
"Your Gift is About to Expire"
Be inviting
Long-term subscribers appreciate promotions made exclusively for them. Consider incorporating "VIP" or "For your eyes only" in the subject line to make your recipients intrigued to learn more. Other ideas include the following:
"You've been selected"
"Something just for you"
"You've been invited to join us"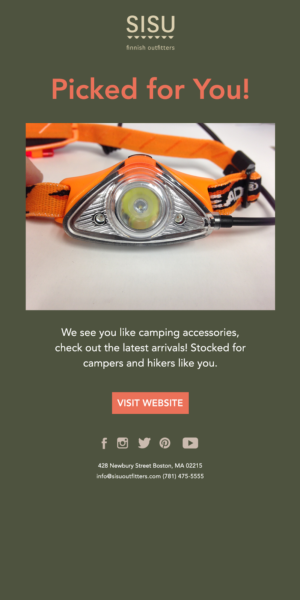 Play with words
‌Don't be afraid to use some humor in your retail subject lines to help break the ice. A light-hearted approach with wordplay like a pun will help set your email apart from the others. If you manage to make a customer laugh from the subject line, chances are they will be opening the email to find out more. Just remember to strike a balance between having fun and being professional. Ultimately, customers like buying from a brand that means business.‌
Give it away
‌Customers are always looking for ways to save money, or better yet, spend no money at all. Offering something for free will allow your email recipients to become more acquainted with your products and services, making them more likely to commit to a purchase in the future. To ensure the email isn't picked up by spam filters for using the word "free," consider rephrasing it in a different way, such as:
"This is for you"
"Claim your complimentary reward"
"At no cost to you."

Tease
‌The most engaging subject lines reveal just enough to get recipients interested. Keep the reader at the edge of their seat until they open the email for more information. To make the suspense even more unbearable, add an ellipsis to the end of the subject line:
"You're not going to believe this…"
"You'll never guess what we're offering…"
"Look what we found…"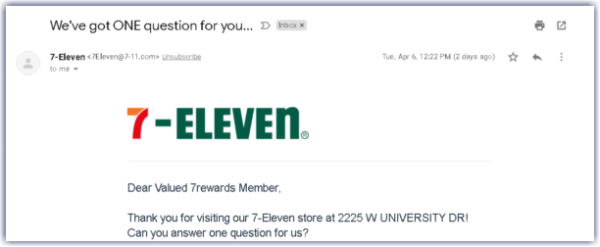 Name drop
‌There's nothing wrong with name-dropping when appropriate, especially in the subject line of your marketing emails. Include the name of a celebrity or athlete who uses your product, and their fans will feel compelled to open the message. People love buying products connected to their favorite personalities. Likewise, if there is an upcoming sporting event related to your business, it may be worth mentioning in the subject line.
Get personal
‌Include first names in subject lines to help grab the attention of recipients. A simple "Happy Birthday" can go a long way. Cookie-cutter marketing emails can seem stale and automated after a while. By adding a personalized touch to your subject lines, people on your mailing list will feel more connected with your business. People like to know they are valued and taking the time to address customers by name sends a positive message.
How to determine if your subject lines are engaging customers
‌The effectiveness of an email marketing campaign is most accurately measured by the open rate. Most people achieve an average open rate of 10% to 15%. If your campaign is falling beneath this range, it may be time to try out some new subject lines.
Constant Contact offers A/B testing for email subject lines to identify the best choice from two different options. Upload your two subject lines into our editor, and a small portion of your audience will receive the emails. The version that has the highest open rate will be sent to the rest of your audience. This is a quick and easy way to make sure you're using the most engaging subject lines. A/B testing for subject lines is especially useful for evaluating how customers respond to subtle changes in word choice, brevity, or tone.
Retail subject line tips and best practices
Keep it clear and concise
Putting too much information in your subject line can make the email look a little overwhelming. The best ecommerce subject lines are short, sweet, and to the point.
Don't overdo it
Monitor the frequency of your emails to ensure you're inundating your recipients with information. Too many messages could prove annoying to some, causing them to open the email only to unsubscribe.
Be patient
Coming up with catchy subject lines isn't always easy. It can take time to create an effective email marketing plan that keeps your recipients engaged. If things don't take off right away, don't give up. Make a few adjustments until you find the magic ratio that starts driving up sales.
A few things to avoid
Spam triggers
Certain characters and words used in the subject line can serve as spam traps that cause your email to end up in the junk/spam folders of your recipients. Avoid using all caps or too many symbols that could divert your message to the wrong folder.
Irrelevant content
Make sure your subject lines are evergreen and properly distributed to your target audience. Offering a promotion that expired two weeks ago or sending a "welcome" email to a long-term customer can hurt your marketing campaign and your brand.
Typographical errors
Take a little extra time to carefully proofread the subject line and the content of the email before sending it out. Misspelled words are common in spam emails, and even a few typos can give your recipients the wrong impression.
In summary
‌Creative, custom-crafted subject lines are an essential aspect of successful email marketing campaigns. Use some of these examples as inspiration for subject lines that connect with your target audience. Try out different options with A/B testing and make adjustments along the way to discover what works best for you.
For fresh insights on how to generate new leads, increase conversions, and boost your sales potential, take advantage of our free comprehensive retail marketing guide. The Download covers all the bases — from paid ads and social media to mobile optimization and email engagement. We'll help you develop a more effective retail marketing strategy so your business can continue to gain momentum.