Today's digital landscape has gifted modern marketers with the ability to make a sales pitch more powerful than ever before by offering up seemingly endless avenues for reaching their target audiences.
Every touchpoint is a golden opportunity to effectively pitch your product or service. Whether through a sales call, marketing email, web chat, or in-person meeting, the key elements of how to make a sales pitch successful remain the same.
How to make a powerful sales pitch
1. Reach Out With a Personal Message
If you're wondering how to start a sales pitch, it's vital from the outset to make sure your message feels truly personal, so prospects will understand it isn't just another generic marketing pitch. Show that you understand them and can serve their needs and wants. That way, you aren't reaching out simply to sell something — you're reaching out to help solve a problem.
It's a common sales mistake to spend too much time explaining how great your product or service is. When you do this, you're neglecting the reasons why it matters to your prospects. A better alternative is to start by researching the specific needs of the person (or group) you're going to be addressing, and then draw attention in your sales presentation to exactly how your product or service will address those needs.
For example, say you're pitching a social media management tool. You could check out your prospects' social profiles and note any gaps in their posting and engagement. Draw attention to these personal pain points in the beginning of your sales pitch, and position your product as a solution. Then, be ready to listen and engage with the prospect on their terms.
2. Offer Your Prospects a Compelling Solution
If your prospect knows anything about your product or service, then they've probably already formed an opinion on how it could potentially help them. The real challenges are in effectively illustrating:
Why fixing this problem is worth spending their money, and
Why they should choose your product over a competitor
This means that your selling point shouldn't be something like, "Our tool helps keep your social profiles updated." Instead, focus your sales pitch on the end result, such as generating more leads, driving revenue from social, improving retention through better customer service, etc.
One important aspect of how to make a sales pitch dynamic is to demonstrate a unique selling proposition (USP) that differentiates you from your competitors. Whether it's centered around your pricing, your company vision, your depth of experience, or anything else, your USP should set you apart in a way that just a cursory look at your product or service might not.
If you're looking for inspiration to upsell a client or highlight your best selling points, check out this database of sales pitch examples from Really Good Emails.
3. Show Your Value With Social Proof
So you've personalized your message. You've figured out how to make a sales pitch with an angle that illustrates how you're different from the competition. But your audience still sees your sales pitch as driven by your own agenda. Instead of taking everything you say at face value, they'll likely want to see outside evidence that your product/service is worthwhile and as high-quality as you say.
That's when it's time to recruit a third-party opinion. Social proof is one way to make a sales pitch more effective by sharing reviews and references from other happy clients and industry authorities.
Ensure that this social proof is easy for prospects to find by including it on your landing pages, cold pitch emails, and in-person sales presentations. Here are some good examples of how to make a sales pitch that uses social proof effectively:
Testimonials. Add positive customer testimonials to your homepage, product landing pages, print brochures, and other materials and share flattering quotes on your social media profiles.
Third-party reviews. Most review aggregators, like Trustpilot, now offer widgets so that you can display a live score and the latest positive reviews on your website.
Case studies. Reach out to your best clients and invite them to collaborate. Publish customer success stories on your company blog and newsletter. This is a great way to highlight customers and reward client loyalty while also collecting social proof!
Client interviews. Film video clips with happy clients that you can share on your website and social media. You can also share interviews as written articles or podcasts.
Statistics. Collect information about your business and your clients, and share it as widely as possible. Add statistics to your homepage, and share industry studies on social media and with your clients. After all, "people trust numbers."
Even if your business is in its early days and you haven't yet garnered a lot of reviews, you can enlist the endorsements of other industry players to add social proof to help make your sales pitch more powerful. Many leading SaaS (Software as a Service) companies make great use of social proof on their landing pages. Advanced Web Ranking, for example, lists high-profile customers, endorsements from industry leaders, and high-profile press mentions:
4. Follow Up On First Impressions
Never waste a powerful sales pitch by failing to follow up. Sales and marketing data shows that persistence is the path to success: 50% of sales occur after the 5th contact, though unfortunately, 44% of salespeople give up after just one follow-up. This means you can stand out from the crowd simply by persisting!
Include follow-ups as part of your strategy for how to make a sales pitch plan from the very beginning. Following up is particularly important for businesses that offer a freemium service and need to encourage users to upgrade to a paid plan. Here's an example of a follow-up sales email from MarketingProfs that perfectly serves this purpose: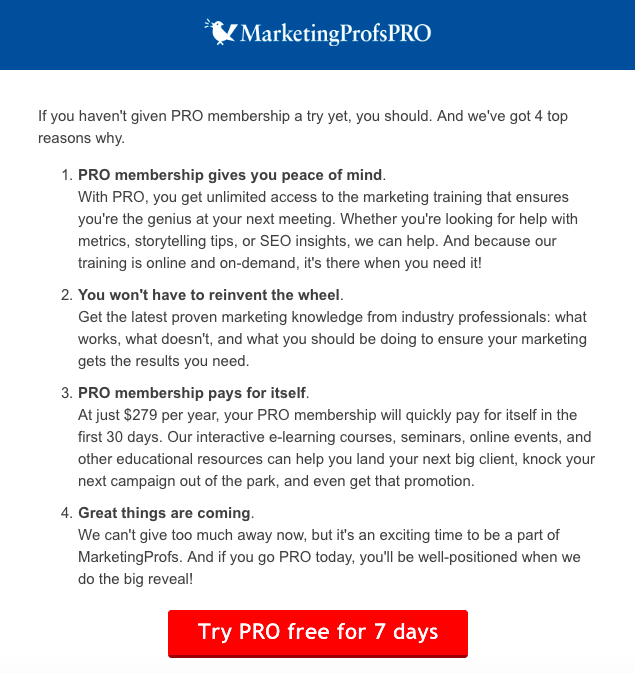 You should have a full-scale lead nurturing program in place to follow up with your prospects. Unless you're lucky enough to have a 100% success rate, be sure to use information about when people drop out of the process to identify pain points and areas where you can improve your pitch going forward.
Despite your best efforts, the reality is that many of your sales pitches will end with your prospect interested but not ready to purchase. So don't look at it as a one-off opportunity to sell or fail. Successful selling is a process! Build strong relationships with prospects over time to convince them to buy when the time is right.
Next Steps for Making a Sales Pitch Powerful
Succeeding at sales is an endeavor that often entails making many attempts before landing new business. But if you invest in the process, understand the elements of how to make a sales pitch truly effective, and commit to optimizing your presentations, then you're sure to be on the track to success.
Keep these key sales pitch lessons in mind as takeaways:
Personalize your pitch

Offer solutions
Give social proof

Follow up and persevere with your leads and your strategy
In time, you'll build a powerful sales strategy that helps you consistently meet or exceed your revenue goals. Happy selling!