With over 3.6 billion current users and a projected usership of nearly 4.5 billion by the year 2025, social media is a powerful force for reaching the masses. When used effectively, social media in sports marketing can have huge benefits for your brand. So what does that mean for you? Your ability to reach a targeted audience has never been stronger.
But what is sports marketing, exactly? Sports marketing is crafting and utilizing sports or fitness-related content to promote your brand. Sports marketing harnesses the star power of the sports world to drive your sales, and it includes more than athlete endorsed products. It also encompasses fitness and wellness brands, sports teams, and franchises.
This article will cover 9 trends in social media sports marketing, including:
Posting in real-time
Creating behind-the-scenes stories
Giving back to the community
Including athletes in your next campaign
Joining the eSports craze
Valuing women's sports
Keeping up with memes
Aligning with a cause
Highlighting authenticity
Get the expert marketing advice and tools you need to increase visits and word of mouth.
9 trends in social media in sports marketing
About 52% of avid sports fans use their mobile device to check social media while watching a sporting event. Using social media as a part of your sports marketing strategies is the best way to instantly connect with existing and potential customers alike. Note that the average user spends upwards of two hours per day on social media, and that number is continuously climbing! Now is the time to make social media work for you. Social media is a fast-moving vehicle — make the most of this opportunity to connect with fans and customers alike by keeping up with trending strategies. Here are the latest trends in social media marketing for sports:
1. Posting in real-time
Every year, more and more sports viewers are turning to platforms like Amazon Prime, YouTube TV, Hulu, and ESPN+ to stream their favorite sports. Social media platforms like Twitter and Facebook also partner with sports organizations to open even more convenient avenues for sports watching. What does that mean for you? Sports fans are more tuned in than ever to social media, and you can grab their attention by keeping up with real-time content and updates.
Live Tweeting
Live Tweeting, a popular way for broadcasters, teams, and fans to engage with their audience is on the rise. If a viewer is unable to watch the game, they can follow along via Twitter. Many sports organizations even run a live feed of trending Tweets on their broadcast of the game! Providing this content for update-hungry fans is a great way to gain positive exposure for your brand. If you're just getting started on Twitter, consider following your favorite athlete or broadcaster for inspiration.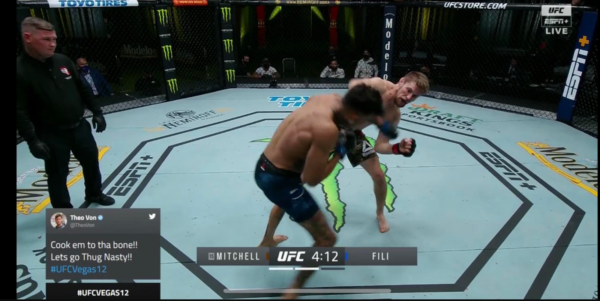 Up-to-the-Minute Instagram stories
While Twitter is a popular platform for sports fans, it isn't the only one! Instagram and Facebook Live are two great platforms for providing up-to-the-minute updates on big games. Insta and Facebook are a great place to engage with fans, providing an easy way to share buzzworthy clips.
Important strategies for making the most of real-time updates include:
Providing live content for events beyond just games — fans are often equally as engaged with press conferences, drafts, weigh-ins, and more.
Create catchy and unique hashtags to encourage fans to participate.
Boost engagement by incorporating interactive stories like polls, Q&As, and giveaways in your story.
Especially in a time when most sports fans are unable to attend their favorite live events, providing a real-time experience helps fans feel as though they are still a part of the action — while establishing an important connection with your brand.
2. Creating behind-the-scenes stories
How can you, as a sports marketer, use social media to grab the attention of your consumer? The answer is, overwhelmingly, to create content that your audience wants to see. Something fans never seem to grow tired of is story-style content of their favorite athletes behind the scenes. Instagram or Facebook Stories are among the most impactful ways to keep your audience engaged because they:
Create a shared, community experience.
Don't last forever — viewers will miss out if they don't click.
Feel personal because of their off-the-cuff, unedited style.
Because of their ephemeral quality, stories generate lots of engagement. They also give your audience an easy-to-view, personal look into the lives of their favorite social media personalities. Depending on the nature of your sports brand, you can use stories to:
Showcase behind-the-scenes action of your team.
Follow a specific athlete in their day-to-day routine.
Give your audience a sneak peek of new products, content shoots, and more.
Repost content from sponsored athletes or even other fans
Audiences love to connect with athletes over everything from their favorite protein shake to their morning routine to where they like to walk their dog — the possibilities are truly endless!
3. Giving back to the community
While athletes have a long history of giving back to the community, social media is now a great way to keep your audience updated with the good you and your athletes are doing in the community. From a national to a local level, athletes can use their position in the community to help serve those in need.
Broadcasting charitable events on social media isn't virtue signaling — it is a call to action for your audience and other athletes to join in. It can also be a great way for your target audience to connect with your brand and its values. Continue to update your audience via email campaigns for more sustained contact.
4. Including athletes in your next campaign
If you have the resources, snagging an athlete for your next campaign is a surefire way to attract avid sports fans. Sponsorships and promotions on social media are a transformative way to build your brand using the star power of sports.
In recent memory, a great example of star athletes at play in a social media and broadcast campaign was Hulu's "Hulu Has Live Sports Again" campaign. The broadcast campaign features stars like Damian Lillard and Skylar Diggins-Smith, whose faces were superimposed on body doubles in a "deep fake" ad. The stars reposted on their own social media feeds with the hashtag #huluhaslivesportsagain and #deepfake. The ads were playful, memorable, and played into the popular internet trend of deep faking.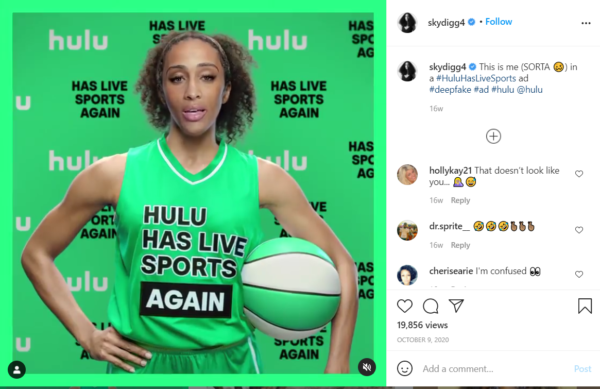 5. Joining the eSports craze
Thanks in part to the 2020 hiatus of live sports during the COVID pandemic, eSports has seen incredible growth. "eSports" is essentially competitive video gaming, and it has attracted fans of sports and video games alike. Plenty of companies have taken notice of its growing popularity and have invested in sponsorships.
You can take advantage of the popularity of eSports, much like you would traditional sports, by providing real-time coverage, behind the scenes content, and being interactive with your audience.
6. Valuing women's sports
While it seems fairly obvious, women's sports are an important part of the sports marketing landscape. Women's sports are enjoying a rise in popularity, with athletes like Lindsey Vonn, Alex Morgan, and Ronda Rousey netting millions of followers on their social media. With brands like Nike regularly featuring women on its social media feed, you can connect with men and women alike by tapping into the long-undervalued market of women's sports.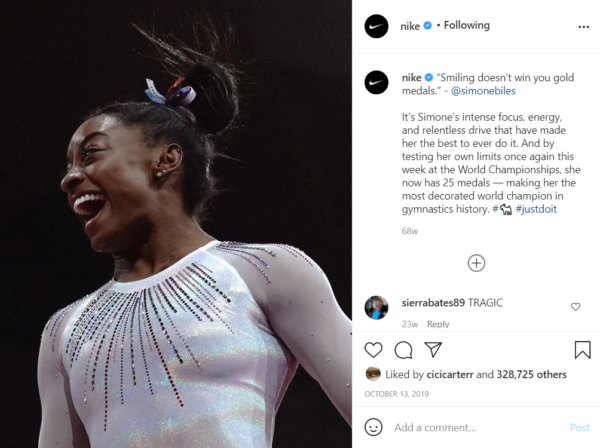 7. Keeping up with memes
Staying relevant on social media can be challenging, but it can also be fun! One of the best ways to connect with your audience is through humor. People love memes because they create a shared experience, making the viewer feel like part of a collective. You can use the good "feels" that come with being a member of a community by engaging with trending memes, challenges, and aesthetics on your social media feeds.
Highlighting your own unique sense of humor and brand voice can help you go viral or gain attention from your audience — especially on trend-driven platforms like TikTok.
8. Aligning with a cause
Increasingly, major sports organizations and teams have aligned themselves with social justice causes. The NBA, in particular, has been vocal about its support of Black Lives Matter. While these statements can be polarizing, knowing when to engage with "of-the-moment" causes can help you connect with your audience.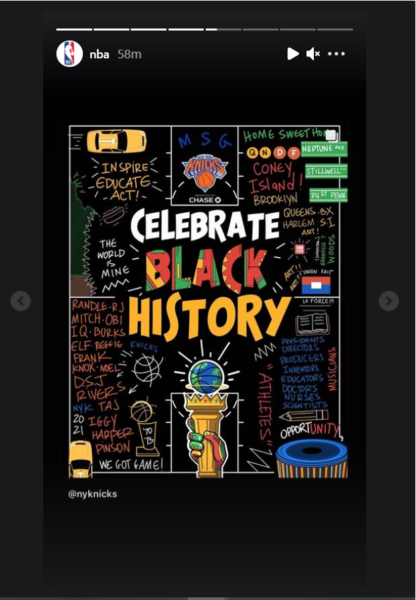 10. Highlighting authenticity
Ultimately, there is an increasing trend toward authenticity in social media in sports marketing. Viewers want to hear from athletes, see behind-the-scenes content, and connect with other fans in real-time.
As you shape your sports marketing campaigns, highlighting the human element of your brand can help build brand loyalty and drive sales. Social media isn't going anywhere — rather, it is likely just beginning. Harnessing this incredible power will help you build your brand for years to come.
Next Steps
Whether you are starting a blog or starting to create YouTube videos for your brand, social media is the best way to drive your audience to your other content, to your landing pages, and eventually to making a purchase. Now that you understand the latest trends like posting in real-time, creating behind-the-scenes stories, and utilizing eSports and women's sports, are you ready to apply social media to your sports marketing plan?
If you want to continue learning about sports marketing strategies, check out The Download — a free guide for professionals in the arts, entertainment, and recreation industries that can show you how online marketing tools can help you build a more powerful business.

Share with your network