‌The school year is winding down, and parents are looking for fun summer activities for their kids. As a summer camp owner, you want your camp to be the one parents choose. But first, they have to be able to find you online and that's where summer camp marketing comes in.
This article will cover techniques you can use to improve your summer camp marketing and draw families to your program. It includes:
‌Why you need to market your summer camp
‌Revamping your website
‌Digital tools you can use to build awareness
‌10 ways to promote your summer camp
‌Why you need to market your summer camp
‌Building awareness and enthusiasm about your camp and its programs can help parents, and their kids, find you. Which can lead to registering new campers.
If your camp is new, a robust and creative marketing strategy can attract families to your program. And, if you have an established camp, summer camp marketing can help you weather the turnover usually experienced between seasons by attracting new campers to fill those spots.
But, before you start working on new marketing campaigns, take a good look at your website. Is it time to rebuild your website? Or maybe do a little revamping?
Revamping your website
‌Parents who are thinking about sending their kids to camp are likely doing internet research on programs in the area. Your website is often their first introduction to your brand. An engaging website that is easy to navigate helps parents get to know you before they ever contact you. To get ready for this summer camp marketing season, revamp your website with these tools:
SEO
‌Search engine optimization (SEO) helps people find you when they search the web. Think of how people find you through various search engines and incorporate these phrases into your website copy. Use targeted keywords in meta descriptions and claim your Google My Business listing. By doing so, you'll rank higher in search results.
Website design
‌Your website should be responsive and optimized for all devices. It should function as well on mobile devices as it does on a laptop or a desktop computer. You don't have to use all of the latest widgets and design tools, but in general, it should be professional and engaging. Make sure that your programming information, contact information, and registration forms are easy to find.
Registration
‌Parents should be able to find registration information with ease. Feature the registration link prominently on your homepage and make sure that your site is set up to take payments — before registration begins.
Digital tools you can use to build awareness
‌As soon as camp has ended, you should start marketing for the following summer. Regularly keeping up with your current customers keeps you top of mind when parents start to plan for the next summer camp season.
Besides keeping in touch with past campers and their families, it's important to build awareness among new potential campers once registration has started.
Email marketing
‌Email is a cost-effective marketing resource that is easy to automate. If you're using different tools to collect email addresses, segment your list into current campers and future campers. By separating these contacts, you can develop personalized messages that speak to different members on your list.
Throughout the year, send emails to your current customers informing them about plans for the upcoming summer, activities you're working on, interesting summer camp information, and registration reminders.
You can send these messages to potential new campers as well but tailor your message accordingly. Since these families aren't familiar with your programs, introduce yourself and include some background information about your summer camp.
Social media
‌Your organization should operate at least one social media account. These platforms let you interact with campers and their parents and highlight some of your programs to create excitement around your camp.
‌Facebook
‌With 2.8 billion active users, Facebook is still one of the biggest social media platforms. Operating a Facebook page for your summer camp lets you reach parents in your area who are using the platform.
Consider using Facebook ads to spread the word about your summer camp. Facebook ads use pricing that lets you set a maximum bid for your number of impressions — helps you stay on budget. You can choose targets for your ads as well, setting them to run on the timelines of people in your area within a certain age group.
Instagram
‌Another popular platform, Instagram is a great way to build awareness. Since this network thrives on visual content, you can use it to post some of your best images that showcase how fun and educational your camp is. ‌
It's best to stick with images you've had approved for marketing. Don't post photos of people's children without permission.
When posting pictures of activities, either use models, get permission from the camper's parents, or post images that are taken from the back, with no identifying details.
‌‌The below photo from Camp Zanika Lache illustrates how to show kids having fun without jeopardizing their online safety.
‌‌When posting to Instagram, use hashtags to make it easier for parents to find you on the site. And, include a link back to your website. That way, when parents want more information, they can easily contact you. ‌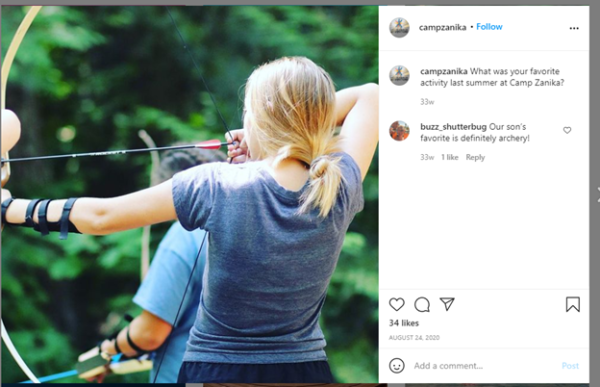 ‌‌Nextdoor
‌Nextdoor is a hyper-local social network where users can interact with people in their own neighborhood. You can use Nextdoor advertising to build awareness with local parents, by posting to neighborhood boards in your area.
10 ways to promote your summer camp
As I mentioned previously, summer camp marketing is about building awareness and enthusiasm about your camp. And, now that you have the tools, here are some ideas on how to use them.
1. Referral program
‌Tap your happy customers to bring in new business. Send an email message or social media post to current clients and give them an incentive to refer new campers to your business. You might offer a discount on registration when they refer someone who signs up.
‌2. Early bird registration
‌Fill your vacant camp spots sooner with an early bird registration discount. Send out a message with your exciting plans for the summer to entice campers and their parents to sign up early. You can also run a tiered discount program. Run your steepest discounts for two weeks and then increase the fees as the registration deadline gets closer.
3. Send out a discount code
‌Give parents a good reason to sign up for your newsletters. Send out a newsletter as registration nears with a discount code for returning parents. If there is a lot of competition in your area for summer camp programs, these discounts can inspire parents to return.
4. Run a Google ad
‌Optimizing your website and social media content with SEO helps keep your website at the top of search results. But you can also buy a listing on Google at the top of each search page. Like Facebook Ads, Google Ads lets you set a not-to-exceed budget for your ad. The price is based on how many people click your ad.
5. Host an open house
‌Let parents and potential campers tour your facility before they sign up. Host an open house with sample activities, giving parents the option to inspect the area before signing up their kids. This open house will give you the chance to answer all questions and concerns, and it lets campers become acquainted with you before being thrown into a camp without their parents. Keep registration forms on hand so people can sign up at the open house.
6. Run a social campaign
‌Use your social media pages to promote your camp. Early in the off-season, you can create posts that build awareness. As registration approaches, use a campaign to entice people to register. Use targeted hashtags that help parents find you like #summercamp or #summerfun. You can use your social media page to offer registration discounts and other incentives to campers.
7. Advertise in schools
‌Contact schools in your area to see what kinds of ad opportunities they offer as part of fundraising. Some schools offer space in their newspapers and yearbooks, and others let companies sponsor sporting events. These venues are perfect for reaching out to both kids and their parents.
8. Become an exhibitor
‌Most communities host a variety of events throughout the year such as spring fairs and festivals. Find out how to be a sponsor at events that would be a good fit for your camp and whose audience would cross over with yours. Check local event listings in your area to find potential sponsorship opportunities.
9. Host an alumni event
‌If your summer camp has a long history in the area, host an alumni event. Former campers and counselors can attend to see each other and reminisce, and you can offer coupons to those who have kids. This event is also a good place to market your referral program.
10. Start a social media group
‌Facebook and LinkedIn both have features that let you start and manage groups. If hosting an alumni event is too expensive or time-consuming, start an alumni group for your summer camp. Engage your audience with regular posts that are fun and informative. You might encourage some alumni to sign up their kids or pass your information around their neighborhood.
‌Use your feedback
‌At the end of the season, you probably handed out a survey to gauge the success of your summer camp. Use the results from these surveys and online reviews to determine popular aspects of your summer camp and build your marketing campaign around them. If kids like your selection of arts and crafts or the ability to learn new skills, use these features in your messaging.
Where to start
‌Now that you have all the tools you need for your summer camp marketing, you're ready to launch. Start by refreshing your website and activating your early bird pricing. Once these are in place, you can use your email list and social media to start building awareness.
As your registration deadline approaches, start ramping up promotion with regular email contacts and a presence in your neighborhood. Soon, your camp will be full of eager kids waiting to spend their summer with you.
‌Learn more marketing tips for your summer camp with The Download, a guide to online marketing.