As is true of any business, generating new leads is elemental to your success as a tech support business. However — when it comes to capturing new tech support leads — the biggest challenge is standing out amongst the rest in the highly competitive tech support industry.
So, how can you rise above the pack and generate leads for tech support? This article will cover 7 strategies for gaining IT support leads, including:
Optimize your website
Make the most of SEO
Be a source for online resources
Utilize Google Ads
Encourage referrals
Use LinkedIn for networking
Manage your listings and reviews
1. Optimize your website
As a professional in the tech support industry, you are well aware of the power of a polished online presence. As such, you know the value of following best practices for your technology services website. To optimize your online presence for your target audience, be sure to:
Build a mobile-responsive website. In the modern IT market, you will be left behind the competition without a sleek and efficient website on both desktops and mobile devices. Take the time to build a mobile-responsive website so you don't miss out on any leads who prefer their mobile device.
Include essential pages. Make sure your site includes a Homepage, an About page to describe your business, a Services page to detail what you offer, a team page to introduce staff, and a Contact page to make it easy to connect with you.
Use professional images. When building your website, choose professional photographs to keep your brand looking polished. Use high-resolution screenshots, photos, and images to promote a cutting-edge look on your site.
Develop cohesive branding. As you improve your website design, pay close attention to your branding.
2. Make the most of SEO
Search Engine Optimization (SEO) is an essential part of marketing for your business. To make the most of SEO, there are several tips you can follow, such as:
Use Google Keyword Planner. Google Keyword Planner is a free tool that makes it easy to hone in on the perfect keywords for your IT business. Generate new keyword ideas, adjust your audience, launch analytics campaigns, and more.
Utilize backlinks. Backlinks are links on other websites that point back to your website. To gain more backlinks, you should create content other sites want to reference as a resource. The more reputable and popular a site is, the more effective its backlink will be for boosting your SEO.
Aim for longtail keywords. Longtail keywords are hyper-specific keywords that describe a niche product or service. For example, "IT support restaurant point of sale New York area 24 hours" might be considered a longtail keyword. If you are able to use these keywords, you can capture leads who need specific services in your area.
Target local audiences. If your IT support includes in-person support, use keywords that apply to your geographic location. For example, "tech support Pensacola Florida" might help you snag leads in the immediate area looking for your services.
Find your niche. Ultimately, the more specific your keywords, the less competition you face — and the more likely you are to appear at the top of a search. Find your niche as an IT business and focus on honing keywords that support it.
3. Be an online resource
One way to generate tech leads is to be an online resource. In other words, use a content marketing strategy to boost your online visibility. What is content marketing? It is a strategic approach to marketing that focuses on creating relevant content that attracts new leads. Create online resources such as:
Informative blog posts. Starting a blog or podcast is a great way to attract visitors to your website and generate new leads. Use your blog or podcast episodes to establish your tech support business as industry experts with content about tech trends, tips, and troubleshooting.
White papers or guides. A white paper is a report that provides your readers with a summary of a complex tech issue. Guides offer a long-form look into aspects of tech and IT support. Provide these comprehensive forms of content to gain loyal customers who look to you for educational resources.
Tutorial videos. Technology can be confusing. As a tech support business, you have the opportunity to teach your leads something new about the technology they use every day. Create accessible videos to generate interest in your business.
4. Utilize Google Ads
Especially if you're a small business, Google Ads are essential. Google Ads offer a higher than average return on investment, making them a powerful tool for growing your tech support business. Google Ads are highly visible business listings that appear at the top of keyword searches.
In this example, Impact and Freshservice appear at the top of a search for "tech support." Google Ads are indicated by the word "Ad" directly before the website. While this distinguishes these companies from the natural search results, they appear before other organic searches, despite their SEO rankings.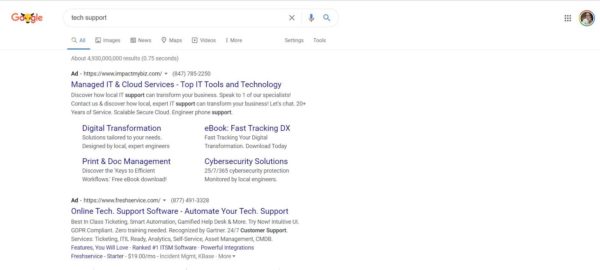 5. Encourage referrals
It can be challenging to know how to approach asking for referrals online. Despite the risk of awkwardness, it is always worth it to ask for referrals. There are several ways to ask without directly hounding your favorite customers, including:
Ask politely in your email newsletter campaign. Including a brief reminder in your regular newsletter can spur customers to take action.
Include a call to action on your blog. When you provide quality content, readers are often inspired to give a positive referral in return.
Encourage referrals via your online workshops or webinars. When wrapping up a positive workshop or webinar experience, encourage attendees to spread the word about your business.
Ask in response to positive feedback. When you receive a positive piece of feedback over email or social media, reach out to the sender to request a positive referral. More often than not, they will be happy to provide one.
6. Use LinkedIn for networking
LinkedIn is a platform that is rich with opportunities for networking and lead generation. As a tech support business, you know the importance of connecting with other businesses that require your services. LinkedIn makes it easy to establish business-to-business connections. Simply connect with other professionals and businesses, post informational content, and reach out via messages to promising leads.
7. Manage your listings and reviews
Managing your online presence is an important part of digital marketing. To control your digital reputation, claim your business listings, and reviews across as many platforms as possible, including:
Google Business Profile. Google Business Profile is an immensely powerful tool for managing your digital presence. Moderate reviews, write your business description, and much more with this free comprehensive tool.
Facebook. Facebook provides a platform for modern word-of-mouth referrals. Get noticed in the right way by being an active part of your business listing on Facebook.
Yelp. Yelp is known for its service industry reviews. As such, many users turn to this platform to find services like tech support.
Share with your network