The rise of Amazon and ecommerce has reshaped the paradigm of retail shopping, especially when it comes to clothing. Gone are the days of driving to the mall to try on shirts, dresses, and shoes — now, you can order whatever you want, wherever you are, with a touch of a button.
Because of this, brick and mortar owners and clothing entrepreneurs have been racing to get their online storefront built. But this has come with coding struggles and web design nightmares. Fortunately, there's another solution available. Constant Contact helps you build an online store with zero specialty skills required.
Interested in learning what it takes to start a boutique or online clothing store? Below, you'll find everything you should know about:
How to start an online clothing store
Features an online clothing store should include
How to start an online clothing store
There are a variety of things you should keep in mind and steps to take as you begin creating your online clothing store and website. Your first task is to hit the drawing board to figure out what type of clothing store you'll be. We will take you step-by-step below.
Find your niche
Before you ever start selling your clothing or even begin designing your site and store, it's vital that you take the time to think about what makes you unique and what type of clothing store you are within the industry. In a world filled with thousands of clothing retailers, what is your strategy to help your brand stand out from the pack? Understanding this will inform every other step of the process, from selecting a name to designing a logo.
To find your niche, be sure to ask the following questions:
Who is my target audience?
Teenyboppers might not be buying bespoke suits, and middle-aged men typically don't have a penchant for crop tops. If you want to sell clothes, you need to know who you are selling to. That will impact everything from the design of your clothing to the marketing of your store.
Are you selling to men? Women? Children?
At what price point?
What is their lifestyle?
What is a brand?
Who are you? What are you trying to say or do? Knowing your brand identity will also play a crucial role in your marketing campaigns and high-quality site design.
Are you selling high-end fashion?
Is it a boutique store?
Do you design the clothes yourself?
What are you hoping to achieve?
Is this a way to make some money on the side? Will this be a full-time gig? What are your sales goals and expectations?
These are just a few of the things you need to consider before you commit to creating a store. But by doing your homework ahead of time, you'll ensure that your online clothing store is built for success.
Choose a domain name
The domain name of your clothing store will function as its virtual calling card. So, it's important that you pick the right name. Landing on a winning domain name can benefit your clothing store in a number of ways, including:
Making it easier to remember
Improving search engine visibility
Better branding and visibility
Establishes your authority and professional credibility
Wondering how to choose a domain name? Ideally, a proper domain name should check off the following boxes:
Available as both a website domain name and handle on social media platforms
Unique and cleverly conveys what your site is about
Reflects your brand
Uses a .com top-level domain (TLD) extension
Short, catchy, and easy to say and spell
Free of symbols, numbers, hyphens, etc.
Once you've settled on some top domain names, visit Constant Contact and search for the domain name you've chosen. If it's available, you're well on your way to starting your very own ecommerce clothing store.
Create a logo
Your logo will play a vital role in your marketing and branding efforts. Think of the Nike symbol, the Air Jordan Jumpman, the Chanel C's, or the Louis Vuitton LV overlay monogram — all perfectly convey something about the brand. When people see the logo, they associate it with quality, reputation, status. Your logo will do the same for your clothing line and store.
Set up your website
Before you line the virtual walls with your products, you're going to need a website. Whether you lack coding skills or find drag and drop builders to be overly complicated, Constant Contact has changed the way websites are designed and created. The intelligent A.I. website builder utilizes machine learning to automatically generate store templates. This makes it easy to create your dream website. And it can be done in just a few clicks by following these steps: 
Begin to create your site – There's no credit card or payment required to build the website itself.
Choose a category – The intelligent builder needs to know what the site will be about in order to create the proper design. Once that's done, enter the name of your site.
Select your cover image – The builder provides a variety of high-quality cover photos to choose from, which will function as the website's backdrop. If you wish, upload your own image.
Upload your logo – If you have a premade logo or built one with Constant Contact's logo maker, drag and drop it.
Pick a theme – You have plenty of theme and color combinations to choose from. Go with the one that best suits your sense of style.
Go with a navigation style – The builder provides five different navigation styles to pick from.
Select a font pair – Finally, select the site's font. Choose something that's easy to read. You won't want to lose a customer because your site's font was difficult to read.
Naturally, you may read this and think, that's too easy. We get that a lot but keep reading and we'll show you that starting an online clothing store is as easy as 1-2-3!
Build your storefront
Now that you have your website, you'll want to start selling your clothing online as soon as possible. To do that, you'll need a store. So, once the site is up and running, the next step is to build the store. Like the website, this process is fast and easy. Simply follow these steps:
Upload the products
Start by adding your first product.
While you have options to add digital products or services, for clothing, select a physical product.
Hit continue…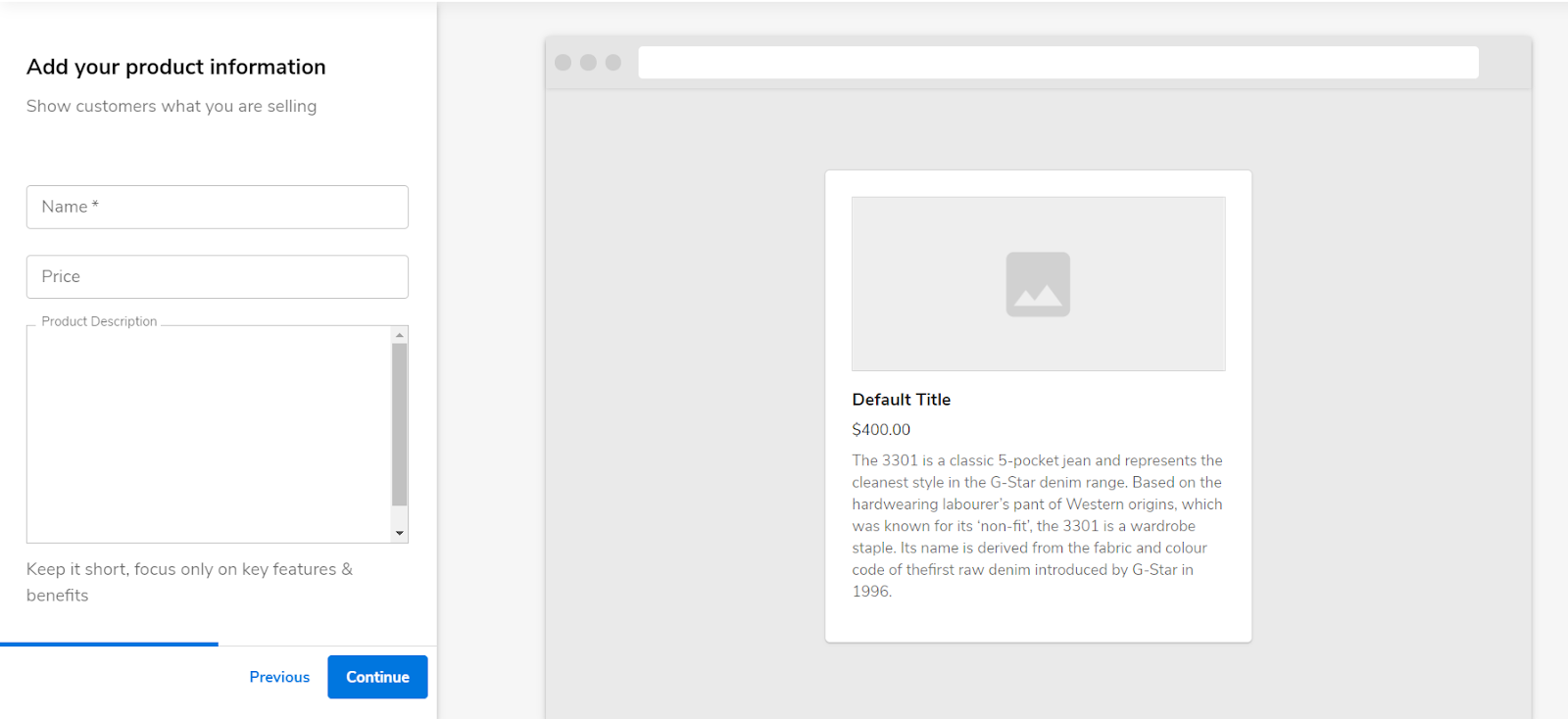 Then, just…
Choose a photo – Although Constant Contact provides hundreds of generic images, it's vital that you have high-quality photos of your clothing items so that customers know exactly what they're buying.
Name your price – Selecting the price is up to your discretion but it should match your target audience.
Enter a product description – This is an often overlooked aspect of any clothing store. The product description provides a powerful selling tool that can convince customers who are on the hump. Make it short, sweet, and compelling. Want more tips on writing a product description? Check out our guide on how to write a product description that sells!
Buy a plan and start selling
To start selling your products and racking in the revenue, you'll need to purchase a website plan to make your online store official.
Again, building your online clothing store is that simple. However, it's important to keep in mind the most important features that your online store should include to be successful.
Features an online clothing store should include
If you want your online store to grow into a retail chain, then it's crucial that you have all the tools you need to get ahead. Constant Contact has features that will help your site stand out. These include:
A mobile-responsive design
Powerful ecommerce tools
Store analytics
A mobile-responsive design
Mobile internet browsing and shopping is the way of the future. Each year, more people turn to their phones and tablets to browse and buy. Your store has to be built for this type of buyer or you'll miss out on a huge portion of potential customers.
These days, a mobile-responsive ecommerce website design will ensure that your website looks beautiful and is easy to use on any mobile device — whether a phone, laptop, or tablet. With a mobile-responsive site, every web page is built to automatically adjust and fit the screen. Not only that, but it also benefits your site and store in various ways, including:
Better visibility on search engines
Lower bounce rates; the percentage of site visitors that leave your site after one page.
Faster load times
Increased conversion rates; the percentage of your site's visitors that actually make a purchase.
With Constant Contact, the elements of the page will fit and adjust to any device or browser window no matter how many times you edit or change up a page. This increased functionality and readability makes for a better user experience, which leads to increased clothing sales.
Powerful ecommerce tools
In addition to a storefront, your online clothing website should provide you with a collection of powerful ecommerce tools that help you sell smarter and more efficiently. Constant Contact has several advantageous features worth mentioning such as:
Coupons & discounts – Offer your customers discounts and coupons on items of clothing. Run promotions on newly released clothing lines. This will attract more eyes and clicks where you want them.
Custom notifications – Auto-generated notifications such as receipts and shipping confirmations will be sent to both you and your customers.
Order & inventory management – Manage your inventory (both open and completed orders), create shipping labels, and track shipments.
Integrated shipping – Get real-time shipping costs and analytics from any carrier based on weight.
Multiple product layouts – Give your virtual patrons the ability to shop through a gallery of multiple clothing items simultaneously.
Online payments – Accept credit cards and debit card online payments through PayPal, and Stripe.
Tax management – Calculate taxes or add taxes to custom orders.
Product filtering – Let shoppers browse the smart way by filtering criteria and sorting through apparel by price.
Armed with an arsenal of tools such as these, you'll be fully prepared to reach your target customers and hit your business goals.
Store analytics
In order to improve your store's performance and optimize your website, you're going to need all of the relevant data. Without it, there's simply no good way to get a comprehensive and actionable snapshot of what you're doing right or wrong. Constant Contact's website tracking dashboard offers you an easy way to chart your store's performance and then make the necessary adjustments. With Constant Contact, you'll find useful data like:
Page load times
Conversion and click-through rates
Bounce rates
Total traffic
Average time spent on page
By monitoring trends and your online store's performance, you'll ensure that you're drawing in your audience and then keeping them engaged. Having all of the right data in one place helps you to maximize traffic and increase clothing sales.
Constant Contact: The best choice for your online store
If you want a way to sell clothing online, Constant Contact is the natural solution. Setting it up is as easy as:
Picking a domain
Generating a logo
Setting up a website
Building a store
In no time, you'll have an incredible online storefront that's all your own. And on top of the easy-to-use intelligent builder, your new website comes jam-packed with all the powerful ecommerce features any clothing store could want.
So, what are you waiting for? The path has been paved, you simply need to take the first step.
Step 1: Get started with a free trial of our website builder and input a few details about your business
Step 2: Let the A.I.-powered generator do most of the work
Step 3: Set up your storefront and then purchase a website plan to start pushing your clothing line out to the people
As we've mentioned before, it's really as simple as 1-2-3, so get started today!
Try Our Website Builder
Get a custom-designed site in just minutes with our intelligent website builder. You can use the tool and see what your website would look like for free. If you like your site, sign up for Constant Contact to make it live and share it with the world!