What most people have to learn the hard way — how to manage taxes, personal finances, and money-related troubles — accountants like you may find easy to handle. However, creating a useful and engaging accounting blog that people are excited to read could be out of your comfort zone.
If you're thinking of adding content marketing to your overall online marketing strategy, you may be feeling overwhelmed. Where and how do you start?
Following best practices will help you understand what makes the most engaging accounting blog topics, as well as how to execute blog content ideas in a way that will make current and potential clients want to read what you have to share.
In this guide, we'll cover:
The benefits of a blog for business
Tips for writing SEO-friendly blogs
Ideas for accounting blog topics
How blogs fit into your marketing plan
The benefits of a blog for business
Blogs may feel like a lot of work, but they are a powerful means of digital outreach for your business for many reasons.
Blogs can position you as the expert you are.
If a prospective client asks for your opinion on a topic, imagine how impressive it would be for you to present a well-researched and engaging blog you've already posted to answer the question.
The more you share your expertise, the more people in your community will view you as a knowledgeable professional worth doing business with.
SEO-friendly copy helps you rank higher on searches.
A "keyword" is an exact term or phrase that someone might type into the search bar of a search engine like Google.
Let's say someone is looking for a "business accountant in Los Angeles." If you want your website to rank high in that search, consider including that exact phrase in your blog content.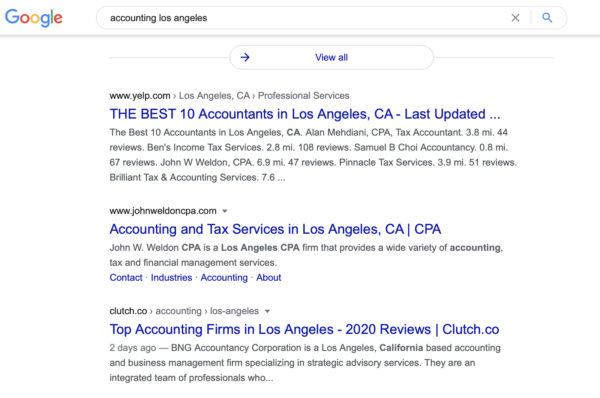 Integrating keyword research into your planning will help you grow your accounting business. However, that's only part of a good content marketing strategy.
The best way to improve your search engine optimization (SEO) is to create blogs on topics that people want to read about. Don't worry about giving away too much information for free. You'll see a return on investment over the long term with this tactic.
Blogs help you interact with future customers.
Not sure what to post on your business' social media channels? LinkedIn, Facebook, and other social media platforms are perfect places to post links to your blog. You can also use blog content to fuel your email marketing strategy.
When you host your blog on your website, people clicking on your blog links will go directly to the online home of your business. Make sure the website is optimized for mobile responsiveness and easy navigation — this will convert more leads. Remember, most people will be reading your blogs when they're on the go with a smartphone and not at their desktop computer.
Tips for writing SEO-friendly blogs
New to writing for publication online? Here are some quick tips to help you gain confidence and reduce the time it takes to write an engaging blog post.
Brainstorm in advance.
Take time to plan your marketing strategy. Ask your executive team about frequently asked questions that they hear from the community. Their responses could serve as inspirations for good accounting blog topics. Having a list of ideas ready will save time when it's time to start writing.
Practice, practice, practice.
If you're new to blogging platforms, play around with a personal blog first. Get used to posting pictures and adding hyperlinks. Use keywords in the "alt text" box of your photos and interlink sections of your personal website. These same skills and tactics can drive conversions when applied to your professional blog.
Read other blogs regularly.
To stay inspired and abreast of the competition, read other accounting blogs regularly. Do they link to their blogs in their emails? If they have a newsletter, subscribe so that you can see when and what they publish.
Look critically at their blog format so you can see how breaking up copy into smaller, easier-to-digest blocks makes reading a blog more enjoyable.
Post consistently.
Create a schedule and stick to it. You don't have to write long and in-depth articles every week, but you should be publishing regularly. Once a month, every month, is better than two blogs in one week and then nothing for the next three months.
If you're inspired and ahead in your writing, don't publish everything at once. Save what you've written so you can come out with one blog at a time on a set schedule.
Consider your target audience.
Don't be boring. Think about the people you would like to attract and eventually include in your client list. Write directly to them. Consider what they want to learn about and what their level of understanding they have when it comes to accounting. Steer clear of jargon and have fun with your writing.
Edit before you publish.
After you finish writing a blog, have someone else read it before you hit the publish button.
If they're more knowledgeable than you are in writing or content creation, have them proofread for typos or ask them questions about phrases that can be improved. Remember, everyone's writing can be improved by an editor.
Identify yourself as an expert in your field.
Include a small bio at the end of every blog so readers will know that you have the accounting experience and training needed to provide specialized and expert advice on the topic.
Always add a link to a contact page somewhere in that short description of who you are and what you do. You want to give people an easy way to reach out and ask about your accounting services.
Ideas for accounting blog topics
Need an extra push to get started? Here are 16 quick ideas for blog topics for your accounting business:
An end of year planning guide for taxes
The role of a CFO and how it is evolving over time
How to identify and protect yourself from occupational fraud at your company
Expert tips to avoid a tax audit
How to survive a financial audit
A complete guide to freelancer taxes
How new revenue recognition rules impact small businesses
A step-by-step guide to creating a tax-exempt status as a nonprofit
Ways to watch for phony IRS scams
Financial planning advice for major life changes like divorce or having children
What to look for when choosing a qualified tax preparer
QuickBooks vs. FreshBooks: Which is better?
Tax tips for ecommerce business owners
A glossary of common accounting terms
Behind the scenes: A look at an accountant's day-to-day
A numbered list of little-known expenses that are tax-deductible
When planning the upcoming quarter or year of blog posts, switch up the formatting to keep readers engaged. Try posting lists, guides, and comparisons. Integrate graphic design by adding infographics to your blogs. Consider posting videos, which can get more views than the written word.
Most importantly, remember to avoid acronyms and insider terms that your customers may not understand. You don't have to "dumb down" your accounting blog topics, but you should strive to make your content accessible to those who will want to hire you for their accounting needs.
How blogs fit into your marketing plan
Content marketing should be just one element of a comprehensive marketing strategy.

To learn more about the best online marketing practices to follow for your accounting business, check out Constant Contact's The Download — a free guide created to help business owners with professional services grow their companies and gain more clients.

Share with your network