You're probably using social media marketing to drive customers to your site, but you can also use it to sell your products. Today's social media platforms offer shoppable posts and other ways to sell directly to interested customers without sending them to your site. Reach billions of users and boost your sales with the best products to sell on social media.
This article covers:
‌Why you should use social media to sell products
‌How to sell products on social media
‌When to use each platform
‌The best products to sell on social media
‌Steps you can take to get started
Get all the tools you need to quickly find new customers and grow your retail store's sales.
Why you should use social media to sell products
Social media is one of the most common ways people use the internet. In 2021, 82% of Americans reported having at least one social media account. You can use platforms like Facebook, Instagram, Pinterest, and others to make these users aware of your online store, and you can use them to sell your products directly.
Social media is commonly used for relationship building. People follow your company because you provide valuable content. You likely use your platforms to engage with your customers and highlight how your product can benefit them. Social media selling takes this relationship to the next level by integrating social media into ecommerce. You can create a shoppable post showing clients how to use your product, and they can buy it by clicking the photo.
How to sell products on social media
Many social media platforms let you sell directly to your audience. Use different platforms to appeal to a broad range of users.
Facebook and Instagram
As of 2021, Facebook and Instagram were used by the broadest range of people. To sell on Instagram, you'll need to set up a business account. Connect it to your Facebook profile and upload a product catalog. Submit your account for review. Once it's approved, you will be able to make shoppable posts on both platforms.
Create visually appealing posts featuring products from your catalog. Some of the best products to sell on social media include clothing, household products, beauty products, and handheld electronics. You can use your posts to sell anything in your catalog.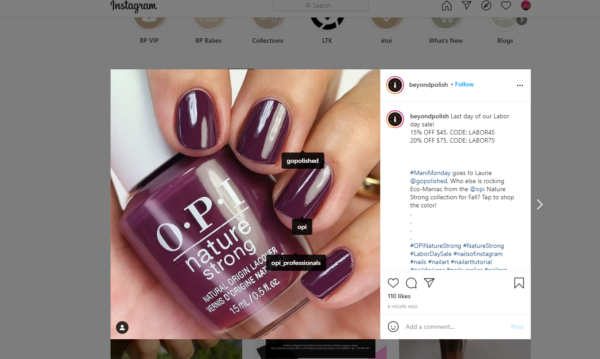 Instagram and Facebook also let people buy products from your stories with stickers. When you create a story, use the stickers feature in the top right corner of the app to add a product sticker to your story. Users will be able to click on the sticker and buy the product from your catalog. You can also direct them to a shoppable landing page in your bio.
Pinterest
With over 450 million users, Pinterest is another popular social platform for selling products. Pinterest lets you upload catalogs similarly to how you would on Facebook and Instagram. Once uploaded, you can use your catalog to create shoppable pins. These pins show up in user feeds, letting them click through and buy your products.
Many users on Pinterest are already using the site to shop and curate inspiration boards for everything from home decor to wedding planning. Selling on Pinterest lets you reach people when they're already in the mood to buy. They can find your shoppable pins by searching similar categories. That means the best products to sell on Pinterest are usually trending, seasonal items that people are highly likely to be looking for.
When to use each platform
Instagram and Facebook are mainly used for engaging. These sites can be used to sell to your existing customers and others in similar demographics. Improve your chances of reaching customers by posting consistently. Make engaging posts and stories that appeal to your audience and then mix in shoppable posts.
Instagram posts stay on your feed permanently until you take them down, so use posts to sell high-stock items that you always keep on hand. Stories disappear from your feed after 24 hours, making them better for selling low-stock items or promoting sales.
Include a variety of hashtags in your posts to help people find them. In the previous example, Beyond Polish used the hashtag #ManiMonday to help nail polish fans find its catalog posts.
‌Pinterest users like to discover new items on the platform. That makes this site particularly useful for building your audience, as anyone can stumble onto your posts by looking for similar products. Add relevant keywords in your descriptions to help shoppers find you.
‌There are no character counts on Pinterest, so your branded boards can read like a catalog. Be as descriptive as possible in each post, letting shoppers visualize how to use your product.
The best products to sell on social media
The best products to sell on social media are those that create visual interest. If you sell products in an evergreen niche, including home decor, clothing, sports, hobbies, or video games, these platforms are great for your shop.
Since people are always shopping for items in these niches, your shoppable posts will be valid for a long time. Create stylized ads that aren't seasonal so that anyone can find them down the road. If you sell seasonal merchandise, build up interest in the weeks leading up to your busiest time.
If you fit into a specific niche, use Instagram and Pinterest to appeal to your followers. Niche products like men's grooming, sci-fi fandom merch, and other products geared toward a local market may be hard for customers to find in stores, so make it easy for them to find what they're looking for in your shop.
Use your social media pages to create a community of like-minded people who appreciate your niche, and create valuable content tailored to their needs. If you sell men's grooming products, make posts about when to use different products and make them shoppable. You might choose to create an Instagram story that shows viewers how to get ready for an after-work date. Throughout the story, you can add product stickers to make it easy for customers to buy any items you choose to feature.
Pinterest is great for promoting best-selling and niche products like t-shirts, sweaters, and small electronics. You can also look for trending products to sell. Do some monthly research on what's popular in your market and create shoppable pins to capitalize on them.
Pinterest tends to be inspirational. People use this platform to visualize how items would impact different aspects of their lives. Tap into that by making your Pinterest posts highly visual and relatable to their lives. For example, if you sell home goods, create a shoppable pin that shows how to store and use kitchen supplies in small apartments. If you can show users how your product fits into and enhances their daily routine, you'll have no problem selling on Pinterest.
Steps you can take to get started
It doesn't have to be a challenge to sell products on social media successfully. All you need is an action plan and an internet connection, and you'll be on your way in no time. Start by creating business accounts on your favorite social media platforms, and work your way up from there.
You may have started your Instagram and Facebook accounts with the personal setting. If so, convert them to businesses or create a new business account. This will give you access to more features like connecting to your online catalog and creating shoppable pins.
Once you've created a business account, test your skills by creating a few shoppable posts and sprinkling them throughout your feed. As you go on, you will learn which images generate the most traffic and the best products to sell on social media, given your brand, location, and niche. With a little practice, you'll develop a system that works for you — then you can sit back and watch the returns rack up on every post.