Gone are the days when web design was the sole province of specialized professionals. Website builders allow you to create your own polished business website. Yet this ease creates its own problems: how can you ensure that your website stands out from competing construction company websites?
There is no substitute for the fundamentals when it comes to construction company web design. Your site should have, at minimum, the following pages:
Homepage
Services page
About page
Contact page
As you implement this structure and flesh it out, you also need to ensure that your site performs as it should. Again, in terms of fundamentals, you need a site that:
Is mobile-optimized
Is clear and informative
Makes use of best SEO practices
Provides professional and attractive images of completed projects
Gives you a way to capture leads
Now it's time for you to build on these basic principles. The first section of this article offers tips for success, while the second collects examples of construction companies with well-designed websites. Together, the chosen sites illustrate the variety of ways that individual companies effectively introduce themselves on their sites.
Top ten tips for construction company websites
As you build your site, these best practices can give you the edge that your brand needs:
Add a blog: In content marketing, your expertise sells itself. Provide valuable articles that showcase your experience. You can also give advice or explain industry terms and options.
Add a video or slideshow: Make your site more visually dynamic.
Offer client testimonials: If they're open to it, ask if you can link their feedback to their image or a picture of the completed job.
Target the right clientele: Show your specialization through site imagery as well as the About page.
Display licenses, affiliations, certifications, and more: Give potential clients reasons to trust you.
Personalize your site: Show pictures of your team at work or with happy customers. Use your About page to highlight your passions or to discuss your business's origin story. Give people a chance to connect to you.
Match your design to your work: For example, if you specialize in ultra-modern architecture, your site should look sleek and modern.
Create landing pages for different services and projects: Give customers a chance to find exactly what they are looking for. These pages will also help Google to rank your site for relevant searches.
Double-check everything, then do it again: If you need someone to proofread copy, hire them. Don't let sloppiness undermine your hard work.
List a branded email address: an email address registered to your business will add to your credibility.
Some of these tips may help more than others. Follow the route that makes the most sense for your construction company's brand.
Top ten construction company website examples
These construction company websites all provide great browser experiences. They also offer very different experiences, making choices that suit their brand and clientele.
In no particular order, here are ten websites to consider as you design your own.
McCarthy's memorable website embodies control and artistry. While it has a full-color portfolio of past projects, its homepage images are done in neutrals. Red accents give it a pop of color and energy, and the general color scheme contributes to a coherent and distinctive design.
Sweenor Builders' homepage presents great visuals in a slideshow that moves through four keywords, each with a tagline:
Craft
Experience
Trust
Science
The company supports its claims with an impressive portfolio of images and accolades. However, the true genius of this web design lies in Sweenor's ability to distill its message in such a distinctive way.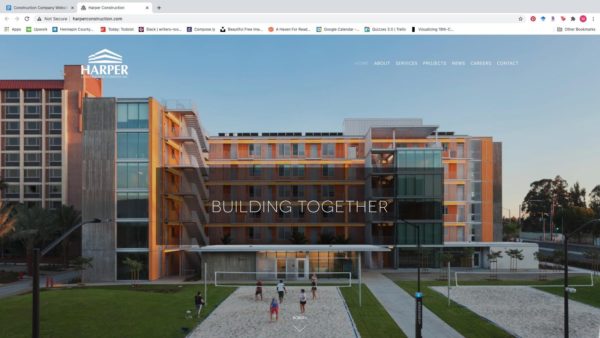 Sometimes less is more. Harper Construction's website may not be innovative, but it doesn't need to be. The site is beautifully clean and clear. Rather than bombard you with information or pictures, it provides a simple layout that is easy to navigate.
As you scroll down, the high-quality images and story teasers reveal the company's focus and expertise. Harper specializes in community buildings and takes pride in its commitment to green practices and design.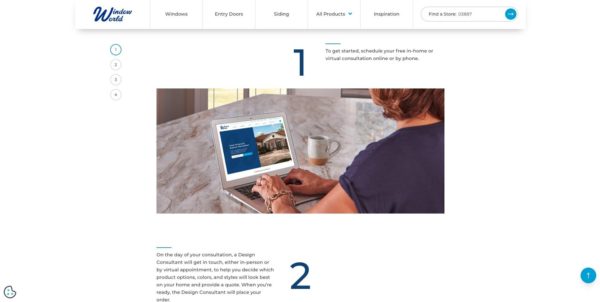 Window World takes a narrative approach to its website design. After taking in the initial images and copy, you scroll down the site through a four-stage story about window installation that feels elegant rather than hokey.
Window World's use of story and movement engages the browser in the experience that its site and, potentially, its services provide.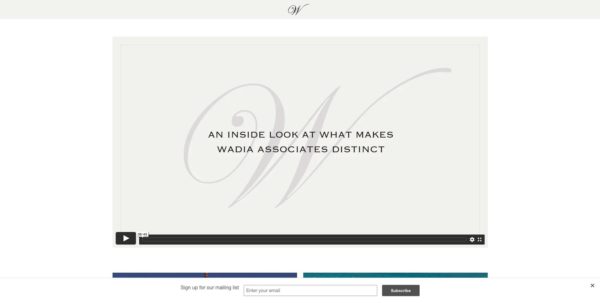 Wadia Associates' initial slides tie it to an impressive array of luxury homes. You can then move into a video presentation. Video has become content king when it comes to attracting viewers, and Wadia takes advantage of this attraction.
Consider developing your own short video to introduce your clientele to all that you offer.
Re-Bath's site design presents clear calls to action. Its page is set up to capture client information, allowing Re-Bath to take advantage of email marketing. Re-Bath also sprinkles offers and discounts throughout the site, giving the browser multiple opportunities to engage.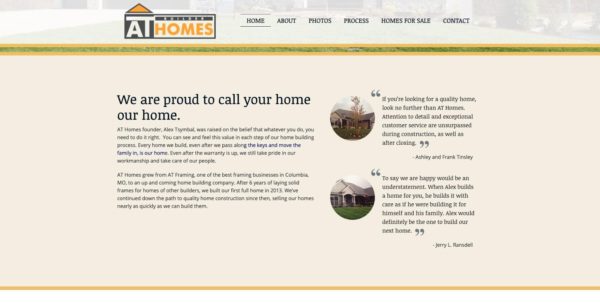 AT Homes instantly focuses on the client experience. They want to convey relationships that respect the personal nature of home design and ownership. They support their claims with testimonials throughout the site.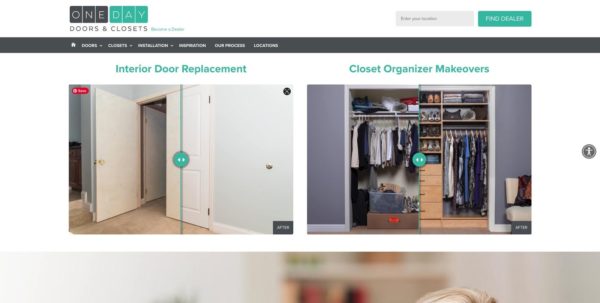 Both the video and images of One Day concentrate on before-and-after projects. These provide the browser with an opportunity to imagine the possibilities — to consider their potential for a well-designed "after."
Linesight's website is beautifully organized to engage potential customers. By establishing multiple internal links and then separating different aspects of their work, they put the browser in control of their own virtual tour.
You interact with the site, moving through it to focus on the aspects that most interest you.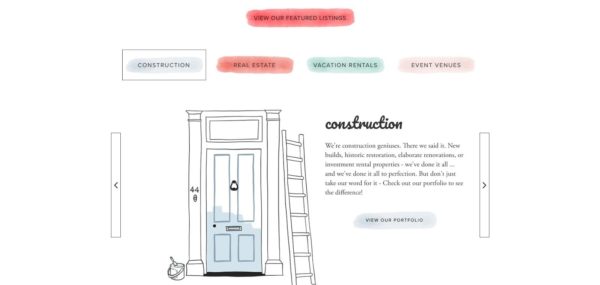 Luxury Simplified's website perfectly caters to the community it hopes to engage. It opens with a video slideshow that shows Charleston families and individuals interacting with Luxury Simplified properties. The people displayed all look authentic to their situation, rather than overly commercial.
As you scroll down, Luxury Simplified continues to emphasize the charm and community of Charleston. Drawings add a touch of nostalgia or vintage charm that matches this quintessential city of the American South.
Your own website
These examples of construction company web design highlight just a few of the many roads to success when it comes to refining your brand's website. The project doesn't have to be intimidating.

Make sure you cover the basics and then build the website that makes sense for your business. Let your natural craftsmanship shine in this new medium.

Constant Contact has the website design and marketing tools that can help you take your business to the next level. Check back frequently for industry-specific articles and tips on advertising.

Be sure to take advantage of our all-in-one guide to digital marketing: The Download: Making Sense of Online Marketing for Home & Building Services.

Share with your network