When you're running a construction company, chances are your days are packed with scheduling, inventory, networking, managing, and a million other responsibilities that take precedence over advertising. But your business simply won't grow without putting efforts into construction marketing.
Today, small and medium-sized businesses in every industry are turning to digital marketing to reach prospective customers and grow brand recognition. With a little planning and know-how, you can tap into this lucrative marketing landscape and grow your client base.
Ready to find more leads and get expert home services and construction marketing advice, all in one place?
We'll start by showing you how to create a marketing plan that you can implement over time. That will include maintaining your website and engaging in social media, as well as launching some paid ads to complement your efforts. Then, we'll give you a few methods to help track your results, so you can adjust your campaigns for greater long-term success.
Let's dive right in.
Start with a plan
Trying to figure out how to advertise your construction company can be overwhelming. The key is to start small and develop a plan your team can commit to implementing.
Before you begin your online marketing efforts, take the time to plan it out. Ask yourself:
Who is my ideal customer? Create a robust customer persona, complete with their location, hobbies, age range, and pain points.
What information can I share? Content marketing allows you to share blogs, videos, and tips that can address the problems your prospective customer faces. Posting high-quality content can help drive traffic to your site.
How can I share it? Think about which social media platforms your ideal customer might spend their time on. Use strategies like video marketing to show off your expertise.
What is my budget? You may be surprised at how affordable online marketing can be. Find a marketing option that fits your price range.
What resources do I have? You won't be able to do everything by yourself. Consider working with freelance writers, videographers, or other skilled professionals to help you realize your vision.
Optimize your website
Before you get started with your advertising efforts, make sure your website is in good shape. Your site is where all your marketing efforts will lead, so it has to be easy for visitors to use and pleasant for them to look at.
Start by reviewing your Google Analytics. This metrics-rich platform is free and it can help you set a baseline to measure growth against. You'll be able to see how many people are visiting your website and what they're most interested in viewing once they get there.
As you work to transfer your virtual presence into real-world contracts, you'll need to be able to demonstrate how you are first, better, or different from the competition. Does your website clearly show this? If not, it's time for an update.
Your website should be simple to navigate as well. Eliminate visual clutter and offer a clear call to action. Make it easy for them to shoot you a quick email to request a quote.
That said, a common mistake in marketing for construction companies is making a website too lean. To rank highly in search engines like Google, you must fill your site with engaging content that is optimized. This process is known as SEO, or search engine optimization. The descriptions of your services and blogs should contain keywords that your customers search for organically.

Engage in social media
Once your site is looking good, turn to social media. Your business should have a presence on some combination of social media sites like Facebook, LinkedIn, YouTube, Twitter, and Instagram, depending on who you'd like to target.
These days, social media is crucial for increasing the exposure of your brand. When you share pictures of your work, profiles of you and your employees, and tips for choosing the best construction company, for example, people will naturally want to engage with your brand.
Most social media sites make it easy for you to market your business on their platforms. You can track metrics, measure engagement, and schedule posts in advance. Outside social media marketing tools also allow you to cross-post on different platforms, so you don't have to worry about making unique posts for every site.
Buy online ads
Organic social media activity is only half the battle when it comes to promoting yourself online. Paid advertisements are also key to getting your name out there.
Not only is social media advertising a lot less expensive than newspaper, television, and radio, it can be a lot more effective too. By using Facebook for Business, you can target your ideal customer persona with ads that speak directly to them. You can also use Google Ads to make sure your business pops out in search engine results pages.
When creating ads, don't forget about the content you've already made. It's possible to use the same informative blog in a direct email campaign, on your website, and as the focus of an advertisement. Integrate appealing visuals that invoke an emotional response to get more attention.
Track your results and adjust your strategy
Sure, you're trying to gain more customers. But how many more? Set goals as part of your marketing plan so that you can measure your success.
There are many ways to succeed in digital marketing, but a sure-fire way to fail is not adapting to your customers' preferences. Tracking your results will help you see if people are heading to your website and leaving immediately (also known as "bouncing") or if no one is clicking on your ad.
A method called A/B testing can help you make your marketing more effective. With this strategy, you create two separate versions of ads and see which one does better in reaching your goals. As you start to understand how to engage your target audience, you'll know better where to put your resources.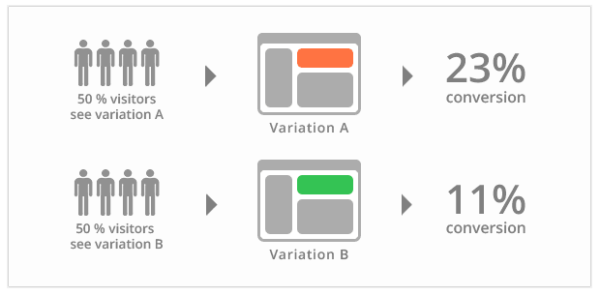 Be patient
It can take time to see new customers being generated through your digital marketing, but the effort pays off. By planning ahead, making the most of your online presence, and launching ads backed by analytics, you can stand out from the competition.

After you've launched your campaign, review your metrics every two or three weeks to see how your ads are performing, while also continuing to engage with your organic followers. Think ahead so that your messaging stays relevant. Take holidays and natural fluctuations in your construction seasons into consideration.

Digital marketing will help you meet your future customers where they are: online. With time, you'll be able to position yourself as an expert in your industry and ensure that they'll look to you for their next construction job.

Share with your network