Oh, social media… home of memes, feuds, and surprisingly entertaining cat videos.
Know what else is all over social media? Your customers. Which means you and your home services business should be there, too!
I know, I know: You "don't have time to deal with social media. And besides, it doesn't work."
Au contraire, friends! Social media marketing for contractors does work. Maybe just not like you think it does. In fact, in this article, I'm going to detail for you exactly how social media marketing can work for you and lead to tangible returns, like more new customers, more customer engagement, and ultimately — more money in your pocket.
How social media helps with contractor marketing
Whether you think social media is the best thing ever or the absolute worst, one thing's for certain: People connect with companies on social media every single day.
For example, Sprout Social's research shows nearly 70% of Facebook users like or follow at least one brand. So it'd be good for you to know how to leverage the various platforms to your business advantage.
Before I go too much further, let me mention two key thoughts to keep in mind along the way:
Doing social media well takes time, energy, and effort. Well, actually, to be honest, it takes very little effort to set up a Facebook page or Instagram account, add a couple of photos, and post an occasional coupon. But from that very little effort, you'll enjoy very little return. Social media can be an incredibly powerful tool — if you're willing to work at it a bit.
Social media will probably not bring you (many) new, qualified leads. However, Facebook, Instagram, and other social media platforms are terrific places to introduce new people to your company and to stay engaged with your current service customers. (Remember — It's much easier and far less expensive to keep current customers than to get new ones!)
TIP: Don't waste time switching between multiple platforms to run your social media marketing. Start by connecting your Facebook, Twitter, LinkedIn, and Instagram accounts to your Constant Contact account and manage all of your online marketing in one place.
Not a customer yet? Start a free trial of Constant Contact for Home & Building services today.
OK, if social media isn't going to bring you quick, qualified leads, why should you invest any time and energy there?
So many reasons:
As I mentioned at the top of this post, your customers are on social media. In 2019, 79% of Americans had at least one social account.
You can learn about your customers, competitors, and community through social media. The networks I recommend later in this post come with robust demographic analytics to help you better understand your audience — your customers. Through social networks, you can keep an eye on your competition to learn how they're engaging (or not) with potential customers. Finally, through tools like hashtags, you can listen in on — and participate in — conversations relevant to the services you provide.
Social media is a way to boost credibility. Sharing helpful content is a way to show your potential customers you're knowledgeable and trustworthy. Social reviews also help to boost your credibility, particularly if they're positive. That makes social media a useful way to market your small construction company, for example.
Social media offers another channel for customer care. With the rise of social media has come the expectation of 24/7 customer service. According to customer experience research, nearly 60% of consumers prefer companies that offer non-voice-based customer service options — including social media.
Social media helps you waste less money on advertising. Social media advertising is a relatively inexpensive way to reach extremely specific groups of people with your message. (By the way, lots of people want to know the average ROI for social media advertising. As you might expect, the answer is "it depends" — on platform, initial spend, campaign goal, how well you target your audience, and so on.)
How to get started with social media marketing for contractors
Now that you're convinced social media's worth your time, here's how to leverage it to promote your construction business.
Ready to find more leads and get expert home services and construction marketing advice, all in one place?
Step 1: Reserve your business name on all the major social channels
Notice I did not write, "Start posting on all the major social channels." Just reserve your name so it's yours when (or if) you're ready to start using a particular channel.
For home services companies, set up these accounts in this order:
Facebook
YouTube
Instagram
Twitter
For home builders, the most effective approach is:
Facebook
Instagram
Houzz
Pinterest
Regardless of the channels you use, keep in mind the ultimate goal of social media for the construction industry: Generating awareness, action, and engagement you wouldn't have gotten otherwise.
Step 2: Choose a channel and start engaging with your audience
Again: A channel. One of them. You don't need to be active everywhere right away, and trying to be will undoubtedly leave you overwhelmed and fed up. That means you'll wind up with inactive social accounts, and that's arguably worse than having no accounts.
Keep in mind it'll take some time to build up an audience, so be patient and just keep posting.
Step 3: Post strategically
Despite all evidence to the contrary, social media isn't only a repository for random garbage. Rather, social media can become a growth engine for home services and construction businesses when they post content that accomplishes three goals:
Builds awareness
Serves customers
Drives action
Step 4: Develop a content calendar
Part of the reason business owners get overwhelmed by social media is they struggle trying to figure out what to post. Developing a general content calendar ensures you won't have to sit and watch your cursor blink while you're racking your brain for some creative inspiration.
Here's what a social media content calendar for a home services business might look like:
Sunday: inspirational quote about family, home, inspiring spaces, and so on
Monday: link to new blog post
Tuesday: DIY tip
Wednesday: share a community event
Thursday: behind-the-scenes with our team
Friday: family fun suggestions
Saturday: highlight favorite home products/brands
Step 5: Match your post to each platform's personality
Many businesses make the mistake of duplicating the exact same content across multiple social media channels. I don't blame them for wanting to save time; it's just not the most effective strategy. Why? Because each social media channel has its own unique "personality." You can use the same theme, but be sure to modify your posts to suit each channel.
You can see an example of what we mean by following Netflix on Facebook and LinkedIn.
The content and updates the company shares on Facebook focus on show information for consumers, whereas updates on LinkedIn focus on the business of running Netflix.
Let's do a quick comparison of Facebook for contractors and Instagram to illustrate this point for the construction and home services industries specifically.
Facebook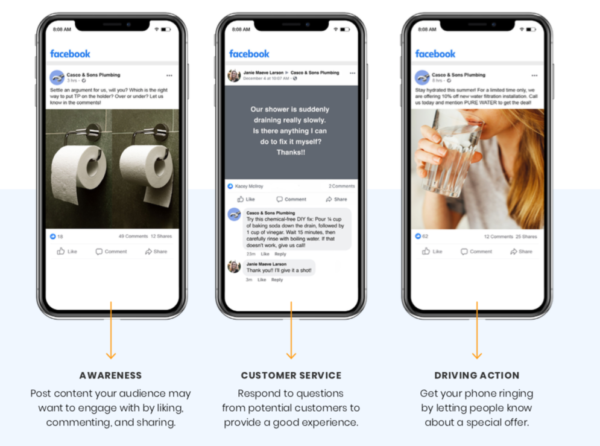 Instagram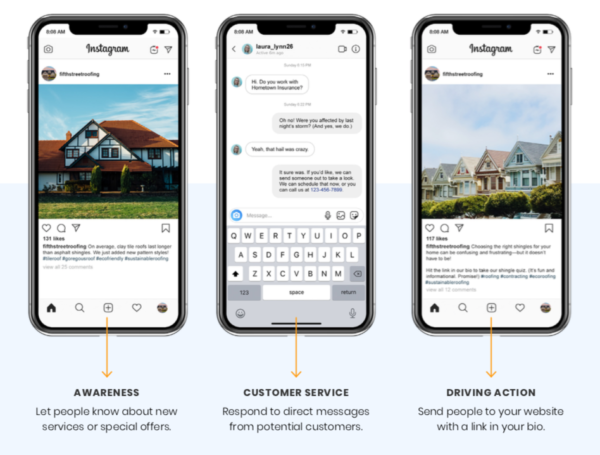 To see examples of how to build awareness, serve customers, and drive action across the other channels I've recommended — YouTube, Twitter, Houzz, and Pinterest — download our free online marketing guide.
Step 6: Celebrate as your business grows!
Social media is a crucial element in your contractor marketing arsenal. Engaging with people on social platforms ultimately moves them to your website… so you can build your email list… so you have a list of contacts you own… to drive business. Winning!
Get our free guide to online marketing for home & building services
Want more online marketing ideas for your home services or construction business? Check out The Download: Making Sense of Online Marketing for Home & Building Services.
Get Our Free Marketing Guide for Contractors, Home Services, and Construction
Our 68-page guide to online marketing is packed with accessible, practical tips to help you get more leads and grow your business.

Share with your network