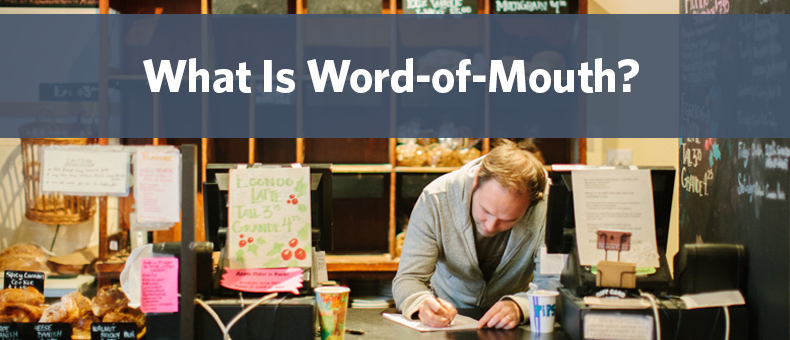 Ask business owners what's most effective for customer acquisition, and you'll likely hear "word-of-mouth marketing."
It makes sense, because if you ask most consumers how they hear about small businesses, they'll give you the exact same answer.
So it's not surprising the top SMB business resolution for 2015 was "Increase my word-of-mouth" according to a national SMB poll on Alignable (The Small Business Network).
But what is word-of-mouth…really? Is it just something that "happens"? Or is there a way to harness it to actually grow your business?
To begin to understand how you can harness word-of-mouth, let's start by defining it.
Word-of-Mouth Defined
Let's break it down:
Word: What people know about you that you'll want them to share with others.
Mouth: The people you have relationships with who are willing to share your "Word" with others.
Word-of-Mouth ("WoM"): what happens when people who know you well put their reputation on the line and tell others about you and your business.
How do you generate word-of-mouth?
You harness WoM for your business by investing in building relationships with the people that matter most, giving them words to share, and making it easier for them to spread those words for you.
This definition starts to hint at some of the concrete ways you can actively grow your word-of-mouth.
Alignable member Jennifer Mummert, owner of Waldorf Walkers and Pet Sitters, says "My employees and I work very hard to build and maintain a good reputation in our community, and we pride ourselves on providing high quality pet care services at affordable prices, which keep our clients happy, and happy clients are good sources for referrals!"
Another tip from business owners: Make sure you specifically ask for referrals from happy customers. Says Andre Hamilton of Greenlion Cleaning and Maintenance, "You will be amazed with the results if you simply ask your customers to refer. Customer referrals work wonders!"
What does word-of-mouth mean to you and how do you work to influence it?
Who are the people you'd like to have talking about your business? This will likely start with your customers, but don't forget about the other people you have relationships with — including other business owners, suppliers, and organizations you support.
Do these people have the information they need to recommend and refer your business? Are they familiar with your services? Have they heard about your upcoming events and promotions?
Generating valuable word-of-mouth can often be as simple as keeping your audience informed and up-to-date!
I'll be taking a closer look at how to improve word-of-mouth for your small business in future posts, but in the meantime, I'd love to hear from you!
What role does word-of-mouth play in your business? Share your thoughts in the comments below.
About the Author: Eric Groves is the co-founder and CEO of Alignable, the local business network where small businesses and organizations connect and collaborate with others nearby. Eric is a local marketing expert and enthusiast who spent 10 years as an executive at Constant Contact. He authored The Constant Contact Guide to Email Marketing and believes that local businesses are always stronger together.