When approaching content marketing for your business, you often see options for free and paid models — and it can seem like that's all there is but there's also earned media.
With a paid approach, you're investing in clicks and hoping they turn into sales. With a free strategy, you're hoping your search engine optimization (SEO) and social reach are good enough to give results. Both can seem daunting and laborious, especially grouped together like that. But getting serious about your marketing means knowing the difference between earned media and other types — like shared, owned, or paid. 
Luckily, you don't have to think of content marketing as black and white. There is a perfect trifecta of content that includes earned media, paid media, and owned media.
Ready to do more business with email marketing?
What is earned media?
Earned media is one of the four types of content you can use to boost your brand, awareness, and sales. It's third-party content that legitimizes your product or service and reaches new audiences. The best part of this type of media is that it's free. It can be from organic reviews, a PR pitch that resonated with journalists, or a hundred other sources. Earned media can be as creative as it is effective when it reaches the right audience.
What are the types of media?
Before companies use earned media, they usually dabble in the other four types. Here's how the four types of media are broken down in order of when businesses usually start creating them.
Owned media
Your owned media is anything you share on your website or blog. It's usually the first content a company creates after they build their product. It can look like any of the following types of content:
Expert blog posts
Press releases
Testimonials and reviews
User-generated content
Employee profiles
Podcasts
Videos
White papers
‌Your owned media is controlled and published by you. You write, edit, and publish it to your liking. When you want to edit or remove it, you have full access to it.
Maybe at this point, you're thinking, "What about social media? Don't I publish and control that as well?" The truth is, not really. Let's take a look at why below.
Shared media
Shared media is content you create but share across other platforms. After creating some owned media, a company usually creates social media profiles.
Social media platforms control their own algorithms, terms, and conditions. Thus, they control everything you're allowed to do on them. This is also true for third-party content like partner websites, and influencer media. After all, when is the last time those mentioned in an article were able to edit bad publicity in the news?
Even though you're the one creating and sharing the content on social media platforms, they're the ones in control. Examples of shared media platforms include:
Facebook
Instagram
Pinterest
Reddit
Twitter
LinkedIn
‌This isn't to say that shared media is bad. In fact, social media marketing should always be part of your strategy. The lack of control simply means that you shouldn't rely solely on shared media for growth, awareness, and sales. However, when it comes to finding audiences and connecting with your current leads and customers, social media is a necessary tool.
Paid media
After a business has set up their owned and shared media, they might hit a small plateau. Questions might arise, like: "Why aren't we reaching more people?" or "Should we be getting more downloads or visits on our inbound content?" This tends to be the point when they turn to paid media for answers.
Paid media gives companies the key to new eyes and ears. The key — of course — comes at a cost. Businesses pay platforms to show ad content to people who are most likely to be interested in what they sell.  Paid media can look like any of the following, among many others:
Paid search results
Sponsorships on others' newsletters
Influencer marketing content
‌Paid media helps businesses get new audiences, leads, and awareness at the drop of a hat. This "by-command" quality makes it incredibly attractive. But remember, like owned and shared media, paid options should only be a part of your strategy and not its entirety.
Earned media
Finally, we go back to earned media. It's listed in this section last because it's usually the last thing businesses consider. After they've gone through all the above types of content, they wonder: "Why is no one writing about us?" or "How can we get more sources talking about our product?"
What is earned media? It's getting people talking about you — also known as "publicity." It's free and organic, usually sparked by an interest in your product from outside your company. Sometimes, it's a celebrity who takes an interest. Other times, it's a journalist.
Over time, earned media has changed in the way it looks. However, with the rise of new types of media, opportunities for earned publicity are everywhere. Types of earned media include:
Press mentions
Non-paid celebrity content
Viral trends
Non-paid reviews
Interviews
‌How does this add or work with your other content strategies? It's fully compatible and more often than not works in tandem with them. It does this either by taking from shared, owned, or paid content or by lending them some to use on their platforms. We'll look at this further later.
Why is earned media important?
Once companies learn about opportunities for earned media, they're eager to get more. Not only is it free — giving it the best return on investment (ROI) — it also legitimizes your brand and product.
Since more than half of online shoppers read reviews for a product before buying it, after seeing trusted sources talk about your product positively, those shoppers will be more inclined to purchase it. Why do leads gravitate toward earned media when searching online?
Freshness
"Freshness" is a real Google term for which the search engine has a whole algorithm built. Freshness means that the article is either recent or up to date. This is why articles with the current year in the title tend to rank well in searches. For earned media, this means that recent coverage about your company by reputable websites will rank higher on search engines.
If the conversation around your company stays fresh and newsworthy, you'll never run out of top-ranking stories your leads will love to read.
Trustworthiness
Earned media looks trustworthy to the eyes of a potential lead. When a visitor comes to your site, they expect to see positive messaging, reviews, and testimonials. Third-party reviews, however, are seen as more sincere. Especially when they're not sponsored by the brand. Earned reviews by your ideal buyer's trusted sources give your buyer the confidence they need to click "buy now."
Versatility
Earned media works flawlessly almost every time with your other types of content.
If you get media coverage, you can share third-party reviews and praise for your business on your website and blog. If you had a viral moment, share it on social or run ads with similar messaging. If you receive an award, retarget leads showing them this new reason to trust you. Earned media is recyclable and worth pushing to every corner of your marketing strategy.
How can you earn media attention for your business?
Sounds like this earned media thing is pretty beneficial, right? Here's how you go from learning about it to actually getting some.
There are plenty of go-to strategies that businesses use to get people talking about all the good things going on at their companies. Below, you'll find some you can do right away.
Surveys and data reports
To start and run your business, it takes a lot of data — whether it's about trends, technology, or even human behavior. Use what you know and find a way to tell that story in numbers. Sometimes, this means running a large-scale survey or gathering data points from owned sources.
 Several companies do this, including Spotify. At the end of the year, they offer your "Wrapped" data, including fun facts like what you listen to most, playlists only you have, and more. They understand that sharing this information with you will have a large domino effect. You'll share it with others and they'll be incentivized to look through and share theirs as well.
Press releases
Journalists rarely hear about what you've got going on by word of mouth. Companies build the narrative first and then either pitch it directly to journalists or write a press release — usually both. This puts the story out into the world.
The best part is, you get to choose what the story is. Maybe you have an upcoming launch or recently got a grant to explore a new product. Share the story with relevant media so they can spread the word and get you more awareness.
Awards
Awards are always great media opportunities. When chosen correctly, they also help with sales. Think of any wine brand. They're actively looking to get awards to put on the label because they understand that bringing the "Winner of the Sommeliers Choice Awards" makes a great impression at a party.
Every award has a time for submissions and payment, a time for "evaluation" that looks different every time, and a time for announcement. Brands can use all their types of media to take advantage of the award process. For instance: If you apply for an award that requires public voting, create a campaign to get votes from your community.
Once it's announced, push the story to the press as well as on your shared and owned media. Often, announcements of award winners will have a lot of relevant media attention and will organically get coverage.
Reviews
Content sites are usually looking for trendy products and services to try. All you have to do is find relevant media sites and get in touch. Offer them a free product to try in exchange for their honest opinion.
There are pros and cons to this, of course. On one hand, you'll get the earned media you want. On the other, you don't have control over the review and it could go differently than you expect. If you opt for reviews, make sure they have the best possible experience both unboxing and testing the product or service.
Celebrity gifting
When thinking of influencer marketing, many marketers underestimate the opportunities of celebrity gifting. It's not necessarily a strategy for sales — though celebrities have a much larger reach. Celebrity gifting, when successful, can influence the influencers.
After a well-known actor, model, or athlete recommends a product, influencers are much more inclined to do earned media partnerships with that company. Land the right celebrity endorsement, even briefly on Instagram stories, and you could have an inbox full of inquiries waiting for you. If you're lucky, you could turn into a viral trend, like Kylie Jenner's toddler plates.
Share expert opinions
Approach media that speaks to your industry or target audience and pitch them a guest post. Position your C-suite executives as experts in their field with something to say. Whether it's in written form or via interview, this is a tried and true method that continues to work. Just look at the number of times CNBC uses the same title template: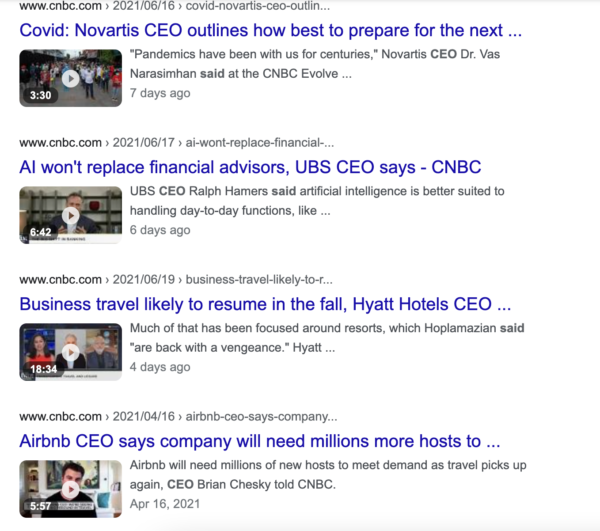 Attend trade shows
Trade shows and conferences aren't just a great way to network, they're also full of earned media opportunities.
First, there's the event's content. If your company is on an attendee list with media covering the event itself, you'll appear there. Next, there's the media coverage of the event, which is great if you plan to be a speaker or to have an exhibit of your products. Finally, there's the coverage of those who attend — bloggers, independent reporters, and more. If you give them a good experience, you'll appear positively in their content, as well.
These are some of the ways you can get earned media today, but there are many more. Look at what you have in your marketing calendar and assess what you can take action on. Maybe it's just sending out your product to review sites.
What are some creative examples of earned media?
Little Moons' viral TikTok
In 2020, Little Moons, a brand of Japanese ice cream bites, were on their way to growing into the European market. Then, a young employee kicked everything into high gear by creating a TikTok account. Before long, over 15,000 Little Moons videos were circulating the platform and sales went up by 2,000% — this is gold in terms of earned media.
From there, marketing and PR took over to boost the viral event into media attention — more earned media. After the chaos, Little Moons' marketing director, Ross Farquhar, said it was giving his team freedom that led to the fortunate craze.
Of course, viral moments are the ultimate win. Any business could only hope to get famous on social media that quickly. But the lesson we learn from Little Moons isn't just "get viral or die trying," it's what you do with the publicity.
The ice cream brand turned accidental fame into targeted pitches to media. This significantly increased their reach to round out the campaign to more demographics.
Nanit's "State of Sleep Report" in 2020
Nanit is a baby monitor brand that uses its technology to inform parents about their babies. For all of 2020, they gathered data and then released a report of what the numbers said. They used data points like gender, types of diapers babies used, and the use of a white noise machine to determine their monitors' effect on baby sleep.
The final result was a report that parents and industry experts alike were excited to read about. The catch is that the report itself wasn't the big fish — instead, it was the bait. They also pitched relevant media and published a press release to get their expertise in front of as many eyes as possible.
What happened next? It was picked up by parenting media giant The Bump, getting them the audience reach they needed. Though the Sleep Report was great owned media, it might have underperformed if not for the big media push.
This is a great example of using the content you have to position yourself as an expert and push it for better awareness with earned media.
WHO's "State of the World's Nursing" report
Like Nanit's report and Little Moon's impeccable timing is the case of the World Health Organization (WHO) report on world nursing. The WHO had one of its biggest years in 2020. Across the world, people looked to it for information, as the reality they knew changed drastically.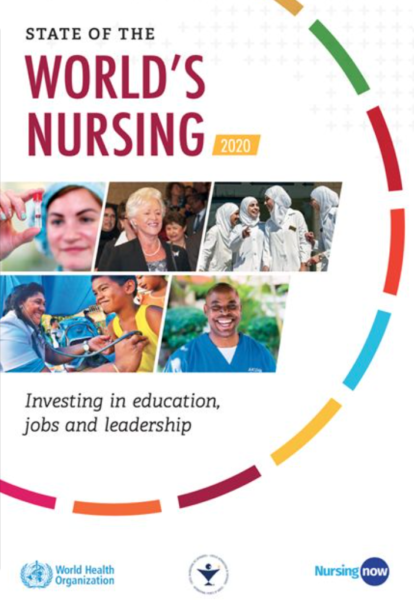 One of the toughest professions to have during the Coronavirus pandemic was nursing. Nationwide, nurses were opting out of the high-risk job and causing a shortage. As everyone searched for answers, the WHO pointed to what they'd seen all along.
They had recently published a "State of the World's Nursing" report as early as April 2020, in which they pointed to the fact that there is only an average of 36.9 nurses per 10,000 people globally. They also stated that there would be a shortage of millions of nurses by 2030. Like Little Moons, they had found themselves in the right place at the right time and well-positioned as the international health authority during a crisis.
As with Nanit, the report wasn't the end of the story. A seemingly endless list of media entities picked up the story and shared the insights around the same time. One difference, though, is that the WHO didn't push the topic as a "we told you so" moment. They simply focused on letting their work speak for itself, like a humble nonprofit.
Zappos' Awards made itself the "customer service company" in the media
When thinking of awards as a key to earned media, there are countless examples. One of the most creative is Zappos. While most companies look to excel in what they make, Zappos chose differently. Instead of trying to be "the best ecommerce company for shoes," they pitched their spirit as the narrative.
What was Zappos about? Not shoes, but service. They became so famous for their customer service and won several awards for it — so customer service became their shtick. To this day, Zappos and customer service are inextricable concepts. As recently as 2020, Forbes still published articles about lessons Zappos can teach customer service teams during COVID.  
Sometimes, getting awards for anything your customers value — but perhaps aren't expecting from you — can have positive effects. Your clients can end up proud to be in your community and you can become a press favorite in your industry.
Buzzfeed reviewed Colombia Mafia Fit's program
Getting your product reviewed by the media doesn't have to be boring. Look at Buzzfeed's review of Colombia Mafia Fit — an exercise and diet program — for example. One of the producers recruited several readers that wanted to review the product for free and they documented the process, turning it into a third-party content piece.
From here, the fitness brand can retarget material to make that into social media marketing content and push sales even further.
How can you start getting mentions for your company?
You've now learned about the types of content: owned, shared, paid, and earned. You've also gone through why each type of media is important in your content marketing strategy. After learning how to get media attention for your business and seeing some creative examples of earned media, you're now ready to plan your own.
Choose a few options that look approachable and discuss them with your team. Which one seems like it's actionable right now? Start outlining what needs to be done, how you'll follow up over time, and even how you'll use the media once it's out there.
Before long, you'll be sorting through all the earned media you have and figuring out how to use it in your content for months, and maybe even years to come. And if, after all this, you're looking for more guidance when it comes to digital marketing, check out The Download.