These days, when people need a new dentist, they usually start their search online. Unfortunately, with big practices buying up so much ad space on Google, attracting patients to your dental clinic can be hard.
Luckily, there's a very cost-effective strategy for bringing patients to your practice. It's called email marketing for dentists.
In the world of digital marketing, email marketing is one of the best investments a small business can make. Statistics indicate that for every $1 you spend on email marketing, you can gain an average return of $36.
Why so high? With billions of emails sent out every day, effective marketing emails will reach many potential clients. And with 60% of consumers stating they've made purchases based on an email they received — compared to only 12.5% of people who make purchases on social media — email marketing remains one of the best options for dentists seeking new patients.
This article will cover the benefits of email marketing for dentists and offer actionable tips for building an effective email marketing campaign.
We make it easy to build loyalty with patients and clients, drive referrals, and grow your center.
Benefits of email marketing for dentists
While email marketing can benefit any business, dental clinics enjoy some very specific advantages, including:
Better engagement with your patients
There was a time when patients would only come into a dentist's office for an annual checkup and to get their teeth cleaned. Unless they needed specific surgery or developed a cavity, contact with their dentists would be very limited.
Today, however, you can email your patients with tips on caring for their teeth and preventing future problems. Some practices create emails full of practical advice and useful information. Patients who appreciate this attention will be more likely to remain your clients.
You can also send follow-up emails after appointments that help you remain in contact with your clients, further improving the doctor-patient relationship.
Opportunities to connect with your patients
Email marketing for dentists is a two-way street. While you might first think about the emails sent by your dental practice, you may also start receiving emails from your patients.
As patients start seeing your emails as a valuable source of information, they'll feel more at liberty to communicate their questions on dental hygiene to you.
Take advantage of this opportunity. Email your patients back and offer tips and advice. Post some of the most commonly asked questions in the FAQ section of your website. As people see your clinic as an approachable dental practice, they'll develop greater loyalty and offer good online reviews.
Better booking and appointment management
Ask any healthcare provider what the most frustrating thing about customer relations is, and you'll likely hear "keeping appointments" on their list of pet peeves.
Getting patients to make — and keep — their appointment can be a hassle, especially if you limit your reminder methods to a single phone call.
Letting patients book appointments on your website is more convenient. You can also send automated email confirmations and reminders to make it easier for patients to record appointments in their calendars.
By investing in the right email list management software to manage your contacts, scheduling patients will be much more convenient.
Planning effective email marketing for dentists
So, what are the best dentist email marketing practices for your business? To begin, you'll want to develop an effective healthcare email marketing plan. Keep reading to find a list of important tips to follow.
Establish your marketing goals
As with any good ad campaign, you'll want to start by defining what you want to achieve with your email marketing.
Do you want to increase revenue? Attract more patients to your clinic? Improve existing relationships with your current patients?
Come up with measurable ways to calculate your success. How much more money should you make by the end of your campaign's first year? How many patients would you like to gain? What should your current patients do to show they're more engaged?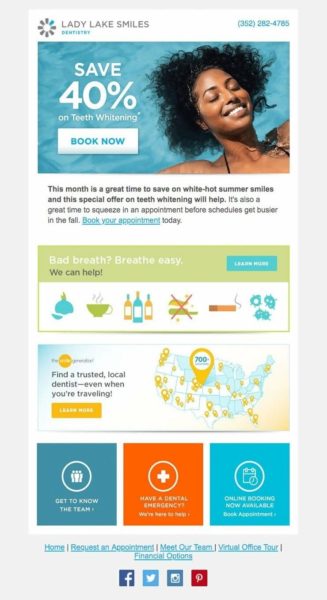 Identify the most important dates in your business year
Now you'll need to identify key dates in your business year. Will you be offering special deals at different times in the year? Are there certain times of the year when more people develop cavities or suffer from dental issues? Are there months that tend to be slower for your clinic?
All of these dates provide a valuable way for you to map out the emails you need to craft — and when you should send them.
For instance, if you're planning on offering a time-sensitive promotion for discounted teeth cleanings, you'll need to send out an announcement two weeks in advance. You'll also want to send a reminder the week before your event and a "last chance" email one to two days before your deal begins.
Holidays and other special dates offer a chance to provide your patients with useful information at certain times of the year. For example, in the weeks leading up to Halloween — also known as National Dental Hygiene Month — you can offer tips in your emails for preventing cavities. February is National Children's Dental Health Month, a good time to provide parents with dental health tips for their kids.
Expand your email address list
Offering a sign-up form for your email list at your office is fine — but make sure potential clients have multiple opportunities to get your emails. Include a subscribe option on your website and social media channels. You can also create an automated pop-up form that invites your blog readers to sign up.
One great way to encourage people to sign up for your email list is to offer something in return. Let patients know they can receive a free teeth cleaning, gift card, or coupon just for subscribing.
Create an automated welcome series
Make a good impression by offering an automated two-part welcome series. The first welcome email should include some brief text about your dental clinic and let your clients know what they can expect in future emails — discounts, advice, news, and sales information.
Include your promotional discount coupons or codes in your first mailing. This gives patients an incentive to open your email.
Your second email can invite your clients to connect with you on social media. This helps you engage with your patients on multiple platforms. You can also showcase your dental clinic to your patients' social media connections, further expanding your marketing base.
To make this process smoother, invest in email marketing automation software. This lets you send your series of welcome emails automatically, saving you time while you nurture your leads.
Send new emails at least once a month
Content is king in this digital age — which means you'll need to offer regular emails that deliver quality information if you want your email marketing campaign to be successful. Spend time brainstorming new topics that will be of interest to your patients. Plan to consistently send a new marketing email at least once a month, preferably in tandem with a special event or important announcement you can promote in advance.
Create your email marketing plan
Email marketing for dentists offers an affordable and effective way for your clinic to connect with patients and promote your business as an approachable practice with great resources. Start building your marketing plan by exploring Constant Contact's email marketing platform. The easy-to-use email editor and email marketing automation make it simple for you to create customized welcome messages and email series for your patients. Save time and promote your dental practice effectively with these simple online tools.

Share with your network