"Of all of our inventions for mass communication, pictures still speak the most universally understood language." -Walt Disney
Images have been helping marketers "speak" to their target audience for quite some time.
There's a reason why online articles containing relevant images have 94 percent more total views than text-only articles.
Images help businesses and organizations communicate in a way that text alone cannot.
That's certainly the case when it comes to your email marketing.
Here are a few reasons why you should start using images in your next email:
1. Images catch attention, guaranteed
As a marketer, emails that fail to catch your readers' attention could result in missed opportunities.
Unfortunately, in today's hyper-connected world, these missed opportunities are becoming all too common.
Images give you the chance to stand out from the noise and make a more meaningful impression with the people who are receiving your emails.
2. Images are easy to find and create
Stunning marketing images have never been more accessible. With more than half of all Americans using smartphones, and 66 percent of small businesses using mobile technology to help run their business, snapping and uploading photos for your email marketing has never been easier.
You can store photos right on your phone, upload them to your desktop or laptop, or host them on  social media sites like Facebook or Instagram right from the palm of your hand.
Don't want to create images on your own? You can access professional images right from your Constant Contact account.
3. Images humanize your message
You want your emails to not only reflect your business, but to also reflect the experience customers will have when they walk through your door.
An easy way to do that is by adding a photo of you or your staff.
For readers who already know, like, and trust you — seeing a face they're familiar with can help increase the amount of time they spend with each email.
For those people who are new to your business, adding that small personal touch can be a bridge to a meaningful relationship. While they may not know you now, next time they're at your store or in your office, they will.
This means, they will be more likely to introduce themselves, ask questions, and hopefully share their feedback.
4. An image really is worth 1,000 words
Even if you're the most talented and experienced writer in the world, in the inbox, text alone can fall short when it comes to engaging your readers and sharing your message.
Rather than pulling your hair out trying to come up with the perfect words, you can use an image to help demonstrate your point.
5. Images bring emails to life
If you're worried that your emails may be failing to make the type of impact you've been looking for, adding the right images to your emails could offer a simple solution to the problem.
That's why we created this guide.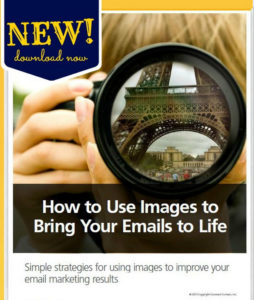 How to Use Images to Bring Your Emails to Life will provide you with the groundwork you need to put a more visual email marketing strategy into action.
Learn best practices for using images in your email marketing and see real-life examples from other small businesses and nonprofits.
You can download the guide now by visiting the Constant Contact Facebook Page.
Have other questions about how or why you should use images in your email marketing? Let us know in the comments below.