There are many ways to promote your restaurant on social media, but paid Facebook ads for restaurants can be a powerful way to reach new customers. You can create laser-focused campaigns toward your target market and test different ideas to bring them to your restaurant.
Facebook ads for restaurants are a great way to attract potential customers you wouldn't ordinarily be able to access. Restaurant owners should research to figure out the best demographics, interests, and topics they can offer in order to gain new patrons through Facebook.
Whether you're just starting out or have been in business for years, there's always room to grow and improve the number of people who come through your doors. This guide will give you some tips for creating an effective Facebook ad campaign for restaurants and offer a few examples of great Facebook ad campaigns that proved successful.
Get the tools and guidance you need to find new customers and keep your regulars coming back for more.
Set a goal for your ad campaign
The first step in setting up a Facebook ad campaign is to choose an objective. Facebook, which is notorious for its deep understanding of user psychology, will direct your ads toward the people most likely to help you fulfill your goals.
Most objectives fall into three basic categories that correlate with the stages of a new customer's journey into your restaurant: Awareness, consideration, and conversion.
Awareness objectives
This goal is about reaching new people and letting them know what your restaurant is all about. Facebook offers two ad objectives in this category:
Brand Awareness: Increase people's awareness of your new restaurant, location, or menu items.
Reach: Show your ad to as many people as possible in your target audience.
Consideration objectives
Once people know you exist, they might consider coming in for dinner. At this stage, they'll want to get directions, learn about your hours, and know more about your menu options. Facebook ads offer a number of consideration objectives:
Traffic: Send people directly to any destination you choose, such as your website's landing page, a blog post, an app, or a phone number.
Engagement: Reach people more likely to engage with your post by liking, commenting, sharing, or redeeming offers.
App Installs: Send people directly to download an app.
Video Views: Share videos of your business with people who are most likely to watch them.
Lead Generation: Collect leads like sign-ups for newsletters or have people give your business a call.
Messages: Connect directly with potential customers on Messenger, Instagram Direct, or WhatsApp. Encourage people to ask questions and interact with you directly.
Conversion objectives
This is the final stage where people are actually visiting the restaurant and buying a meal. Facebook offers three conversion goals:
Conversions: Encourage people to take a specific action on your website, like buying a gift certificate, placing a takeout order, or making a reservation.
Catalog Sales: Generate sales directly from an e-commerce site — for a restaurant, this might be your online takeout menu.
Store Traffic: Promote your physical restaurant locations to people that are in the neighborhood.
Most small businesses like to focus on conversions because they want to be sure they're getting sales in return for spending on marketing. But if you read the examples at the bottom of this post, you'll see that focusing on messaging, brand awareness or lead generation can be very valuable for a restaurant.
Target your audience
Once you've chosen a goal, you'll be able to choose an audience for your ad. The more you know about your customers, the better you'll be able to target a specific group of people who would enjoy your restaurant.
What neighborhoods do your potential customers live in? How old are they? What are their household incomes? Hobbies?
Facebook provides many different ways for you to specify who sees your ad, including location, gender, age group, interests (including interests related to your restaurant), and more.
When you set up the audience for your ad, you'll be able to specify the location. If you're looking to target customers in your neighborhood, keep the radius around a five-mile range so that it's as specific as possible. If your restaurant is in a popular area that people visit often, expand your reach to include a larger area. You can use zip codes to target the local neighborhoods most likely to visit your restaurant.
If you know your customers well, you can use interest-based targeting to be sure you're reaching the people most likely to become regulars. For example, if most of your regular customers bring children in for dinner, you'll want to target people interested in parenting topics. On the other hand, if a lot of your clientele come in because of your wine list, you'll want to reach people interested in wines.
You can also use interest-based targeting to create super-focused ads for specific audiences on Facebook. For example, promote your gluten-free menu specifically to local people who are interested in gluten-free dining or your vegan dishes to vegetarians. Or create an ad about your catering services and direct it toward people interested in wedding planning and event organization.
Use appealing images
Next, you'll need to add images to your ad.
You've probably already realized that close-up photos of food are the most powerful tool in your social media arsenal. You can't create effective Facebook ads for restaurants without good quality close-ups of your top menu items.
Restaurant photography is a special skill — you can learn it yourself or hire a professional. A creative photographer who knows how to style and light food is worth their weight in olive oil. Investing in a professional photo session, or taking the time to do one yourself, can provide you with images you'll use for months and bring you many new customers.
Another approach that can work well is to showcase the experience of dining in your restaurant. Examples of this approach include photos of smiling customer faces, beautifully set tables, or incredible views. Test both to see which works best with your audience.
Facebook carousel ads let you include multiple photos, so they are an excellent way to showcase a variety of dishes, drinks, or dining experience shots in a single ad.
Another way to showcase multiple images in a single ad is to create a slideshow. These are video ads, but they load fast even for users who have slow connection speeds.
Publishing note: Don't use images that have a large amount of text in them, like shots of your menu or a flyer. Facebook tends to reject those.
Create great ads
You can have the best images in the world, but if you don't give people some text that tells them what they're looking at, all your hard work will be wasted. When you're creating Facebook ads for restaurants, you need to tell people, in a few words, exactly why, when, and how they should come in for dinner or try your new signature dish.
You may be tempted to fill your ads up with as much information as possible, but that can actually work against you. Leave some breathing room around your text so your images stand out.
The colors, themes, images, and layouts of your ads all help to convey your brand image. Make your choices very deliberate and then keep them consistent so people recognize your ads immediately. Keep your target audience in mind as you create your ads. What will appeal to them? Make sure the choices you make in your ads reflect your restaurant's personality, whether that's an elegant old-school charm or a funky modern edge.
If you're feeling stuck, take a look at other restaurants' Facebook ads. You might be surprised by what they're doing that's working well for them and can apply to your own marketing strategy. Of course, you never want to copy your local competition, but you can get inspired by what a restaurant across the country is doing.
Focus on things that are topical or seasonal in your campaigns to create a sense of urgency. Try to answer the question, "Why should I visit this restaurant this week instead of putting it off for another time?" Special offers, upcoming events like live music, or a beautiful outdoor patio in the springtime all create a sense of urgency.
Even if your menu doesn't change seasonally, you can choose specific menu items to highlight at different times of the year to create timely ads. For instance, focus on salads and grilled items in the spring and summer, heavy meat and potato dishes in cold months, and rich desserts around the holidays.
If you have a particularly creative ad idea, don't be afraid to go for it! And if something isn't working, analyze why and change it up.
Take advantage of Facebook's most powerful tools
Many business owners stick with boosting posts because it's easier than creating ad campaigns on Facebook. While that may be the easier option at times, ad campaigns give you more options to achieve your goals. Constant Contact offers built-in social media marketing advertising tools that simplify the process of creating campaigns on Facebook and Instagram.
A/B Testing: Facebook campaigns allow you to test out different ads side-by-side with A/B testing. This way, you can find what brings people into your restaurant and pour your resources into running the ads that work best.
FB Pixel: Installing a Facebook Pixel on your website is very simple and helps you connect your website to Facebook's ad manager so you can track conversions like reservations or gift certificate sales.
Lookalike Audiences: If you have an email marketing list of at least 1,000 names, you can upload it and ask Facebook to find Lookalike Audiences for you — people who are similar in demographics and interests to your current customers. Lookalike audiences are a great way to expand your advertising reach toward the people most likely to be interested in your restaurant.
Geofencing: Facebook can tell when someone visits your restaurant and tags them within the Facebook app from their mobile device. This lets you send messages to encourage repeat visits.
You'll be advertising to people who already know about your restaurant so you don't have to waste words talking about who you are and what you do. Just highlight a new menu item, special offer, or upcoming event.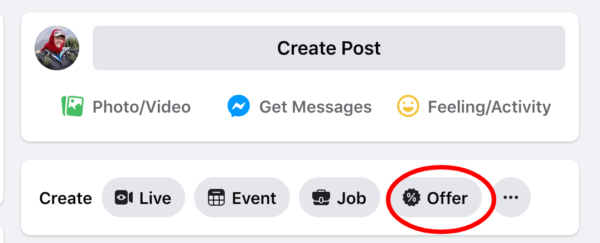 Facebook Offers: Creating deals or specials is one of the most effective ways to use Facebook ads for restaurants to track the results of your advertising. Facebook lets you promote your deals and discounts using Facebook Offers. You can create Facebook Offers directly from the sharing tool on your page. Just look for the "offer" button underneath the post creation area on your page.
To start creating the ad, type your offer as the headline. Some top-performing offer examples are "Buy 1 Get 1 Free" or discounts like $10 off or 20% off.
Add a mouthwatering photo related to your offer. If you want to add an expiration date, just click on the calendar icon. You'll be able to gauge interest by tracking the number of people who click on your offer, and you can train your staff to keep track of redemptions at the restaurant, too.
You can test Facebook Offers for free with your regular audience. When you find a popular combination of headline and photo, you can set a budget and choose a target audience to reach new potential customers.
Events: Another Facebook feature to take advantage of in your advertising is events. If you're not already using events to promote your business, come up with a few ideas that are closely connected to your brand and try them out.
If you own an ethnic restaurant, for example, try a Celebrate [ethnicity] event, with live music, dance performances, and traditional games. Or tie your event to a holiday or seasonal happening, like Independence Day, Thanksgiving, or Pride. Add some decorations, mix up a few specialty cocktails or appetizers, and invite people to celebrate during a Happy Hour or in the evening. If you're more of a family establishment, offer face-painting, balloons, and children's activities.
Another option would be to offer a paid online event, like a language, cooking, or wine class.
A calendar of events that can be repeated annually (with tweaks to keep improving your schedule) is a great way to not only keep your advertising fresh but keep your staff and existing customers engaged as well. Even one or two events a year can breathe new life into your business.
Advertising your event will help you reach new people in your area and give them a reason to connect with your restaurant.
Messenger: Did you know that Messenger has 1.3 billion users? Even people who don't regularly look at their Facebook feed often use Messenger to communicate with friends and family. You can place ads on Messenger to reach the ones local to your restaurant, either to build awareness of your brand or to promote special offers. You can also run ads in Facebook feeds that have a Messenger button on them to encourage customers to communicate with you directly.
Interactive elements: You can use your Facebook ads to create polls, contests, and other opportunities for engagement.
Set up polls to ask local residents about decisions you might be making, such as new menu items, ingredient options, additions to the wine list, or events. People love to be asked their opinion, and they feel a sense of ownership toward menu items and other options they've voted to include. Not only will they feel excited to come in and try things they helped create, but they're very likely to tell their friends about it, too.
One way to get more followers and generate excitement around your page is to run a contest with prizes like gift certificates, wine, or food. Use Facebook ads to promote the contest beyond your current following, and invite everyone who enters or interacts with the contest to follow your page in the future. Some popular tools for structuring Facebook contests include Woobox, Rafflecopter, and ShortStack.
Store Visits ads: If your restaurant has multiple locations, Facebook's "store visits" objective might be a good fit for you. You'll be able to add multiple locations to your ad and let customers get directions or a phone number for the location nearest them.
Some examples of great restaurant campaigns on Facebook
Here are some restaurants that have found ways to use Facebook advertising to their best advantage.
Maggiano's Little Italy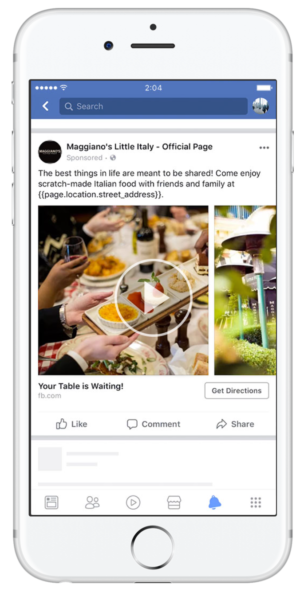 This Italian eatery opened in Chicago in 1991 and has grown to include more than 50 locations across the United States.
The business ran A/B tests comparing the results of three different types of ads: a carousel featuring food images, a carousel featuring dining experience images, and a short video focused on dining experiences.
Maggiano's targeted people who live near one of their restaurant locations and also fit a profile of their customer demographics. Facebook's Store Visits feature directed potential customers who interacted with the ad to their nearest location and also tracked how many users visited a location after seeing an ad.
The campaign, which ran for two weeks in 2017, brought more than 20,000 new customers into the locations and gave the restaurant a return of six times what it spent. Considering the company had been seeing declining sales prior to the campaign, management considered it a huge success.
Black Swan Catering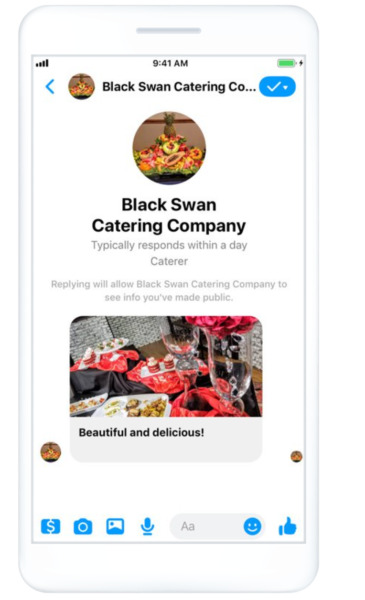 Curlethia and William Swanigan's Facebook ads campaign is a great example of using Facebook's targeted audiences and a Messenger button to increase catering business.
The couple founded Black Swan Catering in 2015 as a side hustle while they continued working their day jobs. Eventually, Black Swan expanded to include meal kits and meal deliveries and, in 2019, it opened as a full-service restaurant.
That same year, after spending big bucks on television advertising that didn't yield any new catering customers, the Swanigans turned to Facebook advertising. They created an automated campaign with a Messenger button, setting a goal of receiving more direct messages. They chose an audience of people within 30 miles of Little Rock interested in food and parties and used several of their best photos in the ads.
The campaign was a huge success, bringing twice what the restaurant spent and helping the brand increase sales by 57% over the previous year.
Curlethia is able to field inquiries on Messenger in about half the time it would take to resolve catering questions by phone or email, which is important since she's still juggling a day job. Establishing contact on Messenger also makes it easy to communicate last-minute changes or questions, which improves both customer service and efficiency.
5 Napkin Burger
5 Napkin Burger used both offers and messaging in its Facebook advertising. Its campaign was a huge success, bringing in nearly 500 new customers and increasing the average sale by 20%.
The company had three goals for its Facebook ad campaign:
Attract new local customers
Generate a database of interested customers for future marketing
Quantify its marketing efforts
To achieve those goals, the owners set up ads that click to Messenger, with photos of the restaurant's best-selling burgers. They targeted people who lived near one of their four New York City locations, offering two-for-one burgers. To claim the offer, people had to click the "send message" button and enter their email address.
The business was able to add those e-mail addresses to its mailing list and also continued to build relationships in Messenger by sending sponsored messages.
The campaign, which ran for almost two months, created a strong connection with new customers. The results included:
477 offer redemptions
20% increase in the average sale
A tenfold return on ad spend
2,500 new Messenger and email subscribers
This is an excellent example of a way to use an offer to not only make sales but establish long-term relationships with people who live near the restaurant.
The final word
To sum up, using Facebook ads for restaurants is an excellent way to build awareness and increase your customer base.

Use your Facebook ad campaigns to entice specific audiences with stunning images of your menu items, special offers, or seasonal events. Take advantage of some of the features Facebook ads offer, like instant messaging, A/B testing, and geographic targeting.

Keep looking for ways to interact with potential customers online by creating polls, contests, and events for them.

‌Once your Facebook ads get people in the door, your food, atmosphere, and service will keep them coming back and turn them into lifelong patrons.

Share with your network