As a foodie and a traveler, I'm always tucking into dishes at new restaurants. As a marketing consultant, I know the restaurant marketing ideas that work for my clients — and most other hungry people in the world.
The trick to success starts with getting inside the minds of your current and future customers. When you know how they discovered your restaurant in the first place and why they keep coming back for more, your business will be cooking with gas.
Let's start with a look at how I came across Nilly's Café in London. I was staying in an Airbnb for the night in the hip neighborhood of Shoreditch, and I wanted a delicious vegetarian English breakfast. For the uninitiated, that involves an egg, "bubble and squeak," baked beans, a veggie sausage, and a grilled tomato. Add a cup of black tea topped with a splash of milk, and you're sorted, mate.
I did what most do: I Googled. I searched Google Maps and found a few restaurants and cafes that offered breakfast. Then, I checked out websites and menus. I read reviews. I scrolled through a few social media business pages. Within 20 minutes, I narrowed in on Nilly's Café. It didn't disappoint.
Now, it takes me less time than most to weed through information to find what I'm looking for. That's why it's important for restaurant owners to make it easy for hungry folks to discover what a restaurant has to offer. When you have a strategic and practical restaurant marketing plan, you don't have to wait for someone to stumble upon your business.
With the right effort, you can fill up your tables and increase your customer base — no bubbles or squeaks about it.
The importance of effective restaurant marketing
Just as you need to put energy into creating the best food and drinks, you must also take time for creative marketing ideas.
Integrate effective marketing strategies for your restaurant to:
Attract new customers
Create loyalty in existing customers
Enhance your relationship with the community
Deepen the understanding of your vision and values
Provide a way to share new menu items
Consider the time that you put into marketing as an investment in your restaurant. Think of it this way: The owners of Nilly's Café never knew that their Instagram account and updated Google Business page got me in the door. But they definitely appreciated the business.
How to craft your restaurant marketing strategy
The hardest part of creating effective restaurant marketing campaigns is carving out the time to plan. This is why so many restaurant operators don't have a comprehensive marketing strategy — and it also explains why 25% of restaurants are still struggling in the post-coronavirus lockdown era, according to the National Restaurant Association.
As a restauranteur, you know the bulk of your work environment is hectic and fast-paced, so don't try to multitask in a place where you'll be constantly bombarded by demands. Dedicate a few hours with your most creative thinkers to creating a practical plan to market your restaurant.
Your plan should take into account:
Target audience and customer personas
Unique Selling Proposition (USP)
Marketing goals and objectives
Marketing channels
Tactics
Once you have a plan, you can execute it over the next quarter or year.
Identify your target audience and customer personas
Start by creating a clear vision for the type of person you'd like to attract to your restaurant. It's a common mistake for small- and medium-sized business owners to make their target too large. When you want "everyone" to come to your restaurant, you'll find it more challenging to speak directly to the people who are most likely to walk through your door.
A good way to refine your focus is to create a customer persona. Also known as a customer avatar, this process involves creating an imaginary customer who you'd love to serve. Come up with a personality, complete with pain points and desires, and target all your messaging directly to this persona.
This isn't easy, but it's worth the work. Dig into the demographics of people who already love your restaurant: what they like to order, and how often they visit. You could even create a short customer feedback survey. If you have the funds to spare, consider adding an incentive for a percentage off their next meal if they complete it.
Define your unique selling proposition (USP)
What attracted me to Nilly's Café was their local following. They had many positive reviews from Brits who loved their traditional breakfasts. They also had an added focus on Mediterranean dishes, which I love. They made it clear what set them apart from the other breakfast spots near my Airbnb.
This is Nilly's Café unique selling proposition, or USP. What makes your restaurant first, better, or different? This is what you can lead with in your marketing materials. Start with one thing, such as your propensity for using local ingredients, the homegrown feel your restaurant exudes by using family recipes, or the fun special events you host.
Set clear marketing goals and objectives
You can't reach a goal if you don't have one. That's why you must include measurable, time-limited goals in your marketing efforts. Think big and quantifiable: Maybe you'd like to increase the number of dinner plates by 20% in the next three months. Or you'd like to add 200 more people to your email list. You'll only know if your strategy works if you can measure it.
These big goals can then be broken into smaller action steps, known as objectives. For example, if you want to increase your dinner plates, you can create and advertise a new early-bird specials menu.
Or let's say you want to increase the frequency of return visits. You could organize upcoming events that are just for your loyal customers as part of new restaurant loyalty programs. The idea is to be creative as you work toward a goal, measure it at the end of a specific time period, and then pivot if necessary. Your marketing plan doesn't have to be written in stone.
Restaurant marketing channels and tactics
Once you have a clear vision of your target audience and create new ideas for restaurant marketing, the next step in the process is to spread the word about your campaign where your regular and potential customers are already looking.
This is why narrowing your focus on who you hope to attract to your restaurant is so important. Young millennials who love Instagram-worthy lattes, for example, are scrolling different platforms than business associates interested in power lunches.
Social media marketing for restaurants
Social media is perhaps the most powerful tool restaurant owners can use to spread news of their brand and unique offerings. These popular platforms, like Instagram and Facebook, are built on social connections that allow people to tell friends about their positive and negative experiences.
When customers are impressed with your restaurant and encourage their friends to go, they're engaging in what's known as word-of-mouth marketing. If you're strategic, you can make this work for you.
Leveraging social networks for your business
Start by having a business page for your restaurant on all social media platforms that your target audience uses. If you don't know how to create a Facebook business page, start slow. It's better to build a strong foundation with a robust Facebook page before trying to have an active social media presence on multiple platforms.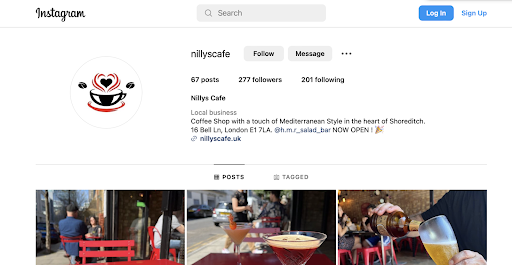 Setting up and maintaining a social media presence may take time, but it's worth it. I checked out pictures of what the English breakfast looked like on the Nilly's Café Instagram page before I went. It's a common practice today, so make sure to post regularly on at least one platform as part of your marketing plan.
Create engaging visual content
As you're planning your marketing ideas for restaurant success, consider investing part of your marketing budget to hire a professional photographer to capture the atmosphere, dishes, and drinks at your establishment. This isn't the time to use stock images. Let your potential customers see what they're missing in the most visually appealing way possible.
Content marketing and blogging
It should go without saying that even the smallest mom-and-pop restaurant should have an up-to-date website. If it's been a while, consider a restaurant website design refresh to keep your brand consistent and to make sure the information provided, like menu, location, and hours, is accurate.
To further promote your business and establish your expertise, add a blog to your website. While writing might not be your forte, you and your staff have much to say about running a business, satisfying customers, and innovating on your craft.
Take control of the blog yourself or hire a professional writer, upload content to your website, and share blogs by linking on social media and through your email marketing.
Share behind-the-scenes stories and recipes
While you may want to keep your recipes tucked safely up your sleeve, here's a reality check: Your chef cooks better than the vast majority of your customers will at home. And while you might be visited by a fellow chef or a secret at-home one, your recipe is still tried-and-true, fined-tune for your menu. You'll undoubtedly have customers who would love to know all the work that goes into their favorite dishes, so recipes or a behind-the-scenes look into the kitchen are great ideas for blogs.
Provide cooking tips and guides
Again, showing your expertise will attract more people to your restaurant. Share tips about how to create specific dishes and cocktails, or discuss special ingredients you use. Write a blog about how you source your meat or produce if you use local farms. You aren't tipping your hand; you're sharing your passion for your work with the people who love — or will love — your restaurant.
Email marketing campaigns
Perhaps the most powerful of all restaurant marketing tips is to send direct email marketing. People who sign up for email mailing lists want to be a VIP, so help them feel that way with special discounts and first-to-know announcements about new menu items. Email is also great for deciding how to promote your restaurant's reopening.
Build a subscriber list
The first step to a successful email marketing campaign is to build your email list. Offer incentives to sign up, such as a coupon toward their next meal or membership into a loyalty club. Create a pop-up on your website and encourage your front-of-house staff to ask customers to sign up.
Send promotional offers and exclusive deals
Set a schedule in your marketing plan for recurring emails. Some emails can be links to new blogs, while others can be promotions. Everyone loves a deal, so create time-sensitive offers that encourage people to come in (or take out) at least once a week.
Online reviews and reputation management
As I mentioned when looking for my London breakfast, I read reviews. I wanted to know what people thought. This user-generated content is crucial to your restaurant's success, but you won't please everyone. That's why you should make a habit of replying to each review, good and bad. Use the negative comments as opportunities to show your professionalism and willingness to make things right.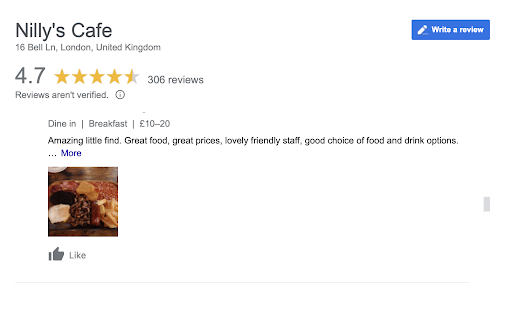 Local SEO
Finally, practice local SEO — that's short for search engine optimization — to your advantage. Learn about Google "near me" searches and integrate the appropriate geographic keywords into your social media and website pages. This will help you rank higher when people are looking for your type of restaurant nearby.
Elevate your restaurant's success with effective marketing
Developing excellent restaurant marketing ideas for your establishment can take time, but your efforts will pay dividends. The more effort you put into getting the word out about your delicious food and drinks to your target audience, the more likely your seats will fill.

To begin this work, start by making a list of the reasons why people love coming to your restaurant. This is the start of your unique selling proposition, and it can be helpful as you begin to brainstorm the details of your customer persona. Your marketing plan is a tool; take time to build one that serves your business and delights your customers. So, to help get the word out about your restaurant, put down the spatula and pick up the pen!

Share with your network