I love potatoes.
They are the top food in my diet. I like them baked, fried, scalloped, you name it.
But most of all, I like them mashed.
I can't count the times my boyfriend has asked me what I want for dinner and I've simply responded, "mashed potatoes." Sure, they're not a full meal, but the stomach wants what it wants. "Where do you want them from?" he asks.
And that's when it happens. My most common Google search:
"Mashed potatoes near me."
Your customers, both current and potential, are using Google every day to find delicious food and other services near them
To be fair, most people probably aren't searching for mashed potatoes in the way I am. However, many people use Google to find "comfort food near me," "family restaurant near me," or even simply "food near me."
In fact, Google Trends shows that interest in the term "food near me" has been on a steady rise over the past five years.
While many resources emphasize the importance of a strong online presence for your specific brand–and it certainly is important–it's not always clear how to prepare for situations where someone is searching for a generic term that could apply to your business. If you own or manage a restaurant, you likely know that food searches are relevant to your company but you may just be crossing your fingers and hoping Google is doing its best to serve up your website whenever possible.
How can you influence this behavior yourself? Is it possible to make your business easier to find?
Make sure local customers can find you online by optimizing for local search
According to Google, 'near me' searches doubled in 2015 and the volume of queries like this have increased 34 times since 2011.
But before we jump into how you can show up in the results for a "near me" search, it's important to understand how "near me" searches work.
'Near me' searches are location-based search queries that often take place by someone who is ready and able to make a purchase. Google uses the searcher's present location when conducting the search to ensure they are delivering results that are nearest to them.
Making sure that your website is optimized for local search is an important step in being found by the local audience.
Here are some of the best ways to set yourself up for Google 'near me' success:
1. Update your Google Business Profile page listing
As you may already know, having a Google Business Profile page for your business is a vital first step in taking control of your business' online presence.
Google Business Profile is a free tool that allows small business owners (and nonprofits) to promote their business information on Google Search and maps.
It's important to make sure your Google Business Profile listing is accurate and up-to-date. When someone performs a 'near me' search, Google will actively search addresses that are close to the user's location to determine which results to serve up. Making sure that your address is correct increases your chances of being shown to potential customers.
Plus, Google Business Profile listings give a searcher additional information about your business that could help them make a decision. Info such as hours, your phone number, photos, reviews on Google as well as other review sites, and even times when your business is the busiest are provided in the search results.
2. Make sure your website is mobile friendly
Starting July 1, 2019, Google will be rolling our their mobile-first indexing strategy. Historically, Google has used the desktop version of a website as their primary method for indexing – a process that allows the search engine to collect and store data in order to quickly serve up the information in a search. Think of it as Google's way of paraphrasing your website and storing it until someone searches for you.
Since the majority of Google searches are now done on a mobile device, Google will be indexing pages based on primarily the mobile site moving forward.
What does this mean for your business? Well, making sure that your website is mobile responsive and that you are not using separate URLs for your desktop site vs. your mobile site is important. If you are, Google will prefer the mobile URL for indexing. You can learn more about how to prepare for mobile-first indexing with this Google Search guide.
3. If you have multiple locations, create a different web page for each one
This may seem counterintuitive. After all, can't I just list all of my business locations on one page so people can see the bigger picture?
While having one page for all of your business locations is a great idea, it helps to make individual landing pages to provide further information on each location, such as an address, hours, and even photos of your staff.
The Chateau, a local family-owned chain of Italian restaurants here in Massachusetts, has eight locations. While all locations are listed in the footer of their website, they have also created dedicated landing pages for each location. If you visit the Burlington location page, you'll find their address, phone number, hours, and even a map. On the technical side, they have also used Burlington in the title of the page as well as an H1 tag; short for header tag, this piece of code tells Google what the main topic of the web page is. This provides Google with information to index that puts The Chateau ahead of its competitors when it comes to 'near me' searches.
In fact, if you search for "Italian food near me" in Burlington, MA, The Chateau comes up in the first three organic results!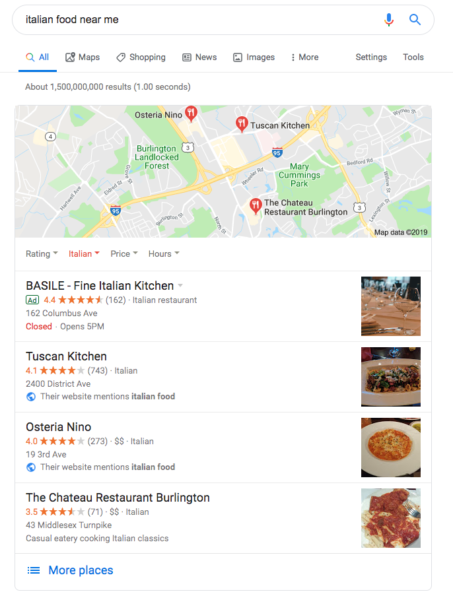 4. Encourage your customers to leave reviews on Google
Reviews can provide valuable information to help a potential customer make a purchasing decision. Be honest, how many times have you shied away from purchasing something simply because the item or service had too many negative reviews? Or, on the other hand, how often have you decided to try a new restaurant or product because the reviews were stellar?
Google actually encourages businesses to remind their customers to leave reviews. Keep in mind, however, that not all websites have this policy. In fact, Yelp strictly prohibits its users from asking for reviews.
So, why are reviews important for 'near me' searches on Google? Here's an example of what comes up when I search "mashed potatoes near me." As you can see, the first three results highlight the fact that users mentioned mashed potatoes in their reviews for the businesses shown.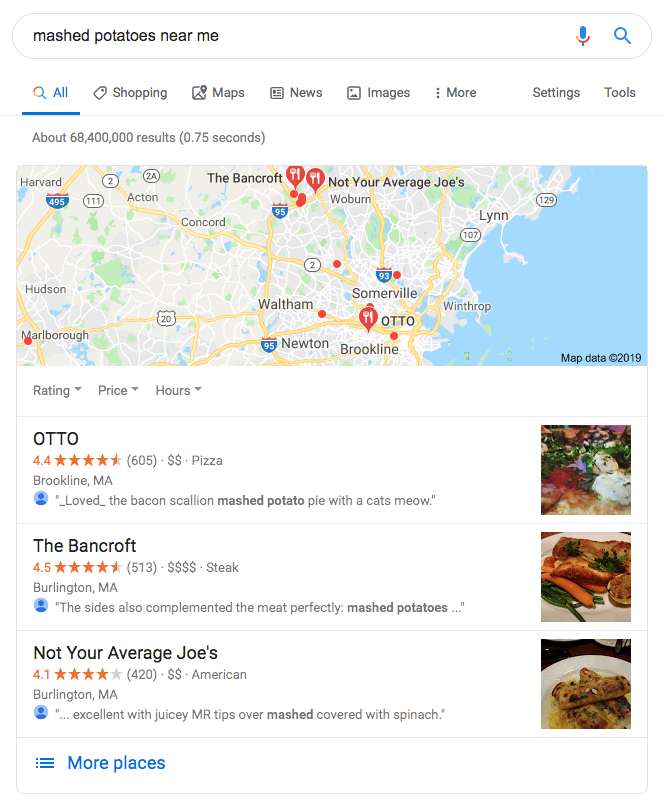 5. Make sure your menus or pricing sheets are available as plain text and not just as an image or PDF
There are a few reasons you want to make sure your menus or pricing guides for your services are available as plain text on your website.
First, it's important to remember that not everyone consuming the content on your website can physically see it. Many visually impaired users may be utilizing assistive technology, such as screen readers, to translate the content of your website into synthetic speech. Screen readers cannot read an image; rather, they read what is called alt text. Alt text is a short description of the content in an image. For example, this photo has alt text that reads "a dog running on the beach during daytime."
However, if a photo has too much content–such as a graph, table, or menu–alt text isn't enough. In this case, some readers may miss out on very valuable information.
In addition, Google won't be able to index any of the information within the photo. If your restaurant offers mashed potatoes but the only time that mashed potatoes are mentioned on your website is within the photo of your menu, Google (as well as prospective customers like me) will never know that you have them.
This is why you should always list your menu items and prices directly on your website, with the option to view the menu as a printable PDF. In this example, Pressed Cafe has a full text-based list of their menu items on their website with a button to view the printable menu.
6. Include relevant keywords in your tags and website text
This one is a bit more technical, but still important.
You don't just want someone to choose your business because you're close, you want them to choose your business because it's relevant to their current needs.
Let's use an example. I'm about to leave work when I remember that I need to get my oil changed in my car. I do a quick Google search for "oil change near me." A local mechanic shows up at the top of the search results. In the search results, I see that they have the keyword "oil change" in the title of their site. This is important because the title tag, which is the name of the clickable headline that is displayed on a search engine result page, plays an important role in search engine optimization (also known as SEO). In other words, using keywords in the title of your website helps you rank higher on Google.
Plus, the website mentions "oil change" on their website homepage, and uses the keyword again as an H1 tag on their services page. This emphasizes to Google that not only can you get an oil change at this business, but it's also something they specialize in. This helps Google determine that their website would be relevant for someone searching for an oil change.
If you aren't a coder or don't understand website development, don't sweat it. There are many free tools, such as the Yoast SEO plugin for WordPress, that can help you get your SEO on track.
Certain 'near me' searches may have a seasonal connection
Sometimes, data can surprise you.
After I realized that the search for 'food near me' has been on a steady rise, I started to wonder if there were any notable trends within the year for certain searches.
Using the Google Trends tool, I noticed that the term 'mashed potatoes near me' consistently spikes once a year. Any guesses as to when that might be?
That's right, it's Thanksgiving! And a search for 'Chinese food near me' you ask? That spikes every year around Christmas and New Years.
What does this tell us? Well, certain 'near me' searches may be more popular around certain holidays or events. This probably won't affect your business' SEO strategy much, but it is a helpful reminder that even if you don't own what is traditionally considered to be a seasonal businesses, you are likely to see business changes that are seasonally-based.
If you were planning on preparing for these upticks, keep in mind that Google bots take some time to index a new site, typically around three months. This means that changes you've made on your site might not show up in Google right away. However, Google does have information on how to ask Google to recrawl your URLs to speed up that process.
It's time to take advantage of Google 'near me' searches for your business
An important key to ranking for 'near me' searches is to recognize that the term 'near me' is dependant on the user's location, and not just another keyword you should be targeting in your SEO strategy. If you are optimizing for 'near me' as a keyword, you may appear in searches that include 'near me' but they may not be served to users who are actually near your business.

Instead, focus on building your business' presence on Google and ensuring that the information on both your Google Business Profile listing and website are correct and strategically highlight terms you want to rank for.

Those terms may not include mashed potatoes, but if they do… well, I just might be stopping into your business in the future!

Do you have other questions about how to improve your business' Google presence? Tweet us @ConstantContact and one of our marketing advisors will be glad to help!

Share with your network