A food truck is a great way for restaurateurs to open and operate their own food service company. It doesn't cost as much as a brick-and-mortar store, and it's a fun option for foodies across the world. But, because you're constantly moving around, you need a way for your customers to find you. If you want your food truck business to achieve the most success, you need a robust marketing plan.
In this beginner's guide, we'll explain the importance of a food truck marketing plan and some tips for promoting your business online and otherwise. By the end, you should have a better idea of some techniques to improve your operation.
Get the tools and guidance you need to find new customers and keep your regulars coming back for more.
What is a food truck business?
Simply put, a food truck business makes and sells food within the confines of a truck. The vehicle has cooking surfaces and all the necessary ingredients to prepare food. They're common in major cities, and you'll often see them parked alongside the sidewalks near popular office buildings or other businesses. The trucks are privately owned and operated.
A food truck can serve many different styles of food. As long as the food can be prepared within the space that a truck has to offer, it can be sold through a food truck.
Most of the time, the truck is fully functional. It can drive between locations, go to events, and drive to stores for restocking.
How many items should be on a food truck menu?
Your menu should reflect how many types of food you can make in the same truck. If you offer only a few options, you need to make sure the quality is high. A good rule of thumb is that your truck can probably handle between 5 and 12 items.
Who is a food truck business right for?
If you want to test the waters before opening up an official brick-and-mortar restaurant, a food truck is great. It's a low-cost alternative to a full-fledged restaurant. It can also be less stressful to run and can act as a prototype for the real deal. If you're passionate about serving food but don't have the money upfront, you can start with a food truck.
What is a marketing plan?
A marketing plan entails all the different ways you plan on marketing your food truck. It starts with your business's goals (like more web traffic, social media follows, or event RSVPs) and designs actionable ways to hit your targets.
Another part of the plan is identifying performance indicators that you can track. In general, this means looking at sales, revenue, and profit for your food truck business. You might look at a marketing plan as a well-established instruction manual for marketing and promoting your food truck. It involves many different tactics to market your business and get the best results. Read on to discover some of the best places to start.
Ways to market your food truck
You have endless options for marketing your food truck, as some methods work better for certain businesses. Consider the personality of your brand, as well as your goals, to decide on your best options.
Develop brand consistency
Consistency with your branding is a quick way to see your numbers grow. Everything revolves around who you are, how you want people to perceive you, and what type of people you're targeting.
Branding applies to everything on and in your truck. It starts with your name and logo and it works its way down to how you dress. Whenever you make a decision surrounding your food truck, remind yourself about your branding.
Target the right audience
When you target the right people, you'll get started on the right foot with your marketing. The demographic should be well-defined and you should tailor your truck to their needs. Since you're serving out of a truck, the first step is to find the right location.
Your target audience will drive to your location. If you want to serve college kids, set up shop in a college town, for example.
Use social media
Social media is a fun and free way to market your business. Create and optimize your food truck's profile on major platforms like Instagram, Facebook, and Twitter. Social media allows you to connect with your target audience and showcase your business. Post your pictures, make announcements, and interact with your followers through social media.
Social is a great place to showcase your branding. Your voice needs to be consistent from post to post. This takes a little bit of practice, but it's really important. Ideally, a viewer should be able to scroll through your page and get the impression that the same person wrote all the content.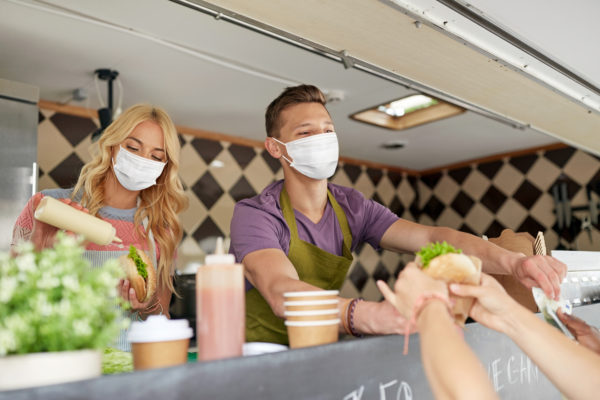 Maintain your website
A website is another excellent place to store information about your food truck. Your site should have your contact info, your location, and your hours of operation. Your website is also a good place to explain that you're open with special COVID-19 precautions in place.
Focus on SEO
SEO stands for Search Engine Optimization, which is focused on improving your rankings on Google. That means when someone searches for certain terms related to your business, your food truck's site will pop up at the top of the list.
Food truck businesses are heavily reliant on people's local Google searches. People often search for food places in the area before making their dinner plans. Since you don't have a big storefront to attract attention, a strong online presence can help.
A quick technique for SEO is to focus on key phrases. These are search terms that people may type when they want to find food that your truck offers. "Best Mexican food near me" is a great phrase to target for your Mexican-inspired food truck.
Publish mouthwatering photos
A picture is worth a thousand words. If you can have people drooling on their phones and computers when they see your content, you can quickly convert viewers into customers. These photos of your dishes can go on your site, menu, social media, and right on your truck's display. Spend some time preparing gorgeous-looking dishes, and take professional photos of them with a high-quality camera and good lighting.
This can make a world of difference when it comes to curb appeal, especially if you're on the street with a dozen other food trucks. You need great pictures to stand apart.
Optimize your business listings
Online listings like Yelp or Google My Business give online users all the information they need about your food truck. It will include hours of operation, a phone number, location, and reviews. Make sure to fill out your listings with up-to-date information. You want people to go to the right place and view the correct website when exploring your listing.
These listings are also great for cultivating customer reviews. Right after customers eat at your food truck, encourage them to leave a review. Some food trucks even offer promotions or discounts for people who leave a review.
As a would-be customer scrolls the internet and looks for local food trucks, the reviews can make or break your chances. Your average star rating is displayed proudly next to your business' listing and information. If it's a low number, people might skip your truck and go to someone else's.
Consider online ordering or an app
In today's digital age, many people are looking for convenient ways to order food. You can use technology to allow customers to order directly through your site, a delivery site, or your own app.
Customers will go through your menu, fill their cart, and check out all through their phone or computer. If you don't want to start your own app, you can put your listing on a well-established food delivery app.
An app like Uber Eats or Grubhub will list your information and menu, allowing people to order with you remotely. They'll take a portion of your sales, but you keep the rest of the cash.
Serve at local events
Since your kitchen is on wheels, you can take your food truck to local events. People love how convenient and simple it is to order from a food truck. Next time your community is hosting an outdoor event, see if you can talk to them and get permission to park your truck at the front.
Partner with companies in your area
A long-term partnership can do a lot for your business. When you work alongside another company, you can create a mutually beneficial relationship. For example, a BBQ food truck could park outside of a bar during their Friday happy hours. If the bar doesn't have a food service license, their hungry customers can go outside and enjoy a meal from your truck.
Alternatively, you can partner with other food trucks and work together. A grilled cheese food truck might find better success when it's parked next to a soup food truck.
Making the most of your food truck marketing plan
Putting together a marketing plan starts with picking out the right marketing for your food truck. We just reviewed a list of some options that might help you get more customers and make more money. If you want to make the most of your food truck marketing plan, get your free copy of The Download. It's the ultimate guide for online marketing your food truck.

Share with your network