How can schools raise enrollment rates and reach more potential students?
Once you have your school's website set up, you'll want to start driving traffic there. You can use search engine optimization (SEO), but it could take time to pay off. With Google Ads for education — and for any other products or services — you can choose which searches you show up in right away.
Read on to learn more about Google Ads and why using the massive advertising platform could be a wise investment for your school.
Stay connected to students, families, and staff with expert marketing advice and all the tools you need, all in one place.
What is Google Ads?
Google Ads — formerly AdWords — is an online platform that allows you to run pay-per-click (PPC) advertising campaigns.
In most forms of advertising, you have to pay a set price based on the total number of viewers you can reasonably expect to see your ad. This is why a commercial slot during the Super Bowl costs more than a 2 a.m. slot on a weeknight. With PPC advertising, you only pay for each internet user who clicks on your ad and arrives at your website.
There are two common types of Google Ads:
Search network ads, which get your listing onto the Google search engine results page (SERP) of someone searching for certain keywords
Display network ads, which appear as banners on other websites
Search ads tend to be more effective and popular than display ads. Three out of four people say that paid ads make it easier for them to find the information they need.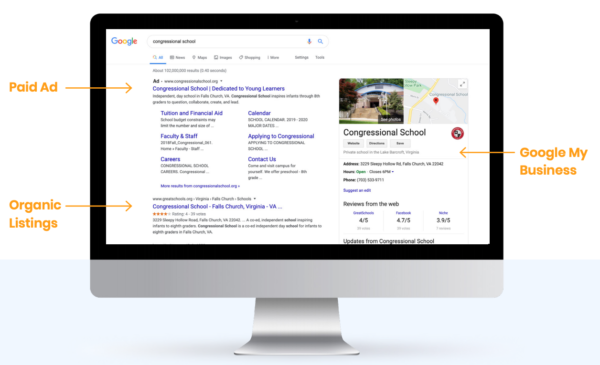 Google Ads show up on the search engine results page when users run search. Paid ads will show up first, before organic search results.
SEO vs. Google Ads
Google search ads and organic search results appear on the same page. People appear to treat them more or less equally. Why would you choose Google Ads when you can do SEO at no cost?
How SEO works
SEO is free marketing, but it takes time and a lot of effort to be effective. It consists of optimizing your website so Google's algorithm will consider it relevant and high-quality, rewarding it by placing its link higher in search engine results pages (SERPs).
How Google Ads works
Google Ads enables you to target prospective students' and parents' searches directly by allowing you to bid on keywords and craft custom listings. You can tailor phrasing and drive traffic to specific pages on your website.
To illustrate how Google Ads work, let's pretend that you are a prospective student interested in finding a private high school in Saint Paul.
When you search for "private schools Saint Paul," Google determines that the search has local intent — meaning there's a desire to find a local business. It returns a page of results divided into three sections:
Paid listings in the form of Google search network ads
Local listings — organic search results informed by local intent
Organic search results ranked by Google's algorithm
Google search network ads
This section is at the top. Google makes sure that you and everyone else can differentiate between organic results and paid advertising, clearly labeling the paid listings as ads.
Cretin-Derham Hall has invested in your search. If you were to click on their ad, it would send you to their website — and they would need to pay for your click.
Local listings
Next are organic search results, but only some of them. You get local results first — alongside a map conveniently marked with relevant businesses.
This is an example of how SEO can help show relevant schools to prospective students. If your institution doesn't already have a Google Business Profile listing — with your location and address — set one up now.
Organic search results
Let's go back to the scenario. As you keep moving down, you come to the search engine results organically ranked by Google's algorithm.
Note that the first few results aren't pointing directly to schools in Saint Paul, but to review sites. This is why managing listings and reviews is crucial to the search health of any school. The local listings above this section also display Google Reviews ratings.
Google display network ads
Finally, let's imagine that you click on one of the organic search results: Private School Review.
Whereas Cretin-Derham Hall targeted you specifically through search ads, Squarespace trusted Google to target you through display ads. Google used varied information — from Squarespace, Private School Review's website, and your search history — to do this.
Even if you're unlikely to click on a display ad, it can still reinforce brand awareness. When it comes to immediate payoff, though, search network ads are likely to yield the best results.
How to get started with Google Ads for education
Where do you begin with setting up Google Ads for schools?
TIP: Sound complicated? Constant Contact has a Google Ads Tool that walks you through the process of setting up Google Ad quickly and easily, even if it's your first time.
For search ads, you first need to choose your keywords — words or phrases that describe your school — which will determine when and where your ad appears.
Keyword selecting
When putting together a bank of keywords, be specific. "School" is a broad term that could cost a lot but still cause your ads to be shown to the wrong audience. "Los Angeles all-girls high school" is more descriptive and will likely perform better.
To further refine your keyword bank, use modifiers — characters to input along with words, like quotations mark or plus signs — to indicate when you want Google to show your paid listings. For example, putting a phrase in quotation marks means that you want your ad to show only in SERPS generated from an exact match to your keyword.
Cost-per-click bidding
You need to set a maximum cost-per-click (CPC) bid for your ad campaign — the most you're willing to pay for a single click. Higher bids tend to translate to better SERP positions.
Google takes more than your bid into account. Quality and relevance matter. You also may not end up paying the maximum bid, as Google only charges the cost of securing your position.
There are two common ways to approach bidding on Google Ads:
Manual CPC bidding, which means that you set each bid. You can customize for specific keywords and placements and adjust based on the performance of certain bids.
Maximize Clicks bigging, which means that you set a daily budget and let Google Ads automatically manage bids to deliver the most clicks that your budget will allow.
How much to spend and what to expect
Start small. Set aside $300 to $500 to test if investing in Google Ads for your educational institution helps you reach your goals. Give yourself about a month to figure out what's working and what isn't.
A 2018 study found that the education industry averaged the following numbers for Google network search ads:
Cost-per-click: $2.40
Click-through rate: 3.78%
Conversion rate (the percentage of people who clicked and then took an action, like contacting the school or signing up for an email list): 3.39%
Here's the same set of statistics for Google network display ads:
Cost-per-click: $0.47
Click-through rate: 0.53%
Conversion rate: 0.5%
Across all industries, advertisements placed through Google Ads tend to yield a 2:1 return on investment (ROI). For every dollar businesses spend on Google Ads, it brings in two dollars.
The bottom line on Google Ads for education
Google Ads provides an effective way to drive potential students or their parents to your website.

The basics of Google Ads for education are fairly intuitive, but things could get more complicated when you start bidding. Fortunately, Constant Contact's Google Ads tool can help you with keyword choices and bidding strategies, simplifying the process to make it easier for everyone to understand.

For more tips, check out The Download — Constant Contact's online marketing guide for education professionals.

Share with your network