A bad review can literally make or break a business, and it can make or break your school. Simply put, parents and students want to know that you made other parents and students happy.
My school marketing agency, Kreative Webworks has been assisting schools with their enrollment marketing efforts for nearly a decade, and advice on reviews management is built into all our programs.
Have you searched for a local business listing to only ignore those that have a less-than-stellar rating? We heavily rely on reviews to make decisions about where we will spend our money or send our child to school.
For schools, a bad review can easily deter parents; hurting enrollment numbers, alumni donations, or even participation within the local community. Did you know that 63.6% of consumers are likely to check Google reviews before ever visiting a business's website?
To help your school shine online, let's go over how you can better manage reviews (both good and bad), begin requesting reviews, and the sites you should be on to ensure your name is found.
Stay connected to students, families, and staff with expert marketing advice and all the tools you need, all in one place.
Where do I start when it comes to managing school reviews?
Since Google is the most popular search engine in the world, you should assume it plays a major role in your target market's decision-making process. That's why schools should always start with Google to closely monitor their online reputation.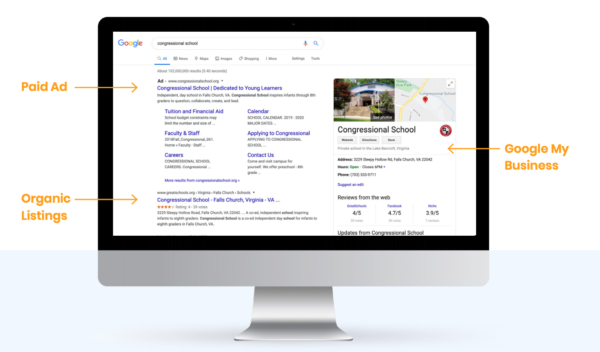 If your school doesn't already have one, you should create a Google Business Profile listing. You can use this to increase your school's online presence through posting reviews, recent photos, and updating information about various school activities.
A strong Google Business Profile page will help boost your SEO rankings. The more active you are, the better it is for you!
As a school leader, you need to take control of your school's online reputation by claiming your listings. At the minimum, your school should claim their Facebook business page and Google Business Profile.
To effectively manage your online reviews, it's best to know when and where these appear. You don't want to find an angry review from a year ago that you could have quickly dealt with at that time.
The good news is that there are several free services available to track and report your school's reviews. Consider setting up Google Alerts to report mentions of your business on web pages and blogs, videos, and discussion boards.
Before you even start responding to reviews, your school needs to decide who will be the main point of contact to monitor and respond to online commentary. This ensures quality control and that you have the same tone of voice in all responses.
Tell me more about positive reviews…
As a best practice, you should respond to every review your school receives, even if it's just to say a simple thank you.
Did you know that positive reviews also improve your SEO ranking?
That's due to link building, which is a core aspect of any good Search Engine Optimization (SEO) strategy. Link building is all about attaining backlinks from other reputable sites. When Google crawls and discovers these backlinks, it tells the algorithm that this content is valuable.
It's the same with your school's reviews!
A positive review will tell Google that your business is trusted, improving your SEO. Also, the more positive reviews you receive means the more stars you get, which in turn likely means more traffic. Why? Well, people like websites that are trusted by others.
When responding to positive reviews, here are a few general tips to follow:
Ensure the language is professional and friendly as you are posting on behalf of the school, not your personal account.
Match the language of the person who left the review — if they use a more casual tone in their wording, do the same.
Always thank reviewers for taking the time to provide feedback.
Keep your responses brief — one or two sentences is best.
Responding to positive reviews is fairly intuitive, but how you respond to negative reviews can be the difference between a well-managed situation and a PR disaster for your school.
How do I respond to negative school reviews?
Unfortunately, no matter how amazing your school is, there will always be someone you can't please, so learning how to successfully respond to negative reviews comes with the territory.
One of the worst things you can do is avoid responding to negative reviews for the fear of a digital confrontation. Remember that when the occasional negative comment comes, it doesn't mean the situation has to end negatively, as this can be the perfect opportunity to recognize areas for improvement.
The way in which you respond to negative comments reflects on the public's perception of your school's professionalism and transparency. According to a recent study, 94% of people say an online review has convinced them to entirely avoid a business.
For your administration to confidently respond to negative school reviews, provide them with the proper procedures to handle such situations, as responding in a professional manner is imperative for your school's public relations strategy.
Not sure how to respond to negative reviews? Follow these general guidelines to help you professionally mitigate the situation at hand.
Assess and evaluate the review before responding. Remember to not get emotional or defensive when responding to a bad review — have a clear procedure in place before replying.
Be transparent when your school makes mistakes because no one is perfect. People just expect you to take ownership of your actions.
Ask questions to understand the problem at hand. It's better to not reply with a vague "I'm sorry" response as that doesn't actually provide a tangible solution.
Empathize and put yourself in the reviewer's shoes to be able to provide actionable items that mitigate the situation.
Sign your name at the end so they know a "real" person is behind the response. People want to know a real person from your school took the time to care.
Request an update to their review once the situation has been handled and the reviewer is satisfied (if they are open to it). A negative review should always be a part of a larger conversation.
The number one objective of responding to negative reviews is to be positive, or conciliatory and to have the last word. If you promise to "make things right", take it off-line so the last thing consumers see is your offer to take care of it personally.
How do I encourage school reviews?
Before asking just anyone to leave a vague review about your school, start by analyzing the areas of weakness in your current reviews or what grades haven't met their enrollment numbers. Is your middle school needing more students? Do you only have parents providing reviews?
To get a true representation of your school don't be afraid to ask staff, alumni, or older students (with parent's permission, of course) to leave reviews.
Here are a few do's and don'ts to keep in mind when requesting reviews from your community:
Do provide detailed instructions and example reviews so people feel comfortable and understand what kind of review you are looking for. You don't want a vague "Great school with great teachers" kind of review, as that isn't helpful for prospective parents or students.
Don't offer tangible rewards such as gift vouchers, as this might be considered a bribe for positive comments. You want people to leave honest, but helpful reviews without feeling swayed.
Do ask for an authentic review of their experience. Tell them how important it is that prospective families and fellow community members read about their experience whether it's good or bad.
Don't ask for all reviews at the same time. It's best to strategically stagger the requests as it will look suspicious if suddenly your platform is hit with a wave of reviews. It's all about authenticity.
What listing sites should my school be on?
The internet is our friend and is one of the first places parents and students turn to in their research phase. So where does your school begin?

Other than Google Business Profile (that we mentioned earlier), there are multiple school-specific listing sites to consider. We'll go over a few of the most popular sites with the largest reach to get your school's name out there.

Niche.com: A ranking and review site where parents can research not only schools but companies and neighborhoods with over 50 million users last year. For free, schools can claim their listing and gain access to update their profile. You can even get monthly reports to see how your school ranks.

PrivateSchoolReview.com: A review site specific to private schools with 1.5 million views per month. In order to have your school listed, there is a one-time fee, but after that, everything is free. You can update your school's profile, post recent photos, list job openings, and even open-houses.

BoardingSchoolReview.com: A review site specific to boarding schools with 1.2 million monthly page views. This site is owned by PrivateSchoolReview.com (above) so it works in a similar way.

GreatSchools.com: A review resource for parents searching for schools with 47 million visitors yearly. There is no fee to claim your school's profile and to update information.

There are numerous review sites available, however, your school doesn't have to be listed on them all to be successful. Just like with your school's social media strategy, it's best to select the few channels you can actively update to increase your return on investment (ROI).

Reviews are virtually mandatory today as parents and students become more informed and actively turn to the internet during their decision-making process. But there is nothing to fear!

If your school creates an effective public relations strategy and you follow these expert tips above the public's perception of your school will be glowing. Don't let the fear of a digital confrontation deter you from creating a strong online presence.

Share with your network