Social media isn't just a place to share pictures of food and cat videos. Every educational institution can and should leverage social media to create an engaging community of students, parents, and alumni.
Social media strategies are at the heart of all our enrollment marketing programs. My school marketing agency, Kreative Webworks has been using social media as the preferred vehicle to engage with prospective parents and students for many years. I can tell you that successful enrollment marketing is directly proportional to the upfront strategy. Random posting is not a strategy.
Think of your social media channels as an extension of your school's website to help tell your story more completely. Competition is fierce these days as students and parents are looking for more than just academic performance when it comes to selecting a school.
So, when used correctly in concert with a solid email marketing strategy, social media can give you the opportunity to directly communicate and engage with your community, make your institution stand out, and illustrate what makes your school special.
It's time to realize the power of social media and how it can benefit your school when used strategically. Let's go over in greater detail how you can use social media to promote your message and reach students.
Stay connected to students, families, and staff with expert marketing advice and all the tools you need, all in one place.
Why should you use social media for your educational institution?
Let's start here – there are roughly 2.62 billion users on social media worldwide. That's a huge number of people you could potentially connect with and market your school to for free or with a minimal budget.
Clearly, your school won't reach billions of people through social media, but it's a figure you can't ignore as institutional budgets become tighter and teachers and admins have less free time.
Social media can be a great marketing tool as your community is already engaging with various platforms like Facebook and Instagram on a daily basis. Parents and students want confirmation – outside of your school's website – to see what everyday life would really be like. They want to see authenticity in your content; meaning real people posting real things.
Imagine you're about to purchase something from a new business. What do you do before you give them your hard-earned cash? You most likely visit their website, read their return policy, and see how professional their site looks overall.
But what happens when a business doesn't have any social media presence? Every reputable business should have at least one social media account, so if they are totally absent from social media, that might be a red flag to steer clear. At the end of the day, your school is a business too.
Being on social media can help build authentic relationships within your community, and also promote good rapport with parents and students, illustrating that you are a reputable institution that they need to consider.
How can I promote my educational institution on social media?
There isn't a "one size fits all" strategy as the most important thing to consider before you start promoting your school on social media is to determine your messaging.
At the most basic level, this simply means telling others what makes your school unique and what core values shape your culture.
Does your institution cater to gifted students? Does your school value the arts and a students' self-expression? Do you offer an environment that fosters community outside of just academic learning?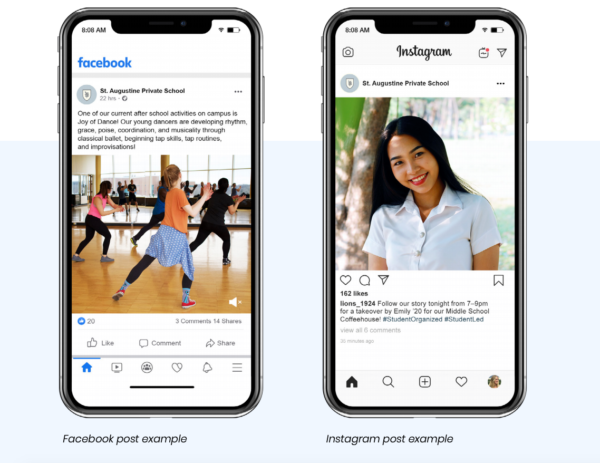 Your messaging will affect everything from the text on your digital channels to the content you post, and what social media platforms you choose.
Don't be afraid to survey, or just ask students, parents or even staff what comes to mind when they think of your institution.
Once you have the messaging figured out and content posted on your channel(s), take every opportunity to promote your social media accounts – i.e., include links and handles in printed material and feature "follow" buttons clearly on your school's website and in your marketing emails.
You can even cross-promote your social media channels for greater visibility. For example, tweet about your school's Facebook page or post your favorite Instagram photos to your Facebook page. The goal is to get more eyes on your content.
More eyes mean more enrollment opportunities.
Also, encourage parents to promote your school's social media accounts to family and friends who might be interested to see what their child's school is up to. Parents aren't the only ones who can appreciate your posts, so encourage them to actively share your channels with other important people in the student's life.
How do you reach parents and students on social media?
Social media marketing comes in two flavors;
Paid social ads and promotion
Organic social posts
Think of paid and organic social media in terms or "acquisition" and "retention".
If you want to reach parents and students who aren't already following your school, you will find the most success with paid social ads. This is the best tactic for acquiring new enrollments.
If you are looking to retain your existing students by building a sense of community, organic posting is your best strategy. Engaging with the parents can be a great way to maintain a connection with the students.
Platforms like Facebook and Instagram utilize powerful artificial intelligence (AI) technology to gather data on its users and can identify people based on characteristics such as interests, demographics, online activity, and more.
There is a reason why Facebook is one of the wealthiest companies in the world. They didn't get that way by giving away all their products for free. This might sound a little intimidating at first, but if you think about it, these platforms are incredibly effective at machine learning and provide marketers access to target their ads to the exact people you are trying to reach.
To reach a large number of potential enrollments you will need to "pay to play". Don't worry, this doesn't cost as much as traditional print or media advertising from the past. Even an institution with a tight marketing budget can still leverage Facebook's demographic data to precisely reach their target market.
The best way to use your social media channels to reach potential students is to paint a picture of your institution. Allow prospective students to get a peek into life at your school through your social media channels: the campus appeal, the student body, and the buildings.
Post photos and videos that illustrate the campus energy. For example, if your school has an active community, highlight this through Instagram stories or even Snapchat. Show the coolest places to hang out around campus or even ask a student if you can capture what a typical college dorm room looks like. You want prospective students to be able to easily imagine themselves at your school.
According to a recent study, more than 74% of people in Gen Z (those born between 1995 and 2010) say they spend their free time online, so leveraging your social media is a great way to reach this audience.
Rather than solely posting promotional "look at how great I am" posts, always look to add value for your audience with every post.
For example, you can link relevant information that provides prospective students with a well-rounded experience on social media. This could include such topics as, "How to Ensure a Smooth College Transition" or "Tips for Applying to Financial Aid" to engage your community in another way.
What content should my school or university post on social media?
Before you start posting your relevant content on social media, make sure you have a plan. Start with what social media channels you want as a part of your brand and set goals for your primary channel.
Don't feel that you have to be active on all platforms. It's far better to be active on a few channels (or even one channel) than it is to dilute your precious marketing efforts across multiple low return on investment (ROI) platforms.
Currently, Facebook and Instagram are the best channels for schools to be active on, but you might also want to consider YouTube or Pinterest if you know your target market is active there and you have the resources to integrate it into your marketing activities.
For your first awareness campaign, you might want to gather student or teacher success stories. You can link this post back to your school's homepage or to a specific landing page.
For a more advanced education social media strategy
You could offer a "lead magnet" – such as a guide or checklist – in exchange for contact information. You'll want to ensure you have a customer relationship management (CRM) platform in place, so you can get these prospective students and families into a contact database that triggers a lead nurturing email campaign through marketing automation.
You can use Constant Contact's marketing automation tools to effectively nurture leads, so you never have to worry about good leads slipping through the cracks. Constant Contact also offers built-in social media posting, scheduling and monitoring to help you fully optimize your marketing efforts.
Consider using YouTube to feature students sharing their college life experiences, challenges, and how to overcome them. Videos are great for highlighting complicated or boring topics like admission procedures or financial aid into easily-digestible content.
Don't be afraid to host live chats and Q&A sessions with admissions staff, professors or even current students on social media. This allows you to reach prospective students in real-time and can be much more engaging than an email alone.
Still stuck on what to post on your school's social media?
Here are some engaging content ideas:
Achievements of students and professors
University milestones
Virtual tours of dorm rooms
Photos and videos taken by current students or alumni
Helpful resources for career planning and support for students
Cross-promote sub-Facebook Pages such as the business school or alumni pages
World news in relation to your school. Is your school involved in a project or initiative that is relevant to an important discussion going on in the world currently?
Follow a student for the day
Use polls and surveys to gauge how your audience feels about a topic
Whatever you decide to post on your social media channels, ensure you engage with your audience. The ultimate goal of social media is to move people to your website and build up your email list so you have a database of contacts that you "own" to drive your enrollment efforts.
Last thoughts
It's no secret that students and parents use social media to research potential schools during their selection process. So, if you don't start optimizing your social media marketing efforts soon, you'll be falling behind.
Social media marketing doesn't have to be scary. If you start with a strategic plan, understand your brand, and think about your ideal target market you'll be meeting those enrollment numbers in no time!
Get Our Free Marketing Guide for Education
Our comprehensive guide to online marketing for the education industry is packed with accessible, practical tips to help you increase enrollment, and better engage students and their parents.

Share with your network