New clients are the lifeblood of your health coaching business, but developing the level of trust needed to get them on board can be a struggle.
What if you could use the influence of your current clients to help build that base of trust? Enter the health coach testimonial. This approach allows you to draw on the power of existing clients to excite others about your services.
In an age of online reviews, testimonials give you the social proof needed to build confidence among potential clients. You'll read about the advantages of health coach testimonials below, as well as key strategies for collecting and using client feedback.
We make it easy to build loyalty with patients and clients, drive referrals, and grow your center.
Why health coach testimonials are important
While today's clients typically find health coaches online, they still value classic marketing tactics such as testimonials. These show potential clients that other people admire your business — and that your services produce clear results.
Testimonials are valuable in a range of industries, but they're particularly important in health coaching for the reasons below.
They tell a compelling story
Clients who leave health coach testimonials often go into detail — explaining why they decided to seek your services, what happened when they worked with you, and how their lives have since improved.
These rich details allow existing clients to help you build a deep connection with prospects who find them inherently relatable. This, in turn, promotes a strong emotional connection — which is crucial for convincing leads to convert.
They are adaptable
Testimonials are among the most adaptable forms of digital content. They can be highlighted on social media, in marketing emails, or on your website. Some health coaches continue to use them for print marketing — on flyers or brochures.
The flexibility of testimonials goes beyond where they're placed. Long-form testimonials provide fascinating details, while brief snippets offer a quick, impactful message that's easy to include in print materials or on your homepage.
Some testimonials will be exclusively text-based, but they can also include photos or videos to create a more personable message. They can reflect your business as a whole, a specific program or solution you provide, or the personal qualities you bring to your work as a health coach.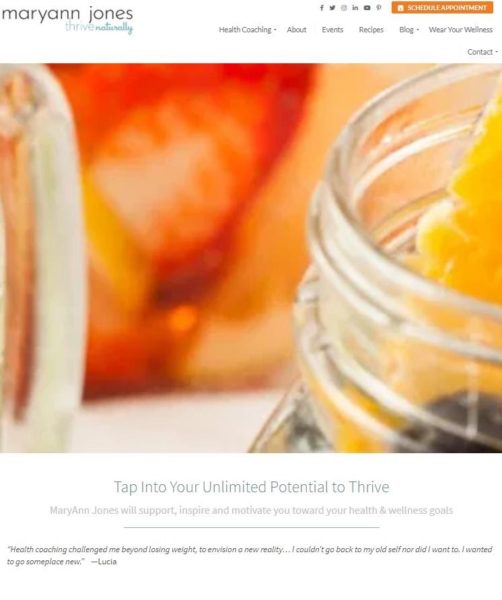 Tips for using health coach testimonials
Whether health coach testimonials are situated within your health and wellness blog or on social media, it's important to place these where they'll make the greatest impact. You'll also want to maintain consistent messaging to ensure cohesive branding. 
These tips will help you make the most of positive client feedback.
Highlight testimonials on social media
Platforms such as Facebook are perfect for displaying testimonials. If clients agree, their social media pages can be tagged in testimonial posts on your business account. These will attract the attention of your followers and can prove especially impressive when accompanied by photos of the clients providing feedback.
Consider video testimonials
When most people picture testimonials, they imagine text-based insights. Increasingly, however, many business owners turn to video testimonials. These may be easier for viewers to follow and more capable of delivering a strong emotional connection.
Develop a testimonial page for your website
As website visitors browse your content, they'll appreciate seeing what real-world clients have to say about your work as a health coach.
While testimonials can be included in several areas of your site — such as the "About Us" or "Services" pages — a dedicated page is ideal for showcasing client feedback, accompanied by permitted photos. This page can be labeled with the term "Testimonials," but some health coaches prefer alternatives such as "Praise."
Update your testimonials page regularly
Continue to seek new testimonials as clients complete your health coaching program. While early submissions can provide a quick boost, ongoing feedback will keep prospects in the loop as your business grows and evolves.
Edit for consistency
Don't be afraid to make minor edits to ensure a consistent voice across all testimonials. While language will naturally vary from one client to the next, adjustments may be required for a smooth read.
For example, a testimonial written in the second-person — "You did a great job of keeping me motivated!" — can be adjusted to third-person so it fits in better with the rest of your page. "Hilary did a great job of keeping me motivated!" The latter is a version that sounds much better.
Even if you make minor edits, it's important to send the final version of the testimonial to the contributing client for approval. Those who submit the feedback will be excited to see their words and photos displayed on your website or Facebook page — but they may be displeased if they find significant differences in wording, or worse, a photo they didn't approve of.
How to collect testimonials from health coaching clients
It seems obvious, but the key to obtaining testimonials involves reaching out and actually asking. Don't hesitate to let clients know that you value their input. Many will be pleasantly surprised to discover how interested you are in their opinion — or even flattered that you bothered to ask.
The other essential for success? Not being afraid to ask again. Don't let limited responses discourage you from continuing to reach out. It may take several rounds of requests to receive the volume of testimonials you desire, but your efforts will ultimately pay off.
Too many health coaches assume that satisfied clients will go out of their way to leave positive feedback. In reality, a variety of roadblocks can keep perfectly happy clients from sharing their thoughts. Many are busy or too overwhelmed with email requests to respond. Others assume that your business is already thriving — and that you don't really need their feedback.
If you're struggling to develop an effective approach for obtaining testimonials, give the strategies below a try.
Request via email
When in doubt, email should be your go-to method for requesting testimonials. Templates can streamline the process if recipients are either encouraged to share their thoughts in a quick email response or to visit a landing page with a testimonial submission form. 
Many health coaches send automated testimonial requests as soon as a particular program is finished or after working with clients for a specific amount of time. Other clients may be more likely to leave testimonials after successful upsells.
For example, repeated clients who invest in comprehensive coaching programs might be more enthusiastic about providing feedback than first-time clients who are not as familiar with or invested in your services.
Send a quick text message
Given the volume of emails some clients receive every day, they may be more likely to respond to requests made via text. These should be simple and direct, leading recipients to a landing page where they can easily submit feedback about your health coaching business.
Similarly, social media solutions such as Facebook Messenger allow you to reach out with links to testimonial submission forms.
Use incentives
Whether testimonial requests occur via email, text, or social media, incentives can entice clients to share their thoughts. Branded items provide excellent encouragement, especially when they relate to your effort to promote healthy habits.  
For example, clients will be thrilled to provide feedback if they receive branded water bottles or tank tops in return for their efforts. Others may prefer to be entered in sweepstakes for more significant prizes.
Incentives should not be offered in exchange for positive reviews. Emphasize that you welcome all feedback, not just glowing responses.
Make the most of marketing opportunities for your health coaching business
Testimonials are an important aspect of marketing for your health coaching business, but they're most effective when integrated within a comprehensive marketing plan.
To learn more about the different methods that can help you attract health coaching leads and convert them into clients, check out The Download from Constant Contact.