Search engine optimization (SEO) plays a huge role in your everyday digital interactions, whether you're aware of it or not. While it may seem complicated, the basic concept is simple: developing web content in a way that improves both the quantity and quality of traffic that comes from Google and other search engines. Effective healthcare SEO is especially important, as it puts much-needed information straight into the hands of patients.
In a market-based healthcare system, providers must regard patients as consumers who need to be convinced to visit a particular facility or get invested with a certain provider. While this can be accomplished with a variety of strategies, SEO is beneficial in that it empowers patients to make key healthcare decisions for themselves.
Whether they're searching for medical insight or determining which local clinics or hospitals boast the best ratings, patients are constantly on the hunt for answers. SEO ensures that they find the information they need — and that it convinces them to take action.
We make it easy to build loyalty with patients and clients, drive referrals, and grow your center.
How SEO fits into a healthcare marketing strategy
Search engine optimization should form the basis of your organic marketing strategy, which involves all efforts in which you do not directly pay for ads. While effective SEO takes more time to implement, it also pays off in the form of long-term brand exposure and credibility.
For most brands, SEO strategies begin with blogging. This provides an easy and effective opportunity to showcase your organization and what makes it unique. It's also a great option for positioning your practice or system as a healthcare authority. Informative blog content lets prospective patients know that they can count on your organization even when they're not meeting directly with doctors in the office.
In addition to optimizing blog posts, you can use SEO practices to encourage users to visit pages with tools that potential patients might find helpful. Top healthcare marketing ideas could include everything from BMI calculators to calorie counters.
SEO is powerful in part because it can be integrated into such a diverse range of marketing strategies. For example, while SEO is primarily associated with blogs and other types of webpage-based written content, it can also play an important role in social media efforts.
Optimized blog posts can be promoted on platforms such as Facebook and Twitter, where they increase engagement among followers while also directing them to your website. Content displayed directly on these platforms can also be optimized. Instagram handles and bios, for example, provide an excellent opportunity for social media optimization. Likewise, captions and even hashtags should be chosen strategically to direct leads to your social media pages, and ultimately, to your website.
SEO can also play into email marketing. Leads brought to your webpage via search engines can be encouraged to sign up for email newsletters, which provide additional health insights or updates on your practice's latest accomplishments. Similarly, email newsletters can alert and direct recipients to new blog posts that they might find compelling.
How to implement SEO into a healthcare website
An effective medical SEO strategy begins with a clear understanding of what potential patients want to know and how they can be encouraged to act on that information. Known as search intent, this concept emphasizes useful healthcare websites that provide clear value to visitors, rather than haphazardly stuffing content with keywords for the sake of attracting attention.
To determine search intent, consider your audience and how their needs or interests connect to your organization. Keep in mind that targeting may be needed based on the user's health status or relationship to patients. For example, search terms and content for a pediatrics page about childhood vaccinations will look a lot different than anything displayed on a vascular health page.
Identifying the most effective keywords for your clinic or practice
While today's most impactful SEO strategies begin with search intent, strategic keyword selection remains vital. The best keywords for healthcare can be seamlessly integrated into content so that they sound natural. More importantly, however, they should reflect the exact type of patient you hope to attract. Generic keywords must compete against far more web pages and, even when they land at the top of the search engine results page (SERP), they're less likely to produce appropriate leads.
As mentioned above, keyword selection should begin with search intent. Once you've determined what prospective patients want to know, you can condense that concept into a keyword that they might use to seek information online. For example, if you determine that local patients are on the hunt for a practice that caters to seniors, you can create content related to geriatric care and sprinkle it with keywords referencing this target demographic or their chief healthcare concerns.
The best healthcare keywords are nearly always long-tail varieties that include at least four words. These are more effective for targeting leads expected to convert — and less likely to run into significant competition. Use tools such as Google's Keyword Planner to get a better sense of how targeted patients actually search and which terms they're most inclined to use.
Local SEO is especially important for attracting attention from nearby patients, who rank ease of access as one of the top factors for selecting a healthcare facility. Don't forget the power of voice-optimized search, which draws on the modern user's preference for Siri and Alexa.
To optimize for voice, stick with question-oriented keywords that reflect how users talk — not how they type or swipe. For example, a prospective patient might type the keyword "oncology clinic Dallas" but when speaking to Siri, may prefer to ask, "Where can I find an oncology clinic in Dallas?" or even, "Where is there an oncology clinic near me?"
How content marketing for healthcare can boost SEO for medical practices
A solid content marketing strategy is crucial for improving SEO and generating both traffic and conversions. The following are just a few of the many benefits that content marketing can provide as you boost SEO for your healthcare facility or system:
Content marketing increases visibility on search engines
If you conduct a few basic searches on Google or Bing, a significant share of SERP listings will feature blog posts, long-form articles, and other top forms of digital content. These pages have successfully developed content that caters to specific types of users — and they've drawn on technical strategies to optimize that content and make it easier to find on search engines.
While content marketing and SEO technically consist of separate strategies, neither is particularly effective without the other. Healthcare organizations that use the targeted tools of SEO can ensure that content reaches its full potential.
Content marketing provides a practical application for keywords
Yes, there's more to content marketing than keywords alone, but there's no denying that blog posts provide an effective avenue for weaving these terms into web pages. SEO requires the effective use of keywords, and content marketing can satisfy that demand.
Content marketing builds authority
Trust is a critical element in marketing for any industry, but it's even more essential in healthcare. Patients want to know that their doctors, nurses, and specialists can provide top-quality care. Email newsletters have long been regarded as the ultimate marketing tool for increasing trust, but content marketing can prove just as useful.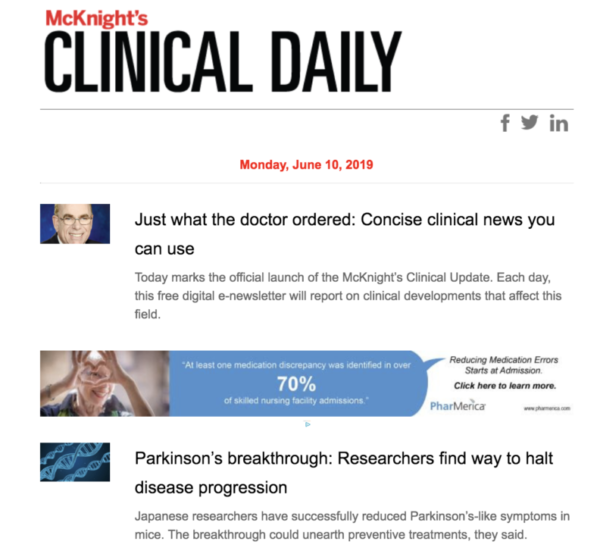 Patients find detailed, informative content reassuring, as it underscores your practice's status as a healthcare authority. This, in turn, boosts search engine results, as current algorithms for Google and other sites reward quality over keyword stuffing.
Get the word out with healthcare SEO
A strategic approach to healthcare SEO could pay dividends for your marketing strategy. If you'd like additional insight, check out Constant Contact's The Download, where you'll find several content marketing opportunities specially designed for the healthcare industry.

Share with your network