Wondering what trends your customers are following right now? Trying to point your products or services in a new direction and want an idea of how your customers will react?
You can find out right now simply by asking, through a survey on your social media page.
You can run surveys on Facebook, Twitter, Instagram, and more. While these do return results on each specific platform, you can also aggregate all of your results in one place by using a tool like Google Forms. You can also share your survey from one social platform to another, as well as send out your survey via email to even further your reach and results.
Continue reading to learn how surveys and polling customers can help you create stronger marketing messages for your audience.
Why survey customers?
69% of adults in the United States are social media users. That means it's easier than ever to reach and engage with your audience.
Social media is also the most minimally disruptive way for customers to take a survey, and this option helps keep the experience short and sweet. Reports show 52% of people will not spend more than three minutes on a survey, and 80% of people have abandoned a survey halfway through because it was too long.
Customer feedback is liquid gold for businesses, and it'd be a shame to waste it. Your customers have gone out of their way to connect with you on social media, and helping them in return have an impact on your business is a great way to show them how important they are.
What should I ask my customers?
First and foremost, your survey should have a purpose. Whether that is to garner customer feedback for operational improvements, collect testimonials, or ask customer preferences to guide your business direction, having a goal will help map out the specific questions you will need to ask.
Make sure your questions are unbiased – don't ask customers leading questions or provide options that don't give them a chance to be honest. Your followers won't answer if you break their trust. If your social media service supports it, watch for comments on the survey for questions you hadn't considered, problems with the survey, or a trend of customers not understanding what you're asking.
Be aware, some business questions simply shouldn't be left to your customers. If you need a new employee for the front of the house in your restaurant, that's something to leave out of a survey. The same can be said about any internal issues, HR policies, or cash flow. Use good judgement when asking your customers questions, and always remember that the survey can be a window into your business. Surveys should be on brand, professional, and should never contain information that might cause a negative impression of your business.
How to post a survey on Facebook
Although posting a survey on the new Facebook isn't as straight forward as it used to be in the classic version, you can certainly do it quickly and easily by following these six easy steps:
Choose "Publishing Tools."
Click on "Create Post."
Select the "Poll" option.
Fill out the information for the poll.
Select a run duration.
Schedule your post.
1. Choose "Publishing Tools
You can find the Publishing Tools in the "Manage Page" section on the left side of your business home page.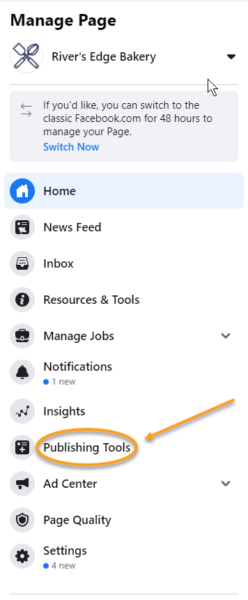 2. Click on "Create Post."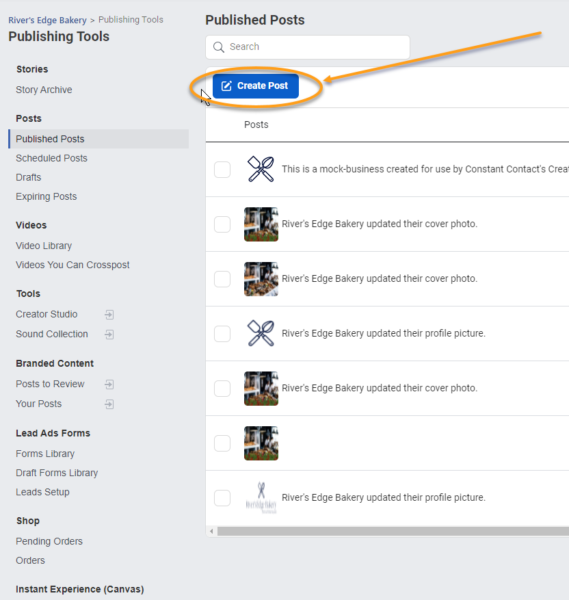 If you're not already in the classic post creation tool, simply go to the lower left corner of the pop-up screen and select "Classic Post Creation Tool."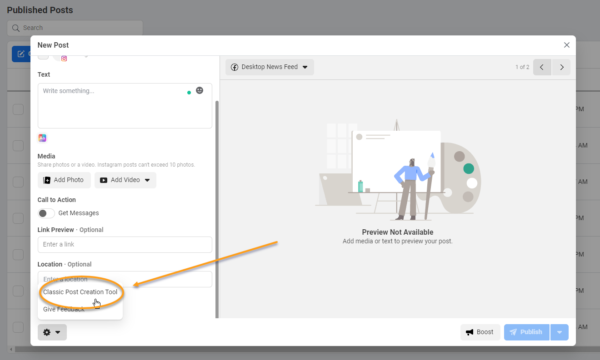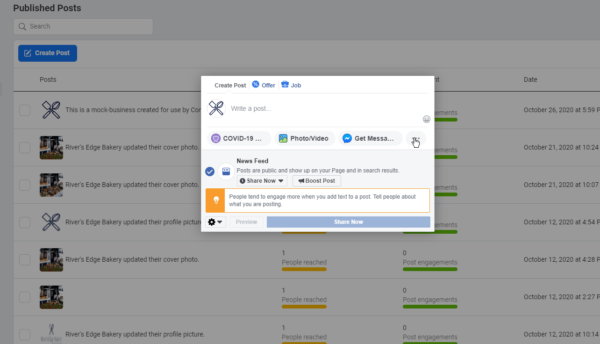 Once you're in the classic post creation tool, you can go to the next step, which is:
3. Select the "Poll" option.
Just click on those three little dots to the right of the pop-up window. When the window changes, choose the option for "Poll."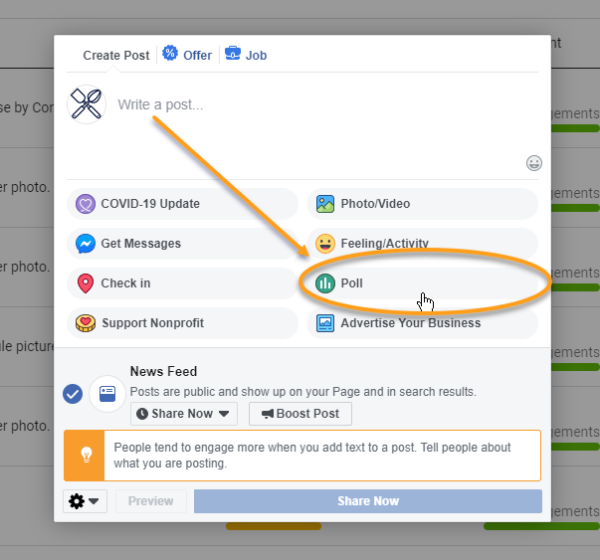 4. Fill out the information for the poll.
While entering your question and answer options, be sure to keep both your questions and answers easy to understand. Also, consider adding photos or gifs to help illustrate the options for your customers.
5. Set a run duration
One week is the default setting which should give you a decent amount of time for customers to react. However, the duration of the survey's run is up to you and you need to pick a duration that you feel will get you a decent response rate.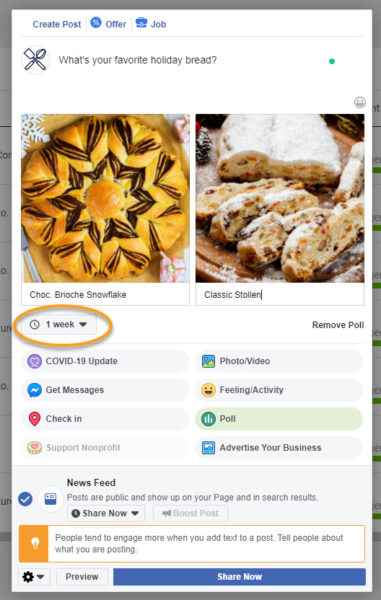 6. Schedule your post.
You can either schedule your survey to post to your page now, or schedule it for another time.
How to post a survey on Twitter
Posting on Twitter is even easier. To get started, follow these four simple steps:
Create a new post.
Click the icon with the three bars to select "poll."
Fill out the information for the poll.
"Tweet."
1. Click to create a new post.

2. Click the icon with the three bars to select poll.
3. Fill out the information, including your question and answer options.
Remember to keep your questions and answers easy to understand. Twitter doesn't offer image/gif options, but you can always add an emoji to spice things up.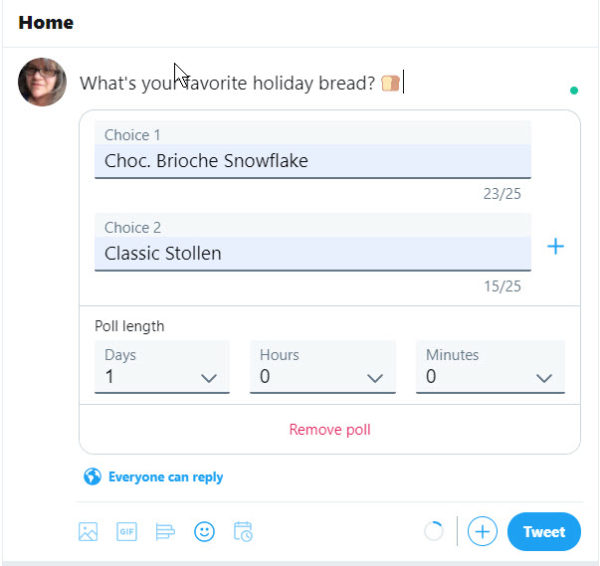 4. Click "Tweet."
How to post a survey on Instagram
Instagram, the image-based social media channel, requires you to start with an image or video when posting a poll. The duration is automatically pre-set to 24 hours, so remember to adjust if you need your poll to run longer.
Upload or take your photo/video.
Select the "Poll" sticker and place it anywhere on your photo/video.
Write a question and add your answer options.
Click "Send to" and select "Your story".
I posted my surveys – what now?
Now that you have your surveys online, it's time to wait for the results. For the most accurate results, wait until the end of the duration you selected for the polls. You can add as many, or as few, questions as you like, so be sure to ask your customers additional questions if you aren't getting the answers you expect.
If you feel your surveys or poll questions aren't getting enough answers, consider re-sharing or cross-posting them to your other social channels. Don't forget, you can also send out surveys directly to your email subscriber list too!
If you're still not seeing the results you want, it may be time to iterate your survey. Take a look at any related comments you received. Are customers confused about what you're asking? Do they completely disagree with both options? Are they only willing to do a survey if they get a promotional item, such as a coupon, in return? That feedback helps you restructure your survey questions, and ask the question in a different way that gets you the answers you need.
Put your results to work
Once you have the results of your surveys, you can use the unique insights your customers have given you to improve the way you do business. Remember, not everything should be asked of your customers – but if your customers tell you they want a raspberry lemon milkshake, and not a pecan elderflower spiced milkshake, you should probably listen!

After all, more appealing options bring customers to your door, more frequently. Use surveys to help keep your brand approachable and interactive, and to show your customers how much you value their feedback.

Share with your network