Professional websites today are more than just digital Yellow Pages listings. Your website offers a space to engage with new and prospective clientele in a way that demonstrates your expertise.
Let's say you're choosing between two new doctors. They list nearly identical qualifications and services on their websites, but one site includes case studies showing experience in solving your exact problem. It also has information about preparing for an appointment, managing symptoms, and nutritional recommendations.
Which do you trust more?
Get new clients and drive referrals with marketing tools and advice for legal professionals.
How blogs attract new leads
People want to see why you're the best choice for their money and time. You may have the best client-closing elevator pitch teed up, but you won't get to pitch it if new leads are intrigued by your competitor's resources first.
While positioning you as an expert in your field, blogging also complements people's search behaviors. Even with word-of-mouth referrals, many people turn to Google to research their options before contacting a lawyer.
But when they search, more than 25% of people click on the first site listed — and almost no one makes it to the second page of search results.
Blogging helps you tilt search results in your favor:
Search engines prioritize sites with fresh content.
Blogs give you an avenue to use niche search terms your specific audience uses when asking Google a question.
You can segment blog posts — answering a similar problem but speaking to different perspectives or needs — to extend your reach.
Blogs keep current clients happy
While they're a powerful lead-generation tool, blogs also add value to your existing clientele. Sending useful tips to their inbox, posting to social media, or maintaining a library of website resources encourages client activity and engagement — driving their loyalty.
Loyal, engaged clients work wonders for your bottom line:
They spend more money.
They're easier to sell to in the future.
They cost less than acquiring a new customer.
They share your content among their own networks.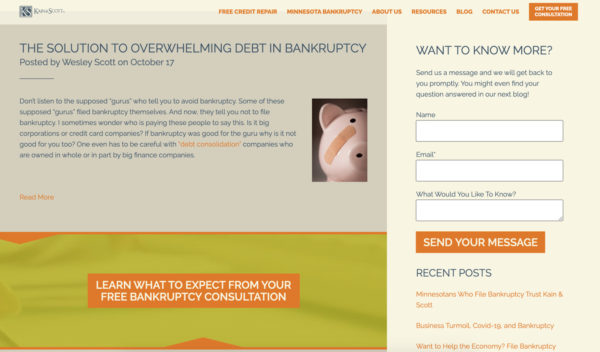 Providing this added value to your client relationships improves customer service. This keeps your business at the top of clients' minds in a positive way, which makes them more likely to recommend you to others as well.
Blog best practices
The most effective blog posts are those that your audience finds useful. But how you present that information determines if people will read and engage with it — and if they'll ever see your content in the first place.
Blogs that increase organic traffic through search engines have common traits:
Search engine optimized
Search engine optimization (SEO) means using your audience's search terms and phrases directly in your content. This helps search engines identify — and therefore promote — your content as relevant to someone's question.
To do this well, you need to research what keywords to use by:
Studying your niche to define who your audience is.
Thinking about what they search for.
Looking at what words or phrases your competitors frame content around.
With this preliminary list of search terms, you can use keyword tools to narrow it down to those that rank best for metrics like competitiveness and search volume.
Consistency
You don't need to post every day, but keeping to a consistent schedule helps grow a loyal blog audience and remind search engines of your site's relevance. Frequent posting also supports other marketing strategies like engaging through social media and building your email marketing list.
Imagery
Images help to break up blog posts and act as visual aids to enhance the content, boosting user experience. But you can also optimize your images to curry favor with search engines.
The image description, or alt text, is what search engines "see" when they come across a page. To give Google more context to rank your site, add an image description — about 125 characters — based on the blog post's specific keywords.
Style
Ultimately, a post's goal is for people to read it, but some common stumbling blocks make people click away.
Poor writing style and design hurt your rankings. Search engine algorithms are always learning, and they're savvy enough to flag pages with unnatural language, irrelevant keywords, and confusing formatting.
Appeal to readers and search engines alike by:
Starting with a snappy, intriguing headline.
Avoiding big walls of text, breaking up thoughts and paragraphs logically.
Including numbered or bulleted lists.
Using plain language, appropriate for an eighth-grade reading level.
Linking to relevant, authoritative sources — and in-linking to your own content where appropriate.
Cleaning up typos, bad spelling, and grammar errors.
Understanding keywords are important, without obsessing over them — keyword stuffing does more harm than good.
Ideas for lawyer blogs
Prepping your editorial calendar helps keep you consistent while ensuring you offer enough fresh, varied content to appeal to your audience.
Use your knowledge of your audience and keyword research to build blog posts around topics like:
1. Niche-specific guides
You list your services on your website, but your blog posts are where you can offer extra information about your primary areas of practice. These posts also serve as evergreen content that stays relevant for years at a time, easily updated to reflect any changes to the law or your services.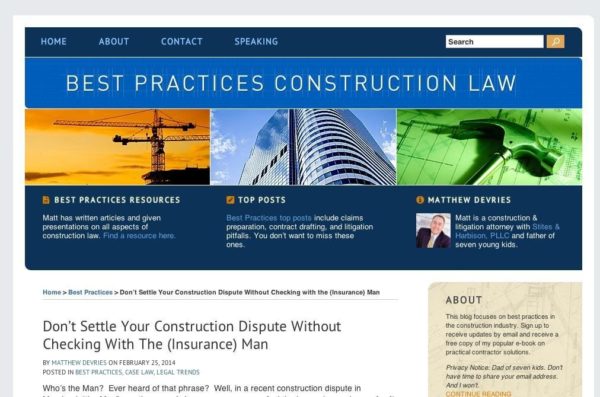 Break down your practice offerings into resources that can serve specific clients — who will then know whom to turn to when they need extra support. Examples could include:
Best practices for private fund advisers
Stages of a personal injury case
What to expect when suing your employer
2. Answer questions
One of the best ways to intrigue clients' interest — and appeal to search engines — is to answer their most common questions in a blog post.
These question-specific posts could be about anything related to your business, like:
Questions to ask when drafting a contract
Legal rights for renters
Questions to ask a lawyer in an interview
3. Surprise the reader
What common mistakes or gaps in knowledge do your clients encounter? You can explain the do's and don'ts of certain legal issues or offer surprising information that clients wouldn't otherwise consider, such as:
Weird Halloween laws
Problems with digital contracts
Unemployment benefits scams
4. Appeal to client concerns
Use blog posts to pre-empt "what to do when" questions based around different stages of people's lives, like preparing for marriage, a first child, and retirement:
Legal rights for grandparents concerning their grandchildren
Teaching kids about intellectual property
How marriage affects your legal and financial status
5. Address important law updates
Keep your clients informed by publishing changes to the law that affect their lives. Timely posts encourage Google to highlight your content over outdated information, increasing visibility and the chance of getting backlinks from other online sources like news or industry sites.
Explain a new change or law in easy terms so that people understand exactly how it affects them, such as:
Updated SEC definition of accredited investor
Implications of the California Consumer Privacy Act
Decriminalization of marijuana
6. Update with industry news
Keep on top of updates that occur within your industry. This could be new statistics, trends, or changes that affect clients' lives and reinforce your ability to offer solutions. Keep these posts specific to your line of work.
7. Promote yourself
While not all of your content should be sales-oriented, you can use this platform to highlight your firm's achievements, case studies, and recent awards — or ways that you're active in your community.
Bring it all together
Blogs are a powerful lead-generating tool on their own, but they also offer content to amplify your entire marketing strategy. Check out Constant Contact's marketing guide for professional services to learn more about tools and techniques your firm can use to get more clients — and retain them.

Share with your network