Yellow Pages are a thing of the past. But there's still an effective system for small business owners to spread the word about their products and services — and it's through the internet.
Today, online listing management is the best way for small businesses to get noticed and grow their customer base. If you think people are cynical about what is written on the internet, the statistics will be surprising.
According to recent research, a whopping 98% of consumers report reading online reviews when looking up information on local businesses. More than 80% say they rely on Google to check out a business before contacting them.
They also want to see that you've responsibly responded to every review.
Almost 90% of survey respondents in 2021 said they were "highly" or "fairly" likely to use a business that responds to every review. It doesn't matter if your industry is service, healthcare, or retail sales — as a business owner, you need to master online listing management to help your company reach the next level of sales and thrive in today's marketplace.
What is online listings management?
Online listings are much like the old-fashioned Yellow Pages — only better. These listing sites are designed to help people locate local businesses and gain basic information.
Online listings management is a process of not only keeping your business information current but of also managing customer reviews.
By focusing on complete and consistent listings and reviews, you can ensure that everything people read about your business online will encourage them to choose you to meet their needs.
As you probably already know, reviews usually involve a star rating system and can be either very good or bad. As a business owner, you won't have the ability to delete reviews that are inaccurate or even malicious, but you can respond to them effectively.
When done skillfully, you can turn a bad review into an opportunity to communicate your strengths and benefits to future customers.
The key to success in online listing management is to schedule time in your week to check in on every site where your business is listed. It is crucial to have up-to-date information and to post replies to every review.
How can a small business manage their online listings and reviews?
Let's start with listings, as customers won't be able to leave reviews or find your business without an accurate listing. As you complete these tasks, try to think like your customers. If you don't know what they're looking for, you can always talk to some of your current customers to make sure you cover your bases.
Listings
You'll need to start with some research. While there are listing sites that cover all local businesses, some industries also have specific listing sites that potential customers use. For example, Angi — formerly Angie's List — focuses on listings and reviews for home service professionals.
Know the rules of each site
Since each site has its own design and style, you'll first need to browse around each listing site to understand what you can and cannot include. You may discover that even though you haven't posted anything, your business already has a listing. That's because anyone can create a listing for a business, whether they own it or not.
Claim your business
Every online listing and review site will offer an opportunity for a business owner to claim their business listing, and this is the first thing you should do to ensure accurate business listing management. Before you get overwhelmed with the vastness of the internet, remember that most people use one of three sites to get their information.
Google Business Profile
Chances are, you've done this yourself: Let's say you want to buy a toy for your nephew's birthday. If you're like most people, you'll open Google and type something like "toy store in Boston, MA." What immediately comes up are Google My Business profiles, along with a map showing where each one is.
If you don't have a robust Google Business profile, stop what you're doing and claim your business. It's like that tree falling in the forest. If a business can't be found through Google, does it even exist?
Yelp!
Another popular listing and review site is Yelp! It has a similar but slightly different format to Google's platform, and some people prefer it.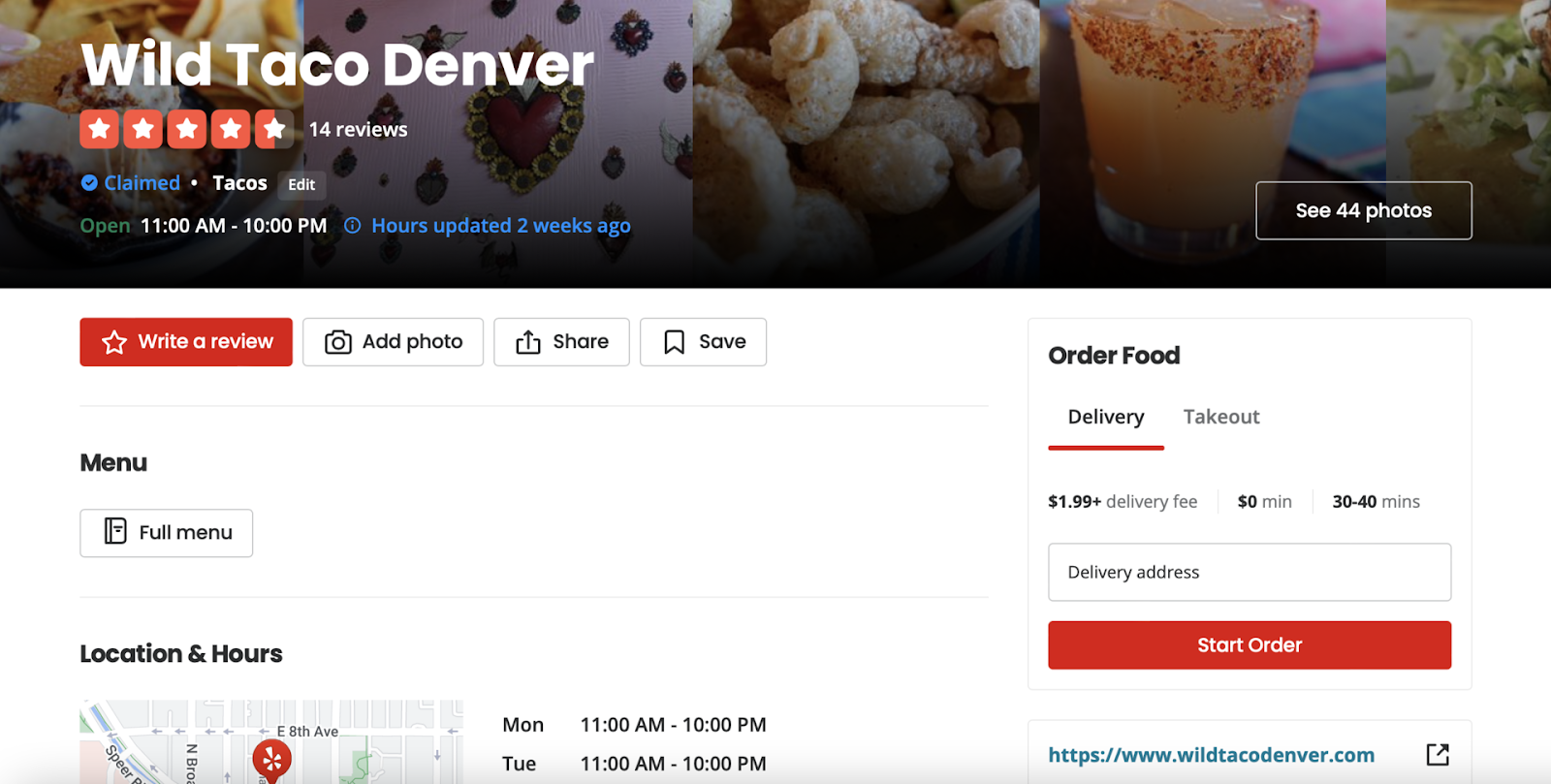 Notice the blue "Claimed" check mark on the top banner of a top taco restaurant's profile page. This restaurant is claimed by the business owner, so visitors to the site can trust the information.
Facebook
From your personal Facebook profile, you can and should create a Facebook business page. Once you've claimed this page, you'll be able to create localized and targeted ads and share content that can leverage the power of social media to connect with your customers.
Complete your entire listing profile
It's not enough to simply claim your listing profiles. You must optimize your listing to answer as many questions as possible. An unfinished listing sends a message that you don't care about customer service, and that's the last thing you want people to think. Make sure your listing includes the following important and basic information:
Phone number
Address and accurate Google Maps location
Current hours of operation
Logo
Website address
Overview of products or services
Business qualities and characteristics
Menu, if appropriate
But that's not all. Upload photos of your location as well as your products and services. Provide a complete product inventory, if possible. Link to online ordering if you offer it. Consider your listings to be an extension of your business — because that's exactly what they are.
Keep it up to date
Things change, and that's okay. Let's say your weekend business is so busy that you decide to take Mondays off. You must update your hours of operation on your listing pages. Otherwise, you run the risk of upsetting future customers who search online for information. Don't presume they'll click on your business website. It's your responsibility to have everything current.
Incorrect business information can also be a result of someone else adding your listing before you claimed it. Once you've claimed the listing, you'll have the ability to make updates and changes whenever necessary.
This is the heart of listing management work, and that's why it's a good idea to schedule regular checks of every online mention of your business.
Reviews
Word-of-mouth advertising has changed dramatically over the last decade as more people turn to online listings to get their information. Instead of gritting your teeth over online reviews by hard-to-please customers, take control of the situation through effective online listing management.
Pay attention
You never know when you'll get a review, so make time at least once a week to check every listing site. Perhaps the worst thing you can do is ignore a review, no matter if it's good or bad. Think of reviews as feedback you can use constructively. You won't be able to delete inaccurate comments, but you can redirect the conversation and gain new customers.
Respond appropriately and professionally
When you receive a positive review on Google or any other listing, take a moment to formally thank the reviewer. All it takes is something as simple as mentioning the person by name and telling them you appreciate their business and look forward to seeing them soon.
Inevitably, you'll encounter a bad online review. In this case, it is even more important to reply professionally. Make sure your review is succinct and without a bad attitude. Include:
Appreciation for their visit
An apology for the negative experience and a short explanation, if possible
A way to make it better, perhaps a discount or a phone number where they can talk further about the situation
NOTE: Occasionally, you'll receive bad reviews from someone who never visited your business. If you keep sales or appointment records and you get a review from a name that doesn't match your records, apologize for not being able to find a record of them visiting your business and ask them to contact you directly so you can discuss the particulars of their visit and make things right. This will let others see that the review may have been left by an imposter and that you're kind enough to give them the benefit of the doubt and try to make things right for them.
Request reviews from existing customers
To get more reviews on listing sites, you can ask your current customers to leave reviews on their experience with you. Ask them to be honest when they share their experiences with other consumers. You could even offer a discount to every customer who leaves a review online as an effective means to manage listings and reviews.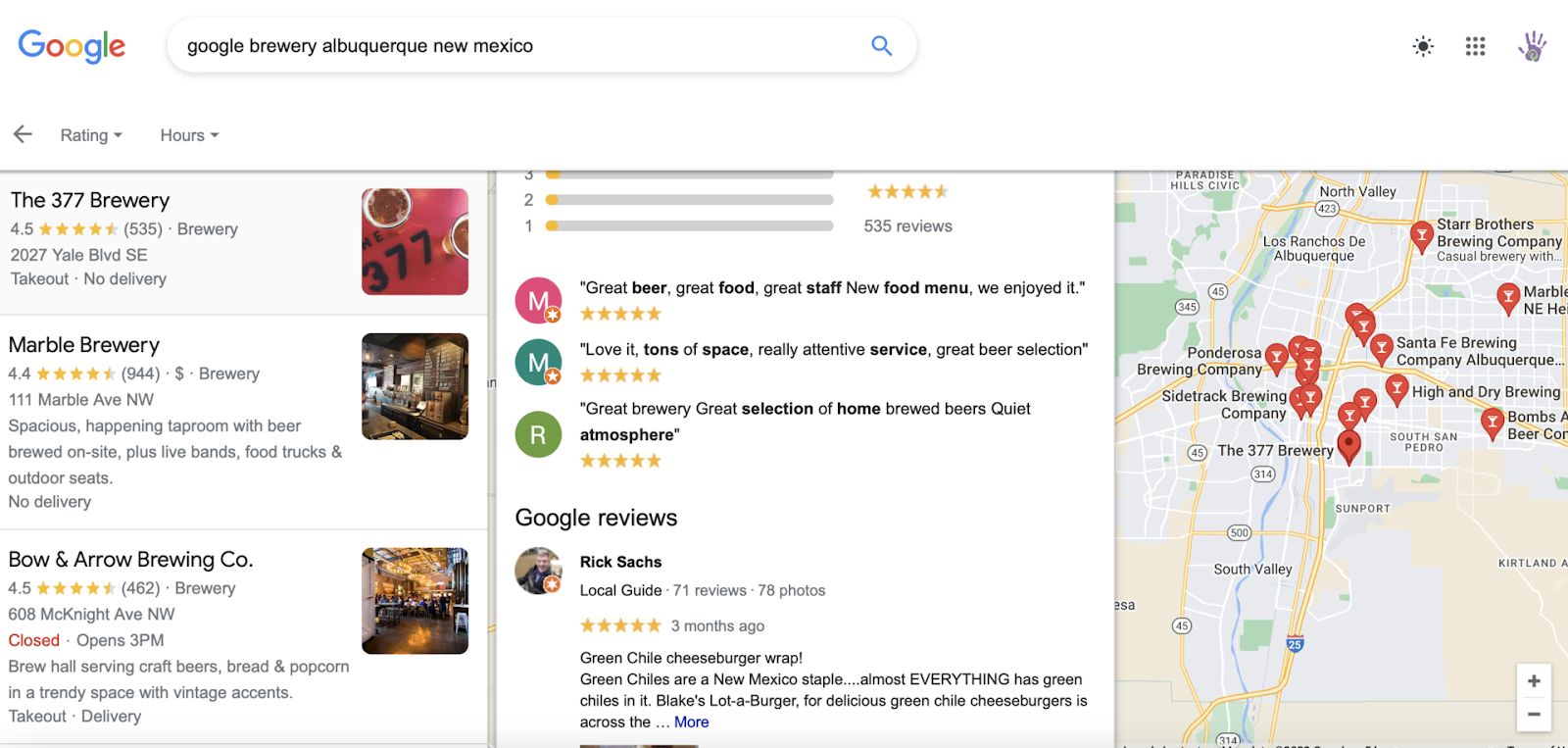 Online listing management is a tool for your success
To make sure the correct information is shared about your business, you'll need to be proactive with online listings and reviews. Claim your business and take the time to include everything your customers would want to know. Then track your reviews so that you can respond quickly and professionally.

Take the first step to successful online listing management by searching for your business online and see what appears. Then, search for a few of your competitors to see where they appear and make a list. Those are the sites you want to start managing your listings on first. From there, branch out to other popular search sites or sites that are specific to your industry.

It'll take some time to claim your listings and complete your profiles, but the time you spend polishing your online presence now will help you stand out within your industry, gain more customers, and improve your bottom line — now and in the future.

Share with your network