Running a successful referral marketing program can be the big boost that your manufacturing operation needs. It's easy enough to do, as long as you know where to start. A referral marketing program will bring new customers to your business and help save you a lot of time. This type of program accelerates the sales process and introduces you to leads who are ready to buy your product.
In this guide, you'll understand what this program is and how it can help your business. We'll teach you when, how, and why you should roll out a referral marketing program.
Ready to get new manufacturing deals and repeat business — all in one place?
What is a referral marketing program?
When you ask your customers to suggest your business to their friends, these are called referrals. The concept is pretty straightforward: Customer A tells customer B about your company, how great it is, and the good experience they had with you.
A referral marketing program for manufacturers is when you ask for, track, incentivize, and analyze referrals that you get. You want to ask your current and previous customers to refer a friend to your business. You might offer them a gift card or discount for every successful referral.
If customer B is in the market for your product, now they'll be inclined to work with you. This is a great way to get manufacturing clients who are interested in your services. A referral marketing program promotes and encourages referrals to build like this.
How and when to ask for manufacturing referrals
The best time to ask is sometime after closing the deal with a customer. If you had a good experience and they were a good customer, it's perfectly reasonable to ask for a referral. And if you do it well, your customer will feel honored that you trust them to refer you to others.
To ask them, just be honest. Thank them for their patronage and remind them that your business depends on referrals from great customers like them. Ask if they have any friends or family members who would be interested in what you offer.
If you've built incentives into your program, let them know what those are as well. (For example, if their referral makes a purchase, they'll get 10% off their next order, expedited shipping, a discount for the referrer and the new customer when an order is made, etc.)
Why does a referral program work?
Referral marketing for manufacturers works for a few reasons, but it all comes back to the fact that your existing "fans" do the promoting for you.
It builds a more loyal customer base
When you ask your existing customers to recruit new ones, they feel a certain connection with your company. It makes your current customers more loyal to your brand.
You get free leads
When you get a referral, that's a free lead. You didn't have to spend money on marketing or time on a campaign. All you had to do was ask someone who already likes your business to recommend you to people they know who might also benefit from working with you.
The referred person will come ready to buy
The conversion rate is usually a lot higher when someone comes to your company after being referred. They already know who you are, what you do, and what you have to offer. They've also gotten a good referral from someone they trust, which means they already trust you and your product.
Where to ask for manufacturing referrals
There are a lot of places to ask for referrals, many of which are also good places to market your manufacturing company. Here are a few of the more common ones:
Email
After finishing a deal, you should have already gotten the customer's email and permission to send your campaigns to them.
Use email segmentation to keep your current, past, and new customers or leads separated, so you can send targeted emails to each group separately.
Since referral marketing for manufacturers requires you to ask current customers, this is a great place to start. The email can be personalized. Keep it short and to the point. Try not to come across as desperate, and be sure to thank them for choosing your company.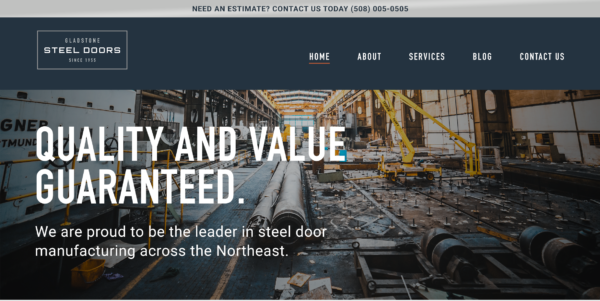 Your website
If you don't already have a manufacturing website, you need to make one. Once you have one set up, you can include a page that's dedicated to your referral marketing program.
This can include information about your referral program, what it entails, and how it works. This is also a good place for a shareable blurb about what you do and what makes your company special. Your current customers can copy and paste this text, sending it to their friends.
LinkedIn
LinkedIn is a gold mine for finding industrial customers. Referral marketing for manufacturers works well on this site.
A strong company profile will have a lot of connections who are potential customers. All of your connections are either leads or current customers. At any rate, sharing the message about your referral program on LinkedIn is a must.
How to incentivize clients to make referrals
Some people need a gentle nudge when it comes to referring their friends and family members, so a small incentive will help. After all, people love free stuff.
You can offer special deals, reward programs, discounts, or a gift card. Even something as small as a $10 gift card can help rake in the referrals. By sticking to incentives that are specific to your company, you ensure repeat business. In other words, giving someone a $10 gift card to your website means they'll do business with you again.
If you have an incentivized referral program, it's important to add a simple stipulation to the deal: The customer doing the referring doesn't get the incentive until the referred person completes a purchase with your company. Otherwise, people could "refer" hundreds of their friends who back out of the deal after the incentive is awarded.
Pro tip: don't offer too large of an incentive. You don't want to eat up your profit. Also, apply a way to double-check that the referred person isn't just a second account made by a previous customer.
How to turn a new referral into a client
This new referral can also be called a "lead." All you have to do is walk the new referral through the end of the sales funnel. The person who referred them already told them how good your company is.
The fact that the referred person approached you means that they're ready to buy. You don't need to do any more convincing. You just have to help them find the right product and charge them for it.
It's wise not to be too sales-y during this process — you might scare the customer away. Remember, the person doing the referring already sold them on you.
When *not* to ask clients for referrals
Avoid asking for a referral whenever things didn't end well with you and a customer. If your current customer has been a nightmare, don't ask for a referral. The person they refer may be just as difficult to work with.
If you made a major mistake during the process and didn't rectify it to their satisfaction, you shouldn't ask for a referral. Your focus should be on correcting things for this customer. And if they appreciate your correction, they might refer someone on their own.
If you're in the rare situation that you're too busy to take on more customers, you'd be better off not asking for a referral. You don't want to have to turn someone down, especially if they're friends with one of your current customers.
Conclusion
Referral marketing for manufacturers is a quick and low-cost way to make your company more money. This is one of many ways to market your business. For more information on how to market your manufacturing business, refer to The Download, Constant Contact's free guide for online marketing.

Share with your network