When a parent or student is searching for a school like yours on Google, Yahoo or Bing, you must show up on the first page of the search results if you want to compete for those precious enrollments. Families have a lot of educational choices, and you need to be where those people are at the exact moment they are thinking about it. That rarely happens by accident.
My marketing agency, Kreative Webworks has been consulting on school marketing plans for almost a decade, and SEO and search marketing has been an integral part of all our programs.
Here, I'm going to share with you exactly what you need to know about SEO and its role in marketing your school. Let's start with what "SEO" stands for.
Stay connected to students, families, and staff with expert marketing advice and all the tools you need, all in one place.
What does SEO for schools really mean?
Search engine optimization (SEO) is the process of doing the right things on (and off) your school's website so that the search engines decide that you are the best match for what a person is searching for.
For example:
If you are a private high school based in the Seattle, WA area you would want your school to show up on the first page of Google should a prospective parent search for "private high schools Seattle."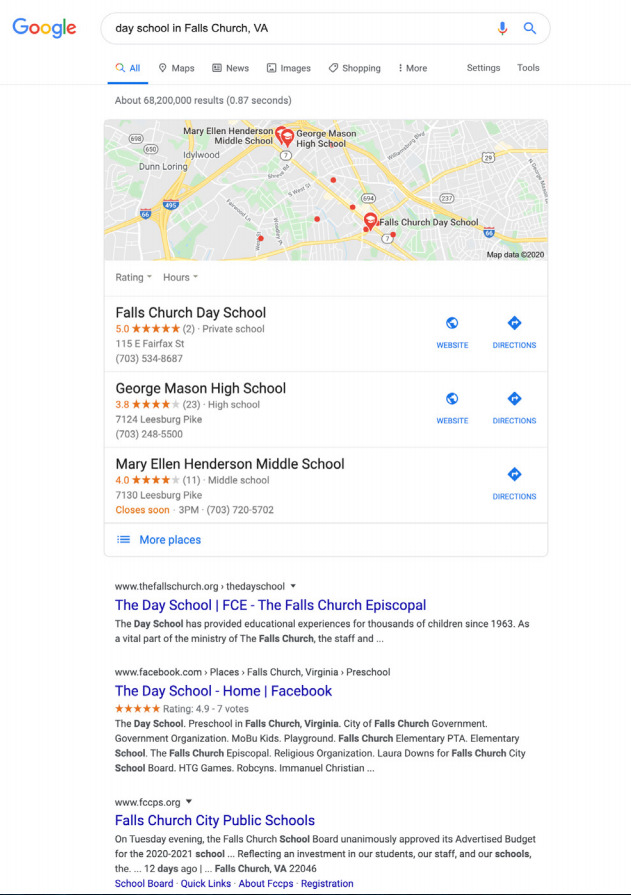 Think about it this way…
Google (and other search engines) want people to find relevant and helpful content when they use their platforms; Otherwise, people would stop using them. So, Google will only show content they see as valuable based on the keywords a user searches for.
One could say that SEO for schools is a just fancy name for website quality control, and is fundamentally about providing users with the information they need, when they need it.
If your school wants to increase its enrollment numbers or attract highly skilled faculty then search engine optimization will be essential in your marketing strategy. Let's go over some strategic ways your school can improve their SEO rankings, even starting today.
How do I make my school rank on Google?
Search engine optimization can get very technical and sometimes it feels like you need a master's degree to implement. But even just focusing on a few basic SEO tactics and having a solid grasp of the fundamentals can greatly improve your school's rankings.
Here are some simple SEO strategies that every school website should implement:
Do keyword research
To find out what keywords have a high search volume and are relevant to your school, use online tools like Google's Keyword Planner. Try not to choose keywords simply because they are high ranking. The point of SEO is that the keywords have to relate to what your school offers. FYI — We'll go over keywords in more detail in the next section.
Optimize all key pages
Use the most relevant targeted keyword and include it in your title, headlines, body text, image alt text, and in the meta description and title tags on all key pages on your website.
Create unique pages
Google doesn't like duplicate content and will ignore pages it thinks are not unique. Ensure the content of each page is not copied and pasted and isn't too repetitive throughout the site to avoid this from happening.
Use heading tags properly
Best practice is to start each page with a single headline (H1 tag), the content is separated into sections with the H2 tag, and sub-sections with H3 tag. To optimize your page, use the main keyword in the different heading tags.
Have a linking strategy
Make sure you link to relevant internal pages on each page and blog post you craft to keep the user on your website longer. Also, ensure that the anchor text (hyperlinking the keywords to another page) is keyword rich for both external and internal links as search engines factor this into your SEO ranking.
Craft enticing meta descriptions
Meta descriptions are the short paragraph that Google displays on the search results. The description is what entices a prospective student or parent to click on your website instead of a competing school's site, so make it interesting, appealing and yes — keyword rich.
Add a blog to your site
Search engines love fresh and relevant content, and a blog is the best way to go about doing this regularly. Don't be afraid to link to your school's blog on the homepage of your website for easy access.
Structure your content
One of the most effective techniques that we use for our schools is called "Topic Clusters." This is where you strategically link your content around a master overview page called pillar article. You can download my SEO Topic Cluster Guide for free. I won't even ask for your contact information.
What are the best keywords to use for my school?
There is no silver bullet or one specific answer or magical keyword that would ensure you rank highly on search engines. So what's the best keyword(s) for your school to use? Well, that depends on what you offer.
Are you a charter school, a private school, or an arts magnet program?
SEO is all about relevant content, so don't focus on generic education keywords like school or high school, as that's a futile tactic because there are so many search results that you would be competing with. More specific or longtail keywords (phrases) usually fair best in the SEO game.
For example:
The term private school has a search volume of 60.5K and a keyword difficulty of 83% (in the US) and online private school has a search volume of 1.6K with a 66% keyword difficulty. I would rather show up for 10% of 1.6k searches than 0% of 60.5k searches.
Last words of advice for education SEO
Search engine optimization is a long game and you likely won't see tangible results for at least a few months, so it's important to craft a strategy early and stick to it.

However, that doesn't mean you can't start now by using these tips above. While Google continually updates its SEO criteria, the fundamentals remain the same. Just remember that helpful and relevant content always ranks well.

Share with your network