If you are a small business owner, a talented and supportive team can elevate your company. The right team meshes well and works together to accomplish your business goals. The small business team-building ideas in this article can help you make your team more cohesive.
When hiring, you probably considered your company's culture and employee personalities to find the right people for each job. But team building can help improve team members' efficiency, allow them to get to know each other, and boost morale.
Read on for more info on building a strong team, and get our 15 small business team-building ideas.
Why it is important to build a team with a common goal
A unified vision helps ensure that all employees share the same goals. It makes your team more connected and more productive, letting you compete with businesses of all sizes. When your team members are working toward a common objective, they are more cohesive.
They are more likely to feel pride in their work and their contributions. And, employees who know the common goals of your company are more likely to provide good customer service, creating value for your clients.
‌Your business can only move forward when you set and achieve strategic goals. If all team members know these goals and are striving together to achieve them, your business is more likely to be successful. This unity is a key component of building and growing a sustainable business.
Many corporate team-building activities are designed to make your team work together on a common solution. A good activity will provide the chance for employees to get to know one another while letting them use their strengths to participate in a game or event.
Your employees can take these skills back into the office with them. Team-building activities make your team feel more unified and connected to one another. This means better teamwork and, in turn, added value for your clients.
How productivity and cohesion benefit your company
A strong team that is productive and connected benefits your company. Employees in cohesive teams tend to feel more supported, experience less stress, and work more efficiently. According to a 2020 article by Training Industry, people working in cohesive teams have higher self-esteem and better team morale.
In a cohesive team, members feel that their contributions are more valued, which means that people are more satisfied and more empowered to contribute. Team members who might not have felt compelled to share their innovative ideas may be more compelled to do so with supportive coworkers.
Cohesion often improves productivity, which is a core component of business success. When your team is more productive, it can reduce your costs and increase your profitability. It also allows you to remain competitive. Your team can become more efficient, accomplishing more without the need for more time in the office.
A common goal for your team creates buy-in and allows them to feel personally responsible for their part in achieving it. They may feel more encouraged to consider solutions from different angles, leading to product and service innovations that better benefit your clients.
To build a cohesive team, pay attention to people's individual strengths, and encourage them to use these skills to contribute. Team-building exercises and events are one way to help identify and refine these strengths. They also help connect your team. Check out these small business team-building ideas to connect and strengthen your team.
15 small business team-building ideas
A good team-building activity bonds your team members by allowing them to get to know their coworkers. Even in a small business, some employees work together more often than others. Members of your marketing department might know the sales team well, but they might be less familiar with people who work in accounting. Team-building activities let employees from all over the company socialize.
Some team-building activities are designed to get employees out of the office so that they can connect in a different setting. But activities can also be simple without the need to take up a whole afternoon. Here are 15 team-building ideas you can use to build a more cohesive team.
1. Escape Room
Escape rooms have become widely popular. They provide a fun way for people to test their skills and work together to solve a common problem. An escape room is a great bonding activity for your employees because it forces them to work together.
These rooms are available with a variety of themes — from movie and TV trivia to games within games. Most escape rooms will require you to split your group into smaller teams of up to five people. In this case, form groups of people who don't often work together. Offer a prize or incentive to the group that escapes first.
As the boss, you are likely aware of everyone's strengths. Try to build teams that feature members with complementary combinations of skills. Don't put all your shy team members on the same team, and be sure to split the people who are good with numbers into different groups. Everyone should have a chance to help solve the puzzle.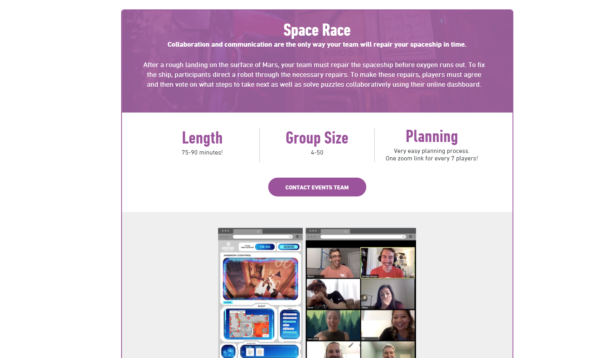 The Escape Game offers themed rooms with different challenges, including an escape from Mars. The company recently introduced virtual games that allow teams to bond while staying socially distant.
2. Community service
Many companies work with different charity organizations. You might sponsor different community events or provide donations to a local charity every year. Enlisting your employees as volunteers at different charity events is one way to help them bond with one another while benefiting the community.
When deciding on a charity organization to support, choose an organization that fits in with your corporate identity. For example, if you're a landscape architecture firm, have your employees volunteer with a local organization that cleans and improves trails in the local community. Your employees can bond with one another while spending time outside in nature and improving the condition of local trails that they might use in their personal time.
You can also start a charity drive or competition within the office, creating different teams and offering an incentive to the team that collects the most canned goods or pet toys for a local animal shelter.
If you know that many of your employees have pets, hold a "cutest pet" photo contest with a small entry fee and donate the money to a local shelter. Your employees can bond over their cute animals while benefiting many homeless pets.
3. Egg drop
Among popular small business team-building ideas is the egg drop, which is a classic game designed to encourage critical thinking and problem-solving. It also makes for a fun afternoon activity. Break your office into small teams who then have to create a vessel in which to drop an egg from a height without breaking it.
Establish a common set of rules related to materials that can be used to make the vessel and time the team. This game is a fun way for employees to get creative. Putting fewer parameters on the vessel leads to some innovative solutions and you might be surprised by the ideas that emerge from this exercise.
4. Office trivia
Gathering the team for some office trivia is a fun way to encourage some competition among your employees. Split employees up into two teams and find a set of trivia questions. Trivia questions are commonly available online or at most stores in which games are sold. You can also use cards from a Trivial Pursuit game.
You can either ask questions to one team at a time, giving them a set amount of time to answer each question, or you can implement a buzzer system. Give the other team the opportunity to steal. If your team knows each other well, you can have employees submit personal trivia questions and answers or add in a few questions about the company.
5. Truth or a lie
This game serves as a good icebreaker at company meetings or corporate retreats. Ask everyone at the table to tell a story or relate a quick fact about themselves. Give the others 30 seconds to ask clarifying questions about the story. At the end, everyone votes on whether the original player is telling the truth or if the story is a lie.
This game lets employees get to know each other, and the Q&A period tests each person's ability to think on their feet. Your employees will have fun guessing who is being truthful and who is lying about their past.
6. Scavenger hunt
Scavenger hunts serve as good business team-building activities. Send your team on a trip around the city on a quest for a prize. It could be a gift card or an afternoon off. Whatever it is, it should be worth the effort needed to solve each clue.
‌A scavenger hunt lets your team work together, applying different skills to race against the clock and win a prize. Good scavenger hunts include a mix of photos, videos, trivia, and other puzzles. As with the escape room, compile teams of people who don't normally work together. And make sure the puzzles and clues at different stops of the hunt require a variety of skills.
Companies like Scavify can help you develop clues and place them strategically around the office or your local area, according to how long you want to spend on the activity. The company also offers an app that employees can download to access tasks and clues.

7. Attend professional development activities
Small business team-building ideas don't always have to involve games and puzzles. They can also be as simple as professional development activities. When you and your employees attend seminars, conferences, and webinars together, it helps you connect with one another and benefits your business.
‌If you own a retail company, take your employees to the manufacturer so they can see products being made. If you are a hair salon owner, you can invite industry experts to come into the salon for a day and teach new cutting and coloring techniques.
8. Group meditation
Sometimes, small business team-building ideas are as simple as inviting your employees to stop working for a little bit and take a break. Disconnecting for a few minutes in the form of group meditation can keep your team focused.
Guided meditation has been shown to reduce stress and improve concentration. Introducing concepts like mindfulness can also benefit your employees in their daily lives. You can opt to pay for a professionally guided meditation workshop, or you can encourage employees to download an app and meditate on their own.
This exercise can either be completed as an ice breaker or a cool down after a long meeting, or you can incorporate it into a 30-day wellness challenge in which you encourage employees to team up and make healthier choices to win a prize.
9. Group pitches
Encourage your employees to pitch new ideas for your business. Host a small session for an afternoon in which small groups can develop new products or services for your business. Have them collaborate, brainstorm different ideas, and make a compelling presentation to a panel of other employees.
Encourage the team to be creative with no limitations. You may get a lot of wild ideas that aren't realistic or feasible, but some new and innovative ideas might emerge that make sense for your company.
10. Field day
Most of us remember the one day in school when everyone competed against each other at various games — tug-of-war competitions, potato sack races, or three-legged races, for example. Field days are also popular small business team-building ideas.
A field day lets your employees bond while competing against each other in a variety of games, creating camaraderie. Include a variety of athletic and nonathletic activities for people of all talents, skill levels, and capabilities can participate.
11. Play a game
Games are a fun way for employees to bond while exercising their natural competitiveness. If you're still working remotely, there are a variety of games that can be played via Zoom and other apps, so you can still connect. Pick a popular game that doesn't take too long like Uno or Pictionary.
You could make a night of it and host a games night with a variety of board games and card games in which employees can participate. Set a timer for 30 minutes, and have employees switch games, or give them the option to exit and enter different games.
12. Make a playlist
Simple small business team-building ideas allow your team to connect without taking time out of their workdays. Start a collaborative playlist on Spotify or another streaming service, and encourage employees to add their favorite songs.
They can listen to the playlist at work, at home, or in the gym and discover new music through their coworkers.
13. ‌Hit up a comedy club
Coming together for some laughs is a fun way to bond and relax outside of work. Many comedy clubs offer group discounts for smaller audiences, and some of them will host corporate events. To keep the event business-friendly, look for a comic with family-friendly material so that you don't alienate any of your employees.
14. Go for an adventure
Create fun group outings in which employees can test their sense of adventure. You might sign up a team for a local 5K or another charity race, spend a day on an adventure course, or choose a simpler activity like horseback riding or birdwatching.
Adventure activities are designed to help employees work together and build trust. When you embark on an adventure together, you can develop a greater sense of appreciation for one another.
15. Start a bracket
March Madness, fantasy football, professional sports playoffs, or any other bracket challenge offers employees the chance to compete against each other with low stakes. You can offer a small prize to the winner to entice people to enter and offer daily updates on how everyone is doing with their brackets.
These challenges are fun for all because they build team spirit. They can also help your employees to learn new things about each other. You may learn that your quiet accounting manager went to a certain college and schedules her weekends around their team's games. Or you could learn that your new employee chooses winners on the basis of their mascots and his favorite colors.
Implementing team building in your company
Most of the time, you're likely focused on your daily responsibilities, and your team is the same. Their days are structured around their own goals and tasks. Occasional team-building activities help your employees to disconnect from their work and build relationships with one another.
‌A good team-building activity can be as simple as an icebreaker at the beginning of the day or as complex as an escape room. There is an activity available for any business size with any budget.
Whatever you choose to do, make sure that it provides your employees with the chance to talk to one another and connect — activities like employee movies don't really give people the opportunity to speak to each other. Also, be sure to make note of any accessibility issues and book an activity in which anyone, and everyone, can participate.
Team bonding is essential for creating cohesion, boosting morale, and ensuring that your employees feel valued. Start planning your team-building exercise today, and set your team on the path toward unity.
More tips for building a strong team for your business
Embrace different strengths and personalities
Too many businesses try to mold people into their version of an ideal employee. While it's perfectly fair to encourage people to accept your company culture, expecting someone to change their personality almost never works.
Instead, you should embrace the varying personalities that make up your team. If someone is outgoing and enjoys conversing, give them a position interacting with customers. If you hire someone who is more introverted, they'll probably be happier and more productive doing heads-down tasks.
Make sure everyone feels like they're contributing
It's important for everyone on your team to feel like they're instrumental in your business's success. People are happier with their jobs when they feel like their work is propelling the company forward.
You can get new hires engaged right away by giving them important work to do on their first day. Instead of being isolated in orientation meetings all day, they're able to get their feet wet and interact with the rest of the team on day one
Good managers also keep their team challenged. Assigning deadlines and goals gives everyone an objective to work towards. And then you can celebrate and reward your team when the goal is met.
Resolve any problems within the team
Problems among coworkers arise all the time. Disagreements over how things should be done, personality clashes, and competing agendas are common in almost every job. As the team leader, it's important for you to identify and resolve any issues before they get out of hand.
Also, be sure you aren't the source of any problems. Employees can feel like their boss micromanages them or doesn't give them credit when it's due.
Problems with employees can often be tough to notice. The best way to prevent issues from snowballing is to have an open and inclusive work environment where people feel comfortable voicing concerns.
Make sure your team knows you value them
People like working for a boss that genuinely cares about them. Try to devote a little time each day to conversing with your staff members about their life outside work. Ask about their family, their background, and their hobbies. There is a good chance you'll have a little something in common with most your team members.

You can also show your employees you value them by investing in your team. Providing quality equipment and a pleasant work environment are good ways to make your employees feel comfortable at work.

The best way to keep your team happy and productive is to stay positive yourself. Good attitudes are contagious, so be sure to lead by example.

Share with your network