How do you grow a cult following when you're a small, mobile business? Build a brand that people remember. You can do this with the help of digital marketing tools that allow you to extend your reach far beyond your physical location. Social media for food trucks is one of the best ways to become a daily presence in people's lives — no matter where you're parked.
The power of social media is only matched by the number of possibilities it brings. According to the Pew Research Center, 69% of U.S. adults use Facebook, 40% use Instagram, and 23% use Twitter. That doesn't even include other major platforms such as Pinterest, TikTok, and Snapchat.
So, how can you take advantage of these numbers and maximize the impact of your social media presence? This article covers the benefits, top platforms, and best practices for managing social media for food trucks.
Learn how to develop a social media strategy that works for your brand so that you can start serving up content as tasty as your meals.
Get the tools and guidance you need to find new customers and keep your regulars coming back for more.
Main benefits: Social media and food truck branding
When starting a food truck, you need to turn your original concept into a brand that fits you and your vision. Many things will go into your brand identity, from your name to your logo to your signature recipes. A taco truck and a sushi bar should feel as different as their menu offerings.
To build a consistent brand and generate buzz around your business, your food truck marketing plan should include social media. This is where a large percentage of customer communication now happens.
Social media has become the place where businesses share their most important updates. It's also where customers interact with those businesses and share their positive and negative experiences with them. Communication happens in both directions — and often publicly.
The content that you post — and others post about you — brings together a group of people centered on your brand. Social media for food trucks revolves around creating this community. Your fans become the backbone of your business and part of the very brand that unites them.
Top platforms: Social media for food trucks
Your first mission is to choose what social media platforms you want to include in your marketing plan. Different sites work for different purposes and your plan should include more than one platform if possible.
Facebook for food trucks
While individuals can avoid Facebook, businesses should see it as a necessity. Facebook has become a valuable business directory and review hub. When starting an account, you'll need a fully optimized Facebook page that includes:
Your hours, current location, and other important business information
Announcements and events
A messaging tool
Along with providing current information on your food truck, you'll be able to respond to customer comments and reviews. Think of Facebook as a more social version of your main website, and make it a major part of your social media for food trucks strategy.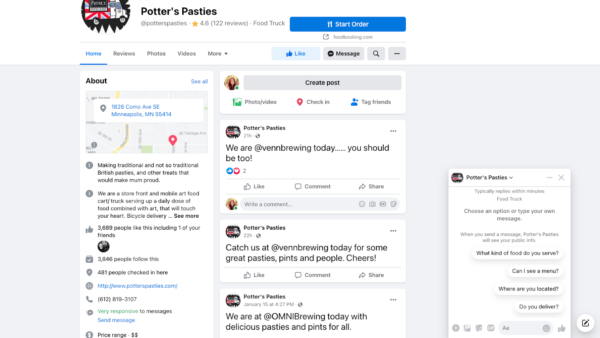 Twitter for food trucks
Twitter is especially valuable for food trucks as it's all about up-to-the-minute news and conversations. Use Twitter to let followers know where you are, when you move, what food has sold out, and any other helpful information.
Also keep in mind that many people — especially younger demographics — care about brands that share their values. Twitter is a good place to engage in social issues and movements. Avoid using the platform as a personal soapbox, but don't be afraid to comment on events that directly impact your community.

Instagram for food trucks
The visual nature of Instagram makes it a natural fit for food-service businesses.
Instagram for food trucks is all about mouthwatering pictures you or your followers share. Generate a luscious library of images that will get foodies in your area excited about your dishes.
Take your time and get the best photos possible. Recycle these images by including them on review sites, other social media accounts, and your website.
Instagram is also a good place to share location updates and behind-the-scenes photos showing your personality.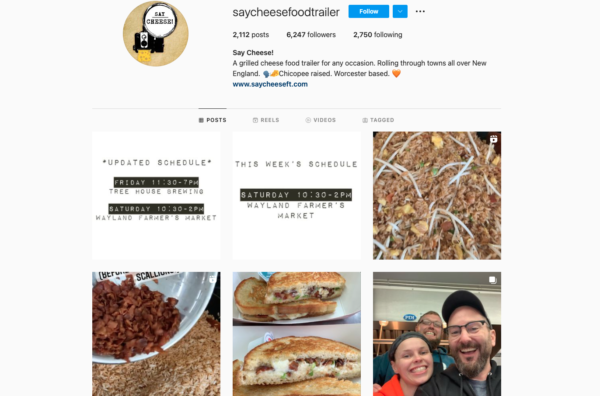 Other platforms to consider
Don't spread yourself too thin on other social media platforms. Facebook, Twitter, and Instagram often have the most engagement and should be your main priorities.
However, if you have the time, experience, and specific ideas, any of the following platforms could be a worthwhile investment, too:
TikTok
Snapchat
Nextdoor
Pinterest
WhatsApp
Above all, go where your customers are. If you know that your demographic has a huge presence on Nextdoor, for example, change your strategy accordingly.
Best practices: Food truck social media
These practices will help you make the most of social media no matter the platform.
1. Be consistent with your food truck branding
Every account should reflect the same style and personality. Stay true to your brand. Different platforms lend themselves to different forms of content, but your voice, design elements, and spirit should remain the same.
2. Use hashtags
Hashtags serve two important functions:
Brand hashtags allow you to find mentions of your business. It also allows your fans to connect.
Subject hashtags can help bring in potential new followers. If they're interested in what you're selling, they can follow or search tags and discover your post. Make sure to include a location-specific hashtag for people looking for food trucks in your area.
3. Post often
Frequency is crucial to a successful social media account. Be a regular part of your customers' lives, even when they can't visit you in person.
4. Engage your audience
Ask questions. Respond to comments. Like brand mentions.
Social media is social. You want people to engage with the content that you post instead of simply skimming over it. Have fun with it. Post polls, share invitations and suggest fun challenges. Don't forget to stay active and be responsive with every post.
5. Run interactive promotions
As part of your engagement, try running social media promotions. Offer people who check in on Facebook a 10% discount. Use Instagram to raffle off a gift certificate. Give the first 20 people who mention your latest Tweet a free-with-purchase extra.
Use your imagination and get people excited about your social accounts as they are about your food.
6. Tell people where to find you
Most food trucks physically move about an area, and social media is a great tool for sharing your location throughout the day.
But you also want people to know where to find you on the internet—link to your social accounts on your website and vice versa. Integrate them into your email marketing as well — invite your newsletter subscribers to connect with you on social media, and ask your social media followers to sign up for your newsletter.
You can also provide QR codes on your menus or the side of your truck that take people directly to the social media account of your choice.
Start connecting
Social media for food trucks is an undeniably essential part of your marketing strategy. While getting your accounts set up will take some time, you'll soon see the benefits of growing your social media presence. Remember to be consistent; post often, and continually engage with your audience.
To begin building your brand online, consider which social media platform is best for your business. If you're not sure, start with Facebook. Claim your business page and fill out all important business information. If you have time, consider creating a Twitter or Instagram account, too.
Once you have set up at least one account, take the time to invite people to follow you and start dishing out the latest news and most mouthwatering images of your food. Soon enough, you'll start seeing your online community — as well as the lines at your food truck — grow.