What happens when a quirky foodie gets a box truck and a dream? There's only one way to find out.
With the number of mobile kitchens — with varying degrees of gourmet status — growing in the United States, entrepreneurs and chefs are asking how to start a food truck. When the work of starting the business is done correctly, the rate of return on the investment is surprisingly good.
The U.S. Census Bureau counted 5,970 food trucks in 2018, which was nearly double the number just five years earlier. And with the built-in flexibility and social distancing that are inherent in the business, it appears the coronavirus pandemic hasn't negatively impacted food trucks in the same way it has brick-and-mortar restaurants.
Starting a food truck business isn't just for warm-weather towns, although higher temperatures don't hurt. With 753 mobile food service companies, California has the most. South Dakota comes in last with just 11. No matter the number, food trucks exist in every state in the nation.
That's because you can make good money — while also having a lot of fun. Census data reports entrepreneurs made more than $1.2 billion in 2017 alone. Trucks can bring in revenue of between $250,000 and $500,000 a year, with just a fraction of the cost for starting up.
Still, even the best business can flop like a wobbly souffle if not planned well. Let's take a closer look at what that means for a first-time food truck business owner.
Get the tools and guidance you need to find new customers and keep your regulars coming back for more.
Why start a food truck?
With all good things, starting with the why will help create the motivation you'll need when the work becomes, well, work. Reasons to start a food truck business include:
You're the boss
It's hard to argue with having the buck stop with you. Instead of working for the man, you're the man — or woman, or anyone you very well want to be. Being the boss gives you freedom, independence, and authority. Of course, all of that comes with responsibility.
It's fun
Perhaps more than any other business, food trucks offer a sense of humor and quirkiness as part of the business plan. Eating at a food truck is simply fun, both for the workers and the customers. People love chefs that offer creative cuisine, especially if there's a pun in the name!
It's a smart investment
By bringing a food truck, you're contributing a major part of the party. But it's a serious business, too. With usually no more than five employees, these small companies can keep feeding the community even when health precautions restrict indoor dining. They're able to move where the market is and pivot more easily when challenges arise.
How to start a food truck business in 4 steps
The key to making a food truck successful is the work done even before the first order is placed. Follow these important steps to set yourself up for a great entrepreneurial experience.
1. Nail down your concept
Food trucks often provide cuisines and concepts that are very different from the traditional restaurants in the area. The mobility and novel nature of the industry give you a license to try something new. Some of the most popular food truck ideas include:
Sushi, with a roll-up bar offering something fresh and healthy in a world of deep-fried food
Pho, the warm and comforting Vietnamese noodle soup
Tacos, a classic food truck offering
Falafels, a Middle Eastern hand-held meal popular with vegetarians and meat-eaters alike
Gourmet burgers, which are best with fresh-cut steak fries seasoned in truffle oil
Bao buns or Banh mis, two classic Vietnamese hand-held favorites
Grilled cheese sandwiches, especially when the menu includes surprises
Have fun with your concept, and don't be afraid to mash-up two ethnicities or comfort food favorites. The more surprising, the better.
Then, start brainstorming names. To do this, gather a group of your favorite people. Relax with your favorite beverages and start filling a notebook with ideas. Try to come up with 100 names — that is, don't edit yourself. You may find that the goofiest name that initially comes out as a joke is the best.
From there, you can test recipes to create the menu. At the same time, you can start the process of designing a logo.
2. Research the legalities
Twenty years ago, it might have seemed like a major health faux pas to serve food out of a truck. But today, business licenses and health regulations have outlined ways to ensure the safety and legality of your business for yourself, your employees, and your customers.
Each state and municipality has individual regulations for business licenses, so you'll have to research what's necessary for how to start a food truck where you live.
You'll also need to ensure your truck has the infrastructure to keep foods at proper temperatures and store potable water. You'll want to think through the logistics and protocol for handling, preparing, and processing foods. Aim for safety that exceeds the state regulations, so you'll never have to worry about a health concern tracked back to your business.
3. Create a business plan
You'll want to include all of the above (and more) in a comprehensive business plan for your new food truck company. Think about the structure of this plan as a dynamic document. As you learn and grow in the industry, you'll likely discover new lessons you can implement for the benefit of your company.
Start by creating an executive summary of your business, the values behind your company, your concept, and your vision. Then, complete the next steps:
Research your competition. If another food truck is doing the same thing as you, perhaps you'll want to change locations or concepts.
Delegate tasks by determining who does what. Include bios to understand who has which strengths.
Crunch the numbers, listing all the expenses and revenue streams. Don't forget to open a business checking account while you're at it.
All good business plans also contain a marketing plan that lays out the different campaigns and methods you'll use to attract new customers. That's such a big deal that it deserves its own step in this guide!
4. Focus on your food truck marketing plan
If a food truck rolls up to a lot and there's no one around to eat, did the truck even arrive? Don't answer that — focus on avoiding that situation instead. Marketing is a make-or-break for starting a food truck business. Make sure the following tasks are part of your outreach initiatives.
Launch your website
Just because your restaurant's physical presence is mobile doesn't mean your online presence should be nonexistent. Many customers search online to learn about a food truck or restaurant before giving it a try.
Your website doesn't need to be complex, but it should include:
A home page with pictures of your food truck so customers know what to look for
A menu along with photos of the most popular or unique dishes
A calendar with locations of where patrons can find you on what days
Contact information, including links to social media platforms
Start email marketing
One of the best ways to create a loyal following when starting a food truck business is to leverage the power of email marketing. Along with slinging amazing takeaway creations from your window, you should also make collecting email addresses a priority. Try offering a raffle for a gift card or a giveaway of merchandise, if you have any, in exchange for contact information.
Direct emails can serve as personal invitations for people who already appreciate your food. You can share where you'll be and highlight your specials to whet their appetites. Don't forget to encourage them to come with their friends and family.
Stay active on social media
Social media is also a powerful way to help your food truck business stay top-of-mind throughout the year. Take pictures of people who are enjoying your offerings and tag them on Facebook or Instagram. It's best to choose one or two platforms rather than spreading yourself too thin on social media. It's also important to post frequently, so schedule your time wisely.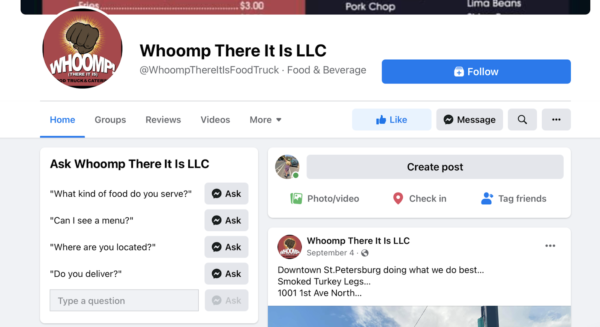 With everything you do to cultivate new customers, don't forget to stay on brand. Think about your target audience, and make sure that everything you post will resonate well with the customers you care about most. Be thoughtful and consistent, so they'll know what to expect from you in terms of both messaging and cuisine.
Keep the calendar filled
Once you've gone through the previous steps, you'll be ready to drive to your first event. Keep the calendar filled by calling different municipalities and civic organizations to see where hungry people will be. Consider farmers' markets, family-oriented events, and other outdoor get-togethers. Let people know you're available for private parties.
There's a lot to think about and do when you ask how to start a food truck, so begin by deciding on a name. Then, you can purchase a domain name for your website and claim the social media pages. Soon, you'll be making your food truck business dream a reality.