Every month, hundreds of thousands of people use Google to search for financial service professionals. As a financial advisor, you have the opportunity to connect with many of these searchers — but you'll need to use the right top financial keywords to increase your visibility.
When it comes to getting discovered by potential clients, optimizing your website with the top financial advisor SEO keywords is crucial.
Well-chosen keywords will drive leads to your site, help you gain more clients, and — ultimately— launch your business to the next level.
If you're ready to optimize your website, but you're a beginner at SEO, don't worry! In this article, you'll learn:
How to choose the best keywords for your financial advisor business
Top keywords for financial advisors
The importance of using similar keywords
How to use financial keywords effectively
Get the expert marketing advice and tools you need to find new financial clients and increase investment from existing ones.
How to choose the best keywords for your financial advisor businesses
Whether you're launching an accounting website or redesigning your financial management landing page, you'll need to use top keywords to boost your SEO ranking. But how do you find them?
To get started, you can use Google's Keyword Planner. This must-have tool allows you to start with a primary keyword — in this case, "financial advisor" — and generate the top ideas for similar and relevant keywords.
After you've typed in your desired keyword, you can hone in your list by adding more keywords or refining your keyword by industry, branded versus non-branded, and more.
Once you've generated your list, you might be wondering how to choose the right keywords for your financial advisor business. You can't use all of the keywords listed, and you shouldn't.
Instead, focus on particular qualities in your keywords, including:
Location
Utilizing keywords that specify your city, state, and region can be immensely influential. These keywords can help your visibility because of the proximity to your searchers.
Competition
Google's Keyword Planner can show you how competitive a keyword is, specific to your location and targeting options if you select them. The competition level is described as either low, medium, or high and related to the number of advertisers bidding on your selected keyword.
When choosing highly competitive keywords, keep in mind that you will need to rank higher than more businesses to appear in searches.
Specificity
Whenever possible, aim to use keywords that are specific to your unique business. If you offer a specialty or particular service, use keywords that reflect it.
Specificity can help you stand out by using less competitive keywords. Put plainly, the less competitive keywords you can leverage, the more likely you are to appear in a search for them.
This is where long-tail keywords come in. These keywords are lengthy and often-hyper specific.
Visitors often use long-tail keywords when they are farther into the research phase and nearly ready to convert to a customer. In order to be effective, a long-tail keyword should be as specific as possible to the services you offer. For example, "fee-only financial planner riverside county" would be more desirable than simply "financial planner."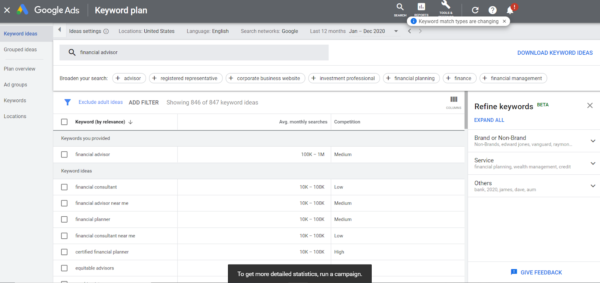 Top keywords for financial advisors
You must stay up-to-date on the top keywords for your financial business. According to a search on Google's Keyword Planner, here are keywords that ranked among or near the top 50 for financial advisors:
financial advisor
financial consultant
financial advisor near me
financial planner
financial consultant near me
certified financial planner
equitable advisors
wealth advisor
financial planning near me
retirement planner near me
investment advisor near me
wealth advisor near me
independent financial advisor
best financial advisors
registered investment advisor
personal financial advisor
fiduciary financial advisor
financial advisor cost
fee only financial planner
financial planning advice
wealth management advisor
mutual financial advisor
independent financial advice
certified financial advisor
licensed financial advisor
top financial advisors
forbes best in state wealth advisors
becoming a financial advisor
wealth management
fiduciary near me
find a financial advisor
certified financial planner near me
fiduciary financial advisor near me
local financial advisor
fee only financial advisor
best financial planners
best financial advisors near me
fiduciary advisors
investment adviser search
financial advisor companies
personal financial planner
investment advisor near me
licensed financial advisor
financial advisor fee
financial planning firms
emoney advisors
retirement financial planner
financial advisor reddit
private wealth advisor
investments advisor
Note: The ranking of keywords and phrases can, and does, change. So, make sure and do your own keyword research each time you're looking to create more content.
The importance of using similar keywords
Not all terms are created equal. A financial manager does not provide the same service as a financial consultant, who does not do the same work as a financial planner, and so forth.
However, prospective clients may not know the difference  — especially early on in their search. Because of this, you may be missing out on valuable financial services leads.
Consider creatively incorporating a variety of keywords, even if they aren't technically correct for describing your services. This will help potential customers who have the right intent, but the wrong terminology find you more easily.
How to use financial keywords effectively
Once you've honed in on the perfect batch of keywords, you'll want to make sure you are maximizing their power. SEO for financial services can seem tricky, but there are many ways to go about boosting your ranking in online searches.
Maximize the efficacy of your keywords by:
Having a well-designed website
The best place to use your top keywords is on your website. Consider using a website builder to help optimize your content, meta descriptions, and headings.
Make sure your website operates smoothly and is mobile-responsive. You don't want to lose leads to inconvenience. Having a landing page that is media-rich and seamlessly integrates your keywords can help elevate your SEO ranking.
Using content marketing
Using financial content marketing provides a multi-pronged approach to using your top keywords effectively. Content marketing focuses on utilizing elements such as:
By using multimedia content, you gain more visibility among your niche audience. The goal is to create content that is not only attention-grabbing but useful to prospective clients.
Optimizing your profiles
Another way to make the most of your carefully curated keywords is to claim and manage your various profiles and listings. Important profiles to moderate include:
Use an SEO tool
One of the easiest ways to manage your keywords is via Constant Contact's SEO tools. These comprehensive tools make it simple to use keywords, optimize your website, and gain valuable insights about your website's traffic and overall performance.
Using an SEO tool can help you learn the ropes of Search Engine Optimization without sacrificing the quality of your website and content.
Learn how to optimize your keyword usage
Now that you understand the importance of finding the top keywords for financial advisors and how to use them effectively, are you ready to get started?
Search Engine Optimization and top keywords are just a few elements of your financial advisor marketing plan. If you want to continue learning more about financial services marketing, check out The Download, a free marketing guide for financial service professionals. You can also explore tips for running effective financial advisor ads.

Share with your network