From DIY independent travelers to folks who want someone else to manage all arrangements, travelers and tourists fall into many categories. The first step to creating a successful travel advertisement campaign is to create a brand persona. That means defining your target audience by investigating the group of people you want to reach so you can create the most effective messaging.
But even the most breathtaking photographs and powerful copy won't matter if travelers can't find you. How can you get your travel ads noticed?
So much happens online. People use digital platforms such as social media websites and online listings to ask friends and family for recommendations or shop around for pricing. This guide will help you get in the game and learn about using online tourism advertisements to grow your customer base and increase your revenue.
We'll start by discussing paid advertising with:
Google Ads
Social media advertising
Yelp! ads
TripAdvisor ads
Then we'll provide an overview of free and low-cost options:
Optimizing your website
Social media presence
Updating online listing sites
Email marketing
Click on a particular section or keep reading to look at advertisement options that will work for you.
Paid advertising options
Google Ads
If you're like most Americans, you use Google to look for the services you want. You might notice, though, that Google search results present a few advertisements before displaying organic search results. Google makes money from these ads, but Google Ads can also benefit you.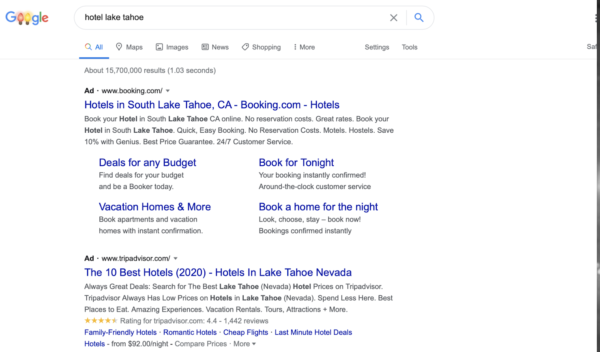 If you can, research shows that the best results are obtained when at least $1,000 is budgeted for this advertising option. It sounds like a lot, but on average you'll earn around double what you invest in Google Ads. With tourism ads on Google, you can target specific keywords people use in search queries and optimize for local searches like, "hiking near me."
To use Google Ads, you need a completed Google My Business Profile. To simplify and optimize the process, you can use helpful tools like Google Ads by Constant Contact.
Social media advertisements
It can feel like everybody is on social media nowadays. Your business should be too.
Facebook and Instagram are a great place to start. These platforms are popular among influencers and provide a great way to share everything from beautiful destination photographs to special offers. For travel opportunities, video advertisements on Facebook, Instagram, and even YouTube can be especially effective as they immerse viewers in the full travel experience — most businesses on YouTube allocate at least $10 a day for localized campaigns.
To get started with social media ads, create profiles for your business. Afterward, you can design ads and create associated hashtags. Make sure to target specific demographics and track your goals using analytics provided on each platform.
Yelp! ads
As you know, the travel and tourism industry relies on online listing sites like Yelp!. These listing sites provide yet another avenue to reach your target audience.
As with other paid advertising options, the first step is to claim your business on Yelp!. After you set up your ad online, you can monitor its impact through Yelp!'s business analytics page.
TripAdvisor ads
TripAdvisor, a crowd-sourced travel and tourism site, offers another effective paid advertisement option. You can create an ad geared toward people who use the site to plan their trips, even if they don't search specifically for your services.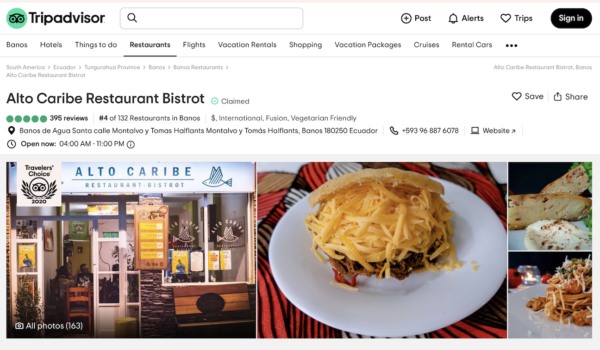 You can work directly with TripAdvisor to create a campaign to get you in front of 463 million monthly users. Sponsored placement of your listing can cost between $1 and $3, depending on the competitiveness of your location. You can also sign up for their Business Advantage program, which starts at $499.
Free and low-cost advertising options
Optimizing your website
Your company website is your business's online home. Your website is where people will land when they click on your digital ads.
You must optimize your travel site to clearly and effectively present your services:
Make sure your site is mobile-responsive — it should work just as well on a mobile device as it does on a desktop computer.
Have a clear call to action that urges readers to contact you to schedule an activity or connect with you.
Follow SEO (search engine optimization) best practices by naturally incorporating keywords in your written content.
Make sure your website is accessible and quick to load — include visuals, but make sure file sizes are not so large as to affect performance.
Social media presence
You can get people excited about adventure and fun without paid advertisements. After all, FOMO (the "fear of missing out") is real on social media.
It's possible to organically grow your following without paying for digital advertisements on social media — but it will likely take much longer. Promote your travel business on social media by:
Posting beautiful photographs of travel destinations.
Spotlighting previous clients and their adventures.
Offering special deals.
Engaging with followers by responding to comments or hosting polls.
Linking to articles from your blog.
Reacting to news updates about relevant travel destinations.
Updating online listing sites
When I decided to visit a small tourist town in Ecuador's mountains, I knew I wanted a guided canyon excursion. Like many other travelers, I consulted online listings and reviews since I didn't know anyone who could give me personal advice. How did I make my choice?
I crossed out a few companies that:
Had negative reviews.
Didn't reply to online reviews.
Had inaccurate contact information.
Don't be those companies. Claim your business on Google My Business, Yelp!, TripAdvisor, and other listing sites used by your competition. Update your profiles to display the most recent and accurate information and thoughtfully and professionally reply to all customer feedback.
Email marketing
While there is a cost associated with it, email marketing is one of the most effective ways to improve loyalty and generate word-of-mouth advertising. To automate and make the most of email marketing, you'll need to sign up on a platform like Constant Contact — but unlike other methods like travel ads on social media, you don't have to keep paying to reach your audience.
Focus on growing your email list by asking for every customer's email address. Provide incentives to sign up through your website, such as discounts on future tours. Then, send offers and seasonal news at least once a month, if not more frequently.
Tie it all together digitally
A comprehensive digital marketing campaign can help you stand out from the competition, even in highly competitive tourism markets. Once you know your target audience, you can allocate a budget and move forward with a realistic timeline and measurable goals for a successful quarter.

Want to learn more about digital marketing? Check out Constant Contact's The Download, a free guide to help tourism and travel industry leaders stay ahead and find success.

Share with your network