As you start to create your music website, all the options can feel overwhelming. You may not know where to host your songs or albums — much less how to link to your Soundcloud or Bandcamp from your site. If you lack tech know-how, adding music to a website with html can seem like an intimidating option. However, website builders make it easy to integrate music without html code.
To make completing your music website easier, this guide will break down five fail-proof options for how to add music to a webpage:
External linking
Embedding videos
Embedding an external webpage
Stocking your online store
Including social media links
Whether you're looking to provide your music to fans for free or make money from your music website, any of these options will have your fans streaming songs in no time.
1. External linking
You may want to use your website to direct fans to external links. As you market your music, this option can be preferable if your goal is to boost your "listeners" numbers across various other platforms. After all:
With more streaming listeners, you're more likely to be added to a platform's "trending" or "new and notable" section.
When users listen to your music on Spotify, they can add songs to public playlists, making it more likely other users will discover you.
Fans can easily listen to your music on their phones and computers alike without downloading any files. Your music can become part of their daily routine.
So, how do you send out external links from your webpage? First, consider the best page for highlighting a complete album or your new single. Whether you're a musician, a lyricist, or a producer, your music website will have at least four main pages:
Homepage
About page
Events page
Contact page
For more information, see our guide on how to create a music website.
Once you've paid for a website plan and published your site, you'll start directing users to your music in no time.
Where to host your music online
As a musician or producer, you may already host your audio files on multiple platforms. If you don't, you should consider it. More and more people rely on streaming services to discover new music, and smart AI tools make it easier than ever for them to discover artists similar to those they already love.
Even if you're not making money directly from listeners' streams, the exposure and related word-of-mouth spread can be worth the effort of posting on multiple platforms, and even paying a fee to make your songs accessible.
Where your music lives online also affects how you can integrate it into your website. Here are a few popular music streaming services for artists:
Soundcloud – Hosting up to two hours of music is free for you, and it's also free for your fans to listen. However, to increase to an unlimited plan, the cost is $15 a month or $135 a year (and there are still limits on weekly upload amounts). There are no royalties or commissions for streams.
Spotify – Spotify uploads music primarily from labels and has a certain minimum threshold for audio quality, so if you're an independent artist, this may not be an option for you. However, if you can use Spotify, it's free to upload music and you will receive small royalties for streams.
Bandcamp – On Bandcamp, you can upload your music for free and set your fee scale yourself. You can allow fans to stream for free, pay what they want, or pay a set price. If you do charge fees, Bandcamp will take 15% of your revenue.
iTunes – Almost everyone is familiar with iTunes. And while it's free to upload your album to the iTunes store, keep in mind that iTunes will take up to 30% of each sale.
YouTube – YouTube is a great option for musicians who enjoy creating visual content to accompany their songs. You can upload and stream videos for free and if your YouTube video goes viral, you may receive royalties or be invited to become a Premium Partner. Creating a YouTube channel can make it easy for fans to find your new music.
Host your music yourself – Provide MP3s directly on your site for download or streaming. This gives you complete control of your music and your revenue.
Depending on whether you want to give fans music for free or have them pay for downloads, you might use a combination of these services (i.e., posting albums on iTunes as well as free singles on Soundcloud, or posting several singles as YouTube videos to generate buzz while making your album available to purchase on Bandcamp or your own online store).
Once you've linked your external music pages, there are several more fun ways to integrate your music into your website. See which of the following options work with your choice of hosting solution.
2. Embedding videos
If you want to keep users on your site and provide another interactive, multimedia element, it's easy to embed videos from YouTube, Vimeo, or Facebook directly into your website.
A few tips:
Something to consider: When making your choice on autoplay, users may experience an embarrassing moment if your song starts playing in a coffee shop or during a Zoom meeting.
As an added bonus, views on embedded video count toward your total YouTube or Vimeo views.
If you don't have the crew or camera to create a music video just yet, consider creating a lyric video or playing your song over a still image.
3. Embedding an external webpage
Why stop at uploading a single video? Embed an entire external Bandcamp page into your site. The pros include:
Allow users to purchase or pay what they choose for your album while on your web page.
Listeners from your web page count toward your streaming numbers.
Keep visitors on your page, where they can easily access your Contact page or store.
Your website will be updated each time you update your Bandcamp page — there's no need to change both.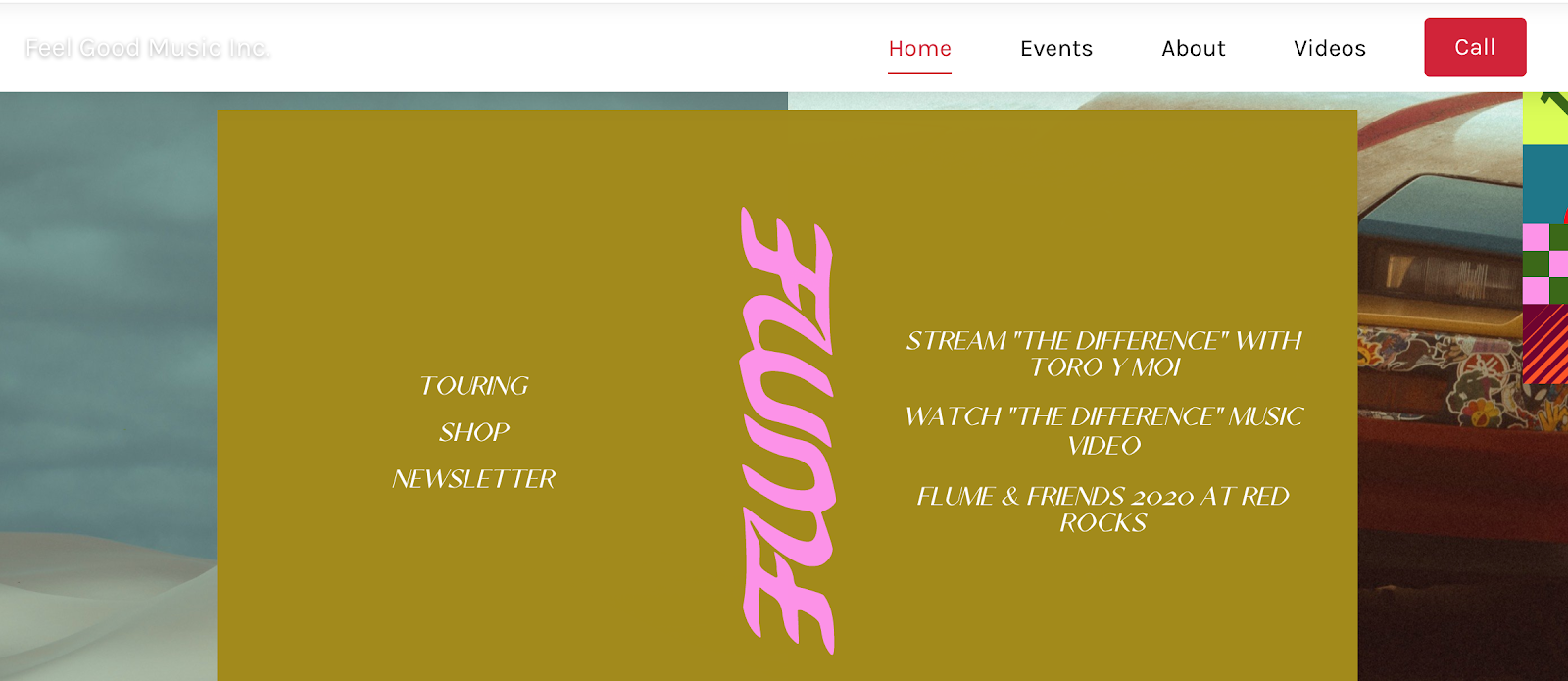 Review your website to ensure the embedded site appears how you want it to.
While Bandcamp sites are easy to integrate, other streaming services' web hosts may not allow for easy integration on your own web page. Experiment with different hosts to see which one works best on your music website.
4. Stocking your online store
As we've already noted, the options above can help you to direct more users toward your pages on other streaming services. However, if you'd like to host your own music, you can add MP3s and albums directly to your website's online store.
When you have your own store, you can:
Allow audiences to download your songs — while they're learning more about you and your music
Keep track of downloads with analytics tools
Make money with your music — but not have to pay exorbitant fees to a third party
Control your own library and discography — when and as you see fit
Avoid signing up with multiple sites, trying to remember multiple passwords, etc.
Even if you sell your albums and songs through a service like iTunes, it's worth creating your own online store, too. If you have physical copies of your albums to sell, having an online store will help you to expand those sales beyond your gigs. In addition, you can connect fans with MP3s of special releases like remixes or bonus tracks.
Connecting your store and your newsletter
When you create an online store, you take the stage as an entrepreneur. Your website's tools make it easy to connect with your customers beyond their first purchase. Fans who fill their online carts and enter their emails will be added to your contacts list (with their consent). Communicate with your fans via email campaigns to:
Keep them informed of upcoming events like informal gigs, scheduled tours, and personal appearances
Share sales and promotions
Inform them of new items in your online store and generate more sales
An ecommerce platform on your website can not only help to deepen your connection with fans, but it also keeps you from having to rely on third-party sellers to properly distribute your music and merchandise.
5. Including social media links
In today's crowded marketplace, there's no such thing as overexposure. To connect with your fans, you may already use the following social media tools to share snippets of live performances, songs, and recording sessions:
Facebook
Instagram
Twitter
TikTok
Snapchat
As a musician or producer, live streaming performances and sharing your music process via video are great tools for connecting your audiences with your songs. When you think about putting music on your website, don't forget to include links to your social media websites. Consider the following:
Adding social media icons to your site's footer using the "Site Settings" panel
The fact that you can embed your Facebook page and videos directly into your website. And more views (on any platform) encourages the Facebook algorithm to promote your video so it appears in more users' feeds.
Include a CTA (Call to Action) at the end of your About page to get people to follow you on social media. For example, "Follow us on X for a sneak peek at our new album", "…updates on our latest tour," or "for glimpses backstage."
Use Constant Contact to connect your audiences
In today's digital world, few musicians have just one type of audience. Instead, you may have many — the folks who stream you on a friend's Spotify playlist, your email subscribers, Facebook fans, YouTube bingers, and the diehard fans who reply to every Instagram story you post. And that's not everybody! When you write, produce, or play new music, you want all of these audiences to hear it and be engaged.

The best solution is building a music website.

Share with your network