A responsive email template is a template for email marketing designed to look great and function properly across any device. A responsive template will automatically adapt to any screen size, so whether the email is opened on a smartphone, tablet, or computer, it will look great, function well, and be easy for the recipient to read.
Why is this such an important consideration for anyone conducting email marketing? Well, you know what really grinds my gears? When I open an email marketing campaign on my smartphone and have to pinch and expand to see the text.
It tells me that the sender didn't take care in testing the email before it landed in my inbox, and that means they don't care about my time or the quality of our interaction.
As a result, I don't particularly care to do business with them.
In fact, 75 percent of subscribers admit they will delete an email if they can't read it on a mobile device.
 In this day and age a lot of people rely on their smartphones to check email. And since emails are one of the top ways a lot of brands interact with their clients and followers, it's important to keep this in mind and adopt responsive email design so that your message gets across clearly regardless of device type and screen size.
Why you need a mobile-responsive email template
So, what is a responsive email template? In summary, a mobile-responsive email templates automatically adapt to the size of the screen they're being displayed on so your email looks great, has a functional layout, and is easy to read regardless of your subscriber's screen size.
And with over half of all email now opened on a mobile device, looking good on mobile is essential to delivering a quality message to your customers and subscribers.
Constant Contact has made sure that every email template in their email editor tool is mobile-responsive, so you never have to worry about how your email campaigns look on desktop versus mobile. So whether it's an image heavy sales email or a content heavy monthly email newsletter, it's never been easier to make sure your email layout is optimized for every screen size across all devices.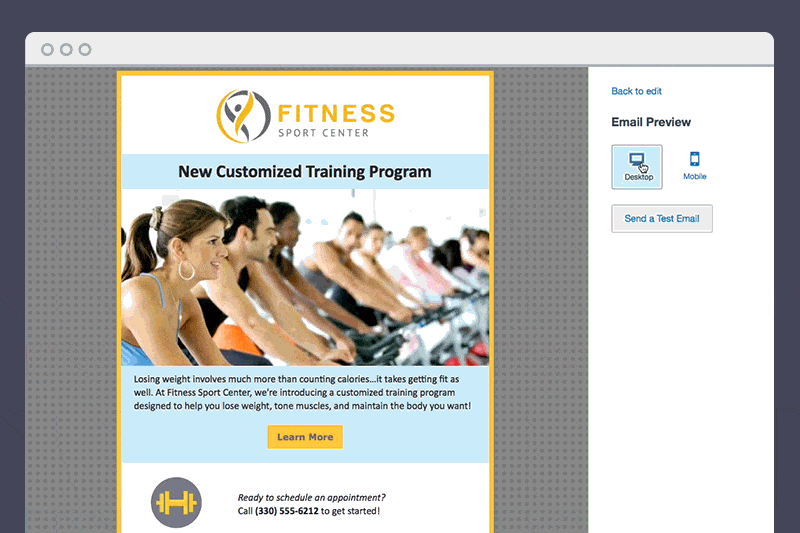 Try one of Constant Contact's mobile-responsive email templates for free! Sign up for a free 60-day email marketing trial.
What about your business?
Maybe you think your business is different and that you don't need responsive email templates. You suspect that your clients and contacts are more likely to open an email on their desktop making responsive email design a low priority for you.
You can easily see exactly how many people are opening your emails on mobile versus desktop within your Constant Contact Email Reports.
Here's an actual example of mobile versus desktop opens from fitness studio, Turnstyle Cycle:
With an average of 56 percent of their subscribers opening their on a mobile device, Turnstyle Cycle's staff uses a mobile-responsive template to make sure their HTML emails always display correctly for their customers and newsletter subscribers.
Here's what Turnstyle Cycle's owner, Matt Juszczak, says about using a mobile-responsive email template:
"I don't have to worry about how my email is going to look on different mobile devices. It's a relief knowing that everything is going to work and I'm not going to have any problems."
Want to learn more about creating and sending mobile-responsive emails?
Watch my latest video: Why You Need a Mobile Responsive Email Template. (Powered by BusinessTown.com)
If you're ready to make the switch to a mobile-responsive template for your business, try one out today!