The more value you can provide your customers in your email campaigns, the more they'll look forward to getting your emails each month.
When that happens, it will be easier to get them to take the actions you want them to take.
The bottom line is that you'll get better results when you send valuable content on a consistent basis. You'll maximize your email marketing success, which means more opens and clicks.
Here are some ways you can consistently provide value to your email subscribers:
1. Focus on the customer
In order to provide value, you need to focus on the customer. It's important to understand their needs and show you care.
Start by asking yourself this: "How am I going to meet my customers' needs?" This will help you formulate content that your customers will benefit from.
It's also important to remember that different customers will have different needs. Start by segmenting your list to group like contacts together based on their interests. By taking this extra step, you'll be able to send targeted content that is even more valuable to each of your groups of customers maximizing the effect of your email marketing efforts.
Once you begin creating valuable content for the customer, you'll have an edge over your competitors.
Here's an example where Southside Cycling targeted customers who purchased a bike. They provide the necessary information to help them keep their bike in great condition. They really take the time to focus on the success of new customers in this example:
2. Provide educational content
Educational content leads to customer success.
When prospects understand the value of your product and customers know how to use it, they'll see success more quickly. Proactively sending this information helps to alleviate any pain points that may be seen by your customers.
Educational content comes in a variety of forms. It could be step-by-step videos, a product guide, or even FAQs. Provide information that helps them to achieve something specific in order to see results. It's not just about your products or services. You can also educate them about the happenings at your business and in your industry.
Educational content is just one way to help you provide valuable content on a consistent basis. This will help your customers see you as an expert and trust your knowledge. Then, when they're ready to make a purchase, they'll remember your expertise and how you can help them.
Here's an example for Jack's Backyard BBQ. See how they provided educational information on the source of their ingredients? For a restaurant, knowing where the food comes from is going to reassure people of the quality of food when they eat at the restaurant.
3. Get them involved
If you aren't sure how you can provide value to your customers or clients, just ask.
Ask them about the type of email content they find valuable or even about the questions they have regarding your business. Turn those responses into your email content.
You can ask them using a survey or even start a discussion on social media. Once you get them involved in the process, you'll know exactly how to provide valuable content in your emails.
Take a look at this short, two-question survey that Southside Cycling used. They asked which content they currently send is helpful as well as an open ended question to get other ideas. This is a great approach to understanding what customers find valuable.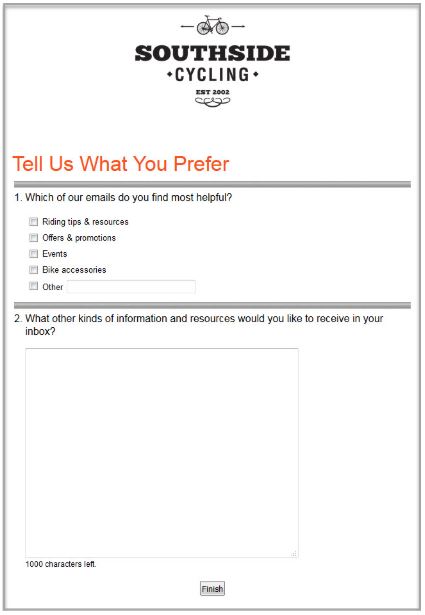 Are you ready?
These three tips are going to help you create valuable content in order for customers to understand why they should do business with you. You'll have the ability to provide a steady stream of information that keeps them engaged and thinking about your business on a regular basis.

Share with your network