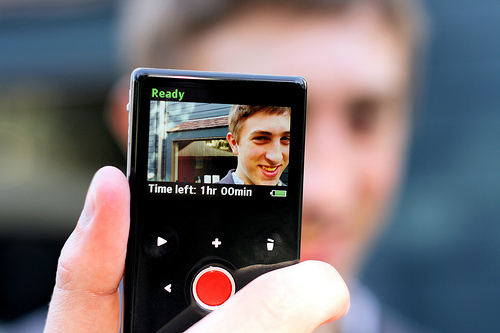 If a picture is worth a thousand words, then what does that mean for videos? Could a video mean a thousand event attendees?
It's certainly possible.
Online video is quickly becoming an important communications tool, one that enables a connection with customers, members, and prospects. While nothing can take the place of face-to-face meetings, online video might just be the next best thing!
Need proof? In May 2011, Nielsen reported that:
Americans streamed 15 billion videos
Internet video viewing went up 35% from 2010
Mobile video viewing went up 20% from 2010
In a recent survey conducted by Constant Contact, we asked some of our customers if they are creating videos for their events, then posting those videos to sites like YouTube. A third of them said they do it occasionally, 9% said they do it regularly, and 44% said they are considering it or would like to learn how.
Clearly, small organizations and nonprofits are starting to recognize the value of online video as an important component of their event marketing plans. With inexpensive video equipment becoming more common, it's easier than ever to create videos. Best of all, it's free to set up a YouTube account and start uploading them.
Here are some simple tips to help you create online video content for your next event.
1. Be authentic
Social media is all about being transparent and real. Be yourself when communicating through video.
2. Tell a story
Think about the goal for your event and how a video could help you achieve your objective. Share a case study, a customer testimonial, or your organization's story. Video is a great way to educate your attendees about your mission, a new product or service, etc.
3. Interview attendees
Engage attendees both during and after the event to get their reactions. Ask questions that will spark interesting and relevant conversation about the event.
4. Capture highlights
Take the opportunity to capture moments from educational/training sessions, fundraising activities, or people interacting we each other at a networking events.
5. Keep the buzz going
Use videos to maintain interest and momentum after your event. Once you've posted them to YouTube, link to them in post-event communications, like thank you emails, tweets, Facebook posts, etc.
6. Include a call-to-action
Direct viewers to follow your organization on Twitter or Facebook. Encourage them to sign up for your email list. And, most importantly, encourage them to register for your next events!
7. Keep it short
We live in a limited-attention based society, so keep these videos short and sweet! Try to keep each video between 60–90 seconds in duration. For training purposes, try not to exceed 10 minutes in length.
To achieve a successful event, your greatest asset will be your ability to communicate effectively with your audience. Online video is a great way to keep your audience engaged and informed.
Till next time …
Want to learn more?
Download our new guide, Planning a Successful Event Campaign: 15 Essential Best Practices for Making Your Event a Success.

Share with your network