During a cross-country road trip in my RV, I found myself outside of Salt Lake City in need of an oil change. I had never been to Utah, let alone Salt Lake City, and I didn't know anyone. How did I figure out where to find a trusted mechanic for the work? Auto repair reviews, of course.
Gone are the days where people solely rely on recommendations from their friends and family members. Today, drivers are like me — more likely to pull over to the side of the road and scroll a listing site to see what strangers have to say.
With my experience, the shop's positive reviews (words like "trustworthy," "great value," and "friendly service") made all the difference — when I arrived, the place seemed like a wreck. They were working on big trucks in a greasy, trash-strewn alley next to a waiting room that was crowded with a soda machine and strange knick-knacks. If I hadn't read about how great the mechanics were, I likely would have turned around.
Instead, the online auto repair reviews were right. The service was excellent, the cost was reasonable, and I was back on the road before lunchtime.
Reviews that bring in new, satisfied customers like me don't just happen by accident. Instead, owners and managers of auto repair shops must oversee online reviews and listings to ensure that the most accurate and customer-focused information is available.
In this guide, you'll learn:
Must-have online listings
What to include in your listings
How to respond to auto repair reviews
Tips for encouraging more positive reviews
How to integrate listings and reviews into a marketing plan
If you already have your business listed on all possible sites, you can skip ahead to save time. But if you're starting from scratch, keep reading!
We make it easy to find new customers and get repeat business with marketing tools and expert advice.
Must-have online listings
It's easy to get overwhelmed by the expansiveness of digital marketing. I get it. You're busy working. You may think you don't have any time to spend marketing your business using online listings.
But, modern customers almost always use a search engine like Google or Yelp to find a new business near them. Once they find the business, they'll click on the auto repair reviews to see if it's worth their time. You know your industry is built on trust. If business owners repeatedly let down their customers, people will find out — and fast.‌
Make sure your business is listed on Google Business Profile, Yelp, Angie's List, Facebook Business Pages, and any other sites that your customers may use. If you're not sure, gather data by asking where new customers found out about your business.
Go to each listing site and look for an option to "claim your business." If there is a listing for your company already, a customer may have just added it for you. It's crucial that business owners look over these listings to make sure everything is complete and accurate.
What to include in your listings
The goal of these free listing services is to provide everything customers would need to know to make appointment scheduling easy. This includes:
Proper spelling of your business name
Contact information, including correct address, phone number, and website
Hours of service as well as any holidays or closed dates
Specialties you focus on, such as makes or big trucks
That's just the basics. To maximize this marketing opportunity, you'll want to include a lot more. This means adding:
Photos of your shop, waiting room, shots of mechanics in action, and even happy customers
An exhaustive list of every service you provide
Your company's philosophy and values
Additional ways to contact you, such as cell phone or email address
Social media platforms with links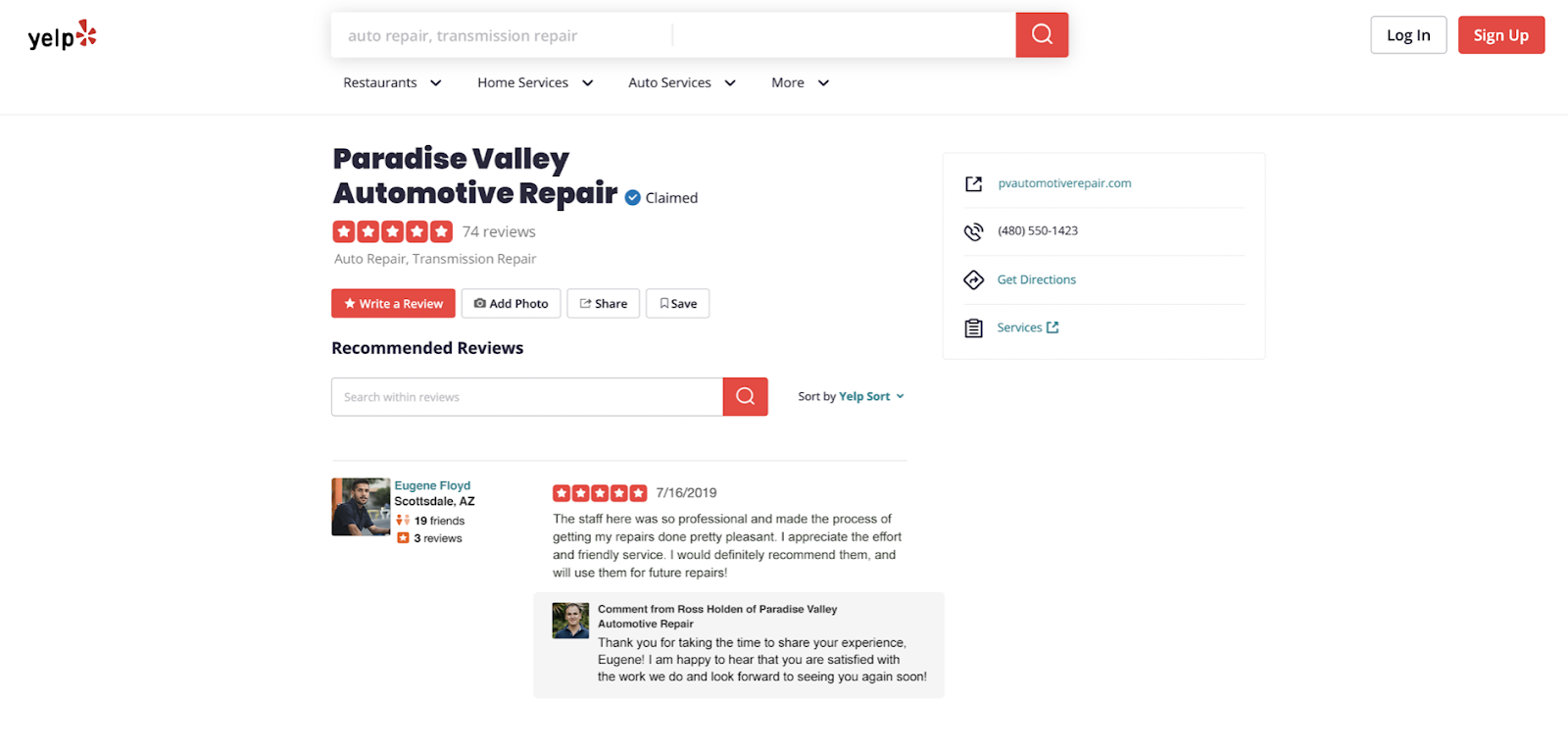 The more robust your listing, the more customers will believe that you're willing to go above and beyond on their vehicle as well. These are the first impressions that are invaluable for growing your business.
How to respond to auto repair reviews
These listing sites also have a social component that can be intimidating to business owners. Customers can leave unfiltered comments that may be both positive and negative. Sometimes those auto repair reviews are warranted, and sometimes they're not.
Instead of getting upset at criticism, spend your energy creating a plan to respond professionally and promptly to every review — both good and bad. Schedule a time each week to visit all the listing sites that share your business information with the community. The goal should be to respond to all comments within 48 hours.
For positive comments, you can simply add a note thanking them for trusting you with their vehicle and that you're looking forward to working with them again.
For negative comments, first, take a deep breath. This is an opportunity to show potential customers how you handle the inevitable problems and misunderstandings. Never display any negativity as this could put off future potential customers.
Instead, acknowledge that the problem exists and apologize that you were unable to satisfy them. Explain as succinctly as possible any reason for the issue, but without creating excuses. Then, offer them the ability to talk directly with you to resolve the matter. Provide a direct phone number and a manager's name.
You can't please everyone, but you can let your future customers know that you want to try.
Tips for encouraging more positive reviews
A single one-star rating among pages upon pages of five-star auto repair ratings won't matter much, so make it a point to request more positive reviews. When you know a customer is happy with your work, ask them directly if they would write a review on your behalf.
This practice is a free, simple way to increase the number of positive reviews on listing sites. You can even offer a small discount on their next service if they send you a copy of the review they left. Mark their customer file so that you can remember to thank them personally next time they're in your shop.
Train your employees to ask for reviews as well. If a specific mechanic did an especially impressive job, ask the customer to mention them by name. This personal touch won't go unnoticed by drivers who are scrolling through reviews in your town.
How to integrate listings and reviews into a marketing plan
Of course, the online version of word-of-mouth advertising should only be one piece of your comprehensive digital marketing plan. If you want to make sure you've covered your bases so your business can thrive in the modern competitive marketplace, check out Constant Contact's The Download.

This free guide focuses on what auto repair and maintenance businesses of all sizes should do to market their business. When you're doing everything to present yourself professionally online, you'll be sure to stay busy — whether from locals or travelers.‌

Share with your network